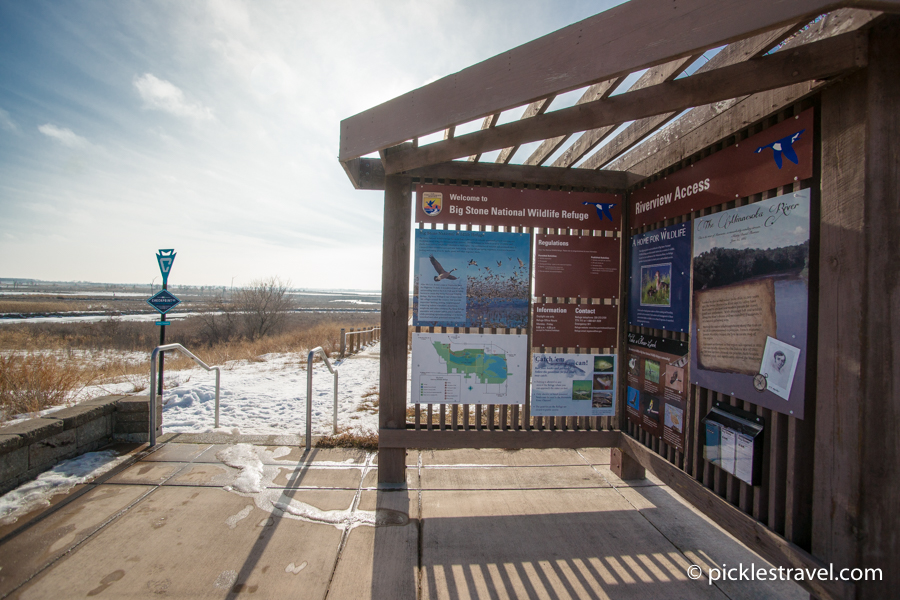 Today CheckPoint MN starts again in Minnesota for its third season! A winter adventure put on by the great people at Explore Minnesota and meant to get people out and exploring our amazing state.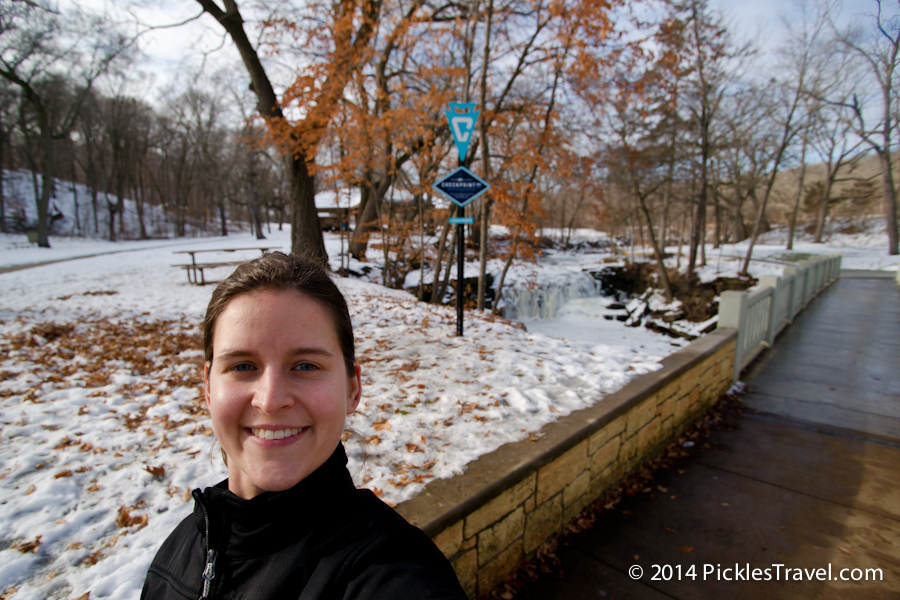 If you've ever wanted an excuse to explore the near and far reaches of Minnesota then CheckPoint MN is your golden opportunity. 10 locations strewn across the state- each location with a post and sign that you get to take a selfie in front of and submit to the website for prizes- phenomenal prizes!
Travel, selfies and prizes– sign me up.
The real prize is in the beautiful scenery and experiences you'll get from doing the CheckPoint MN adventure- so get out and explore!
Locations for CheckPoint MN have ranged from Ely to Ortonville; from Duluth to New Ulm, from the Twin Cities to Winona and everywhere in between. The locations are not centrally located, nor are they necessarily "easy" to access or normal locations. This is an adventure that is meant to force you to see what you normally wouldn't see.
5 Tips to CheckPoint MN
1. Plan carefully
Look at the list of 10 locations and plan your trip around them. Start with the nearest ones and go from there. If it's a location with which you are already familiar then feel free to take a quick selfie and go onto the next one, but if it's new "territory" to you plan to spend a few hours there.
2. Explore
There is nothing better than an excuse to explore. 10 locations around Minnesota that you may or may not have ever heard of- this is your chance to experience it! Take advantage.
3. Start early
The best prizes do tend to go quickly, so starting  your adventures first thing on Thursday or the first weekend is highly recommended. And then once you have enough points to redeem the prize upon which you've set your eye- grab it0 because it won't last long!
4. Bring a camera
Sort of a no brainer when one of the requirements to the contest is to post a selfie- but bringing a camera is essential. These are beautiful spots- chosen with care because they offer something amazing and unique to the state of Minnesota. Trust me, you'll want your camera along to take the photos. Plus there is a prize for the most creative selfie posted… So get creative!!
5. Drive safely
It's winter. It's Minnesota. The roads are icy. The wind is blowing. Blizzards happen- so be careful out there- no prize is worth the risk.
Details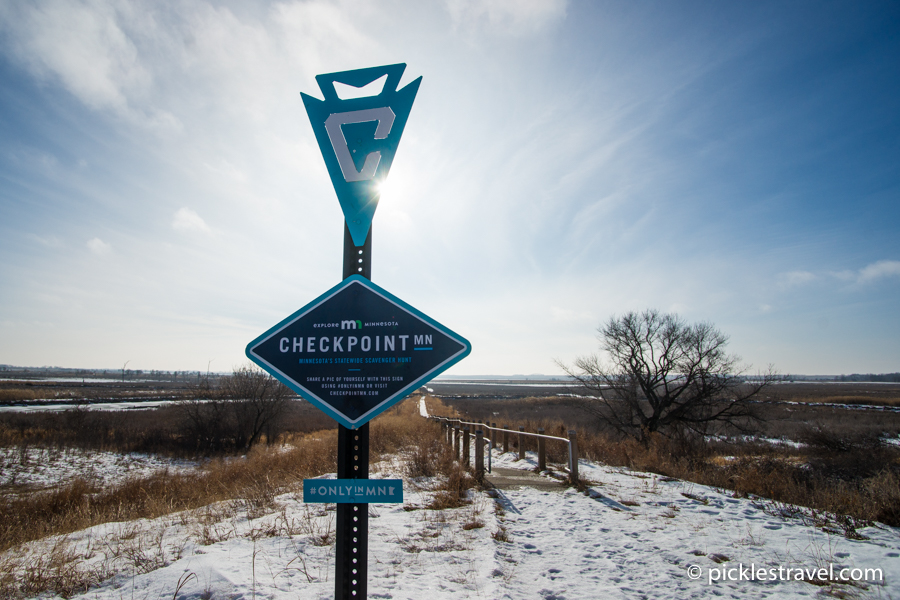 Log onto the CheckPoint MN website and view locations- they also give the coordinates for the location, which makes it easier to find them on for the more deserted locations (like Big Stone Lake State Park pictured above). Go to said location and find the marker sign like the one pictured above.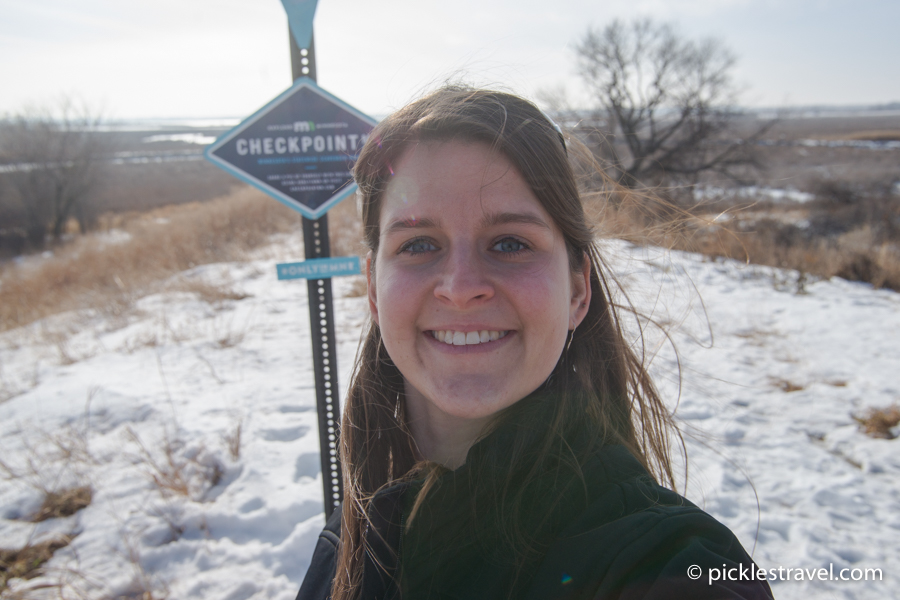 Take a selfie in front of said sign. Upload the selfie shot. For each location photo uploaded you get a point.
Redeem the "points" received for amazing outdoor gear and adventures- or even just a t-shirt of Clif Bars- it's still an awesome prize. To top it off, there are also weekly drawings and Grand Prize drawings for even better gear… Like I said- best excuse ever to explore Minnesota!
One caveat that I would add is that this is an opportunity to explore and see the beautiful state of Minnesota, not just a chance to win great, free stuff! So take your time at the locations- explore the parks (pay the entrance fees!!) and get to know Minnesota.
The real prize is in the beautiful scenery and experiences you'll get from doing the CheckPoint MN adventure- so get out and explore!
Want to see what other travel adventures you can do in Minnesota? Follow me on instagram or follow the #PicklesTravelMNStateParks tag!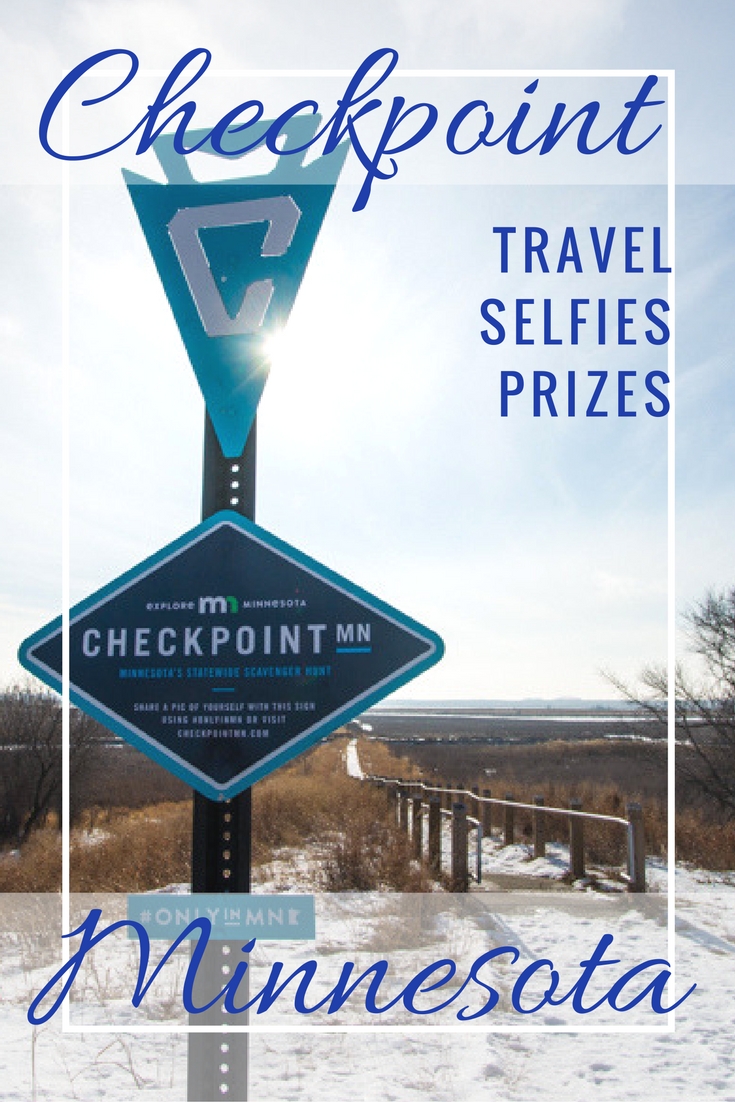 Join the newsletter
Planning your next Outdoor Adventure?
Get your free
National and State Park Checklist
of Minnesota
by clicking here!