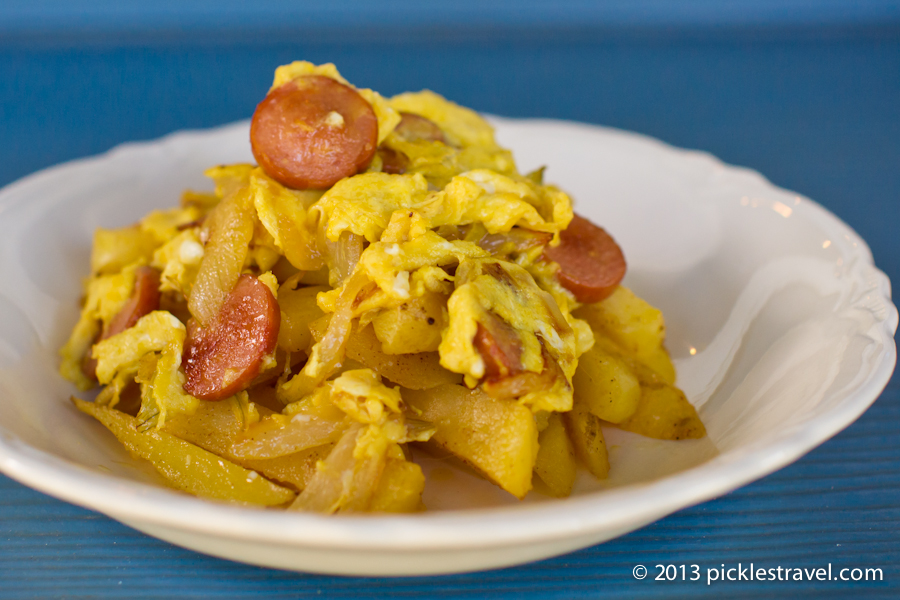 Chorrillana: A pile of french fries, coated with cooked onions, scrambled eggs and a delicious meat of your choice- hot dogs or thinly sliced beef. A true joy to savor, as long as you're not counting calories.
Jota Cruz in Valparaiso, Chile is the epitome of what a great chorrillana should be and the atmosphere in which one should be enjoyed. A hole-in-the-wall place that only the locals know, where it's a little grungy, a little greasy and boasts a lot of character. The perfect place for meeting with friends and having the hours fly by. They only serve beer and chorrillanas. And years after my first visit, it is still my favorite Chilean establishment.
While Chorrillana is a definite must-eat on any Chilean adventure you can also enjoy it from the comfort of your own home, especially this week, as Chile celebrates their Independence Day on the 18th (el 18 de septiembre).
Start by cooking up your french fries, using this recipe here, or any frozen bag of french fries will work too.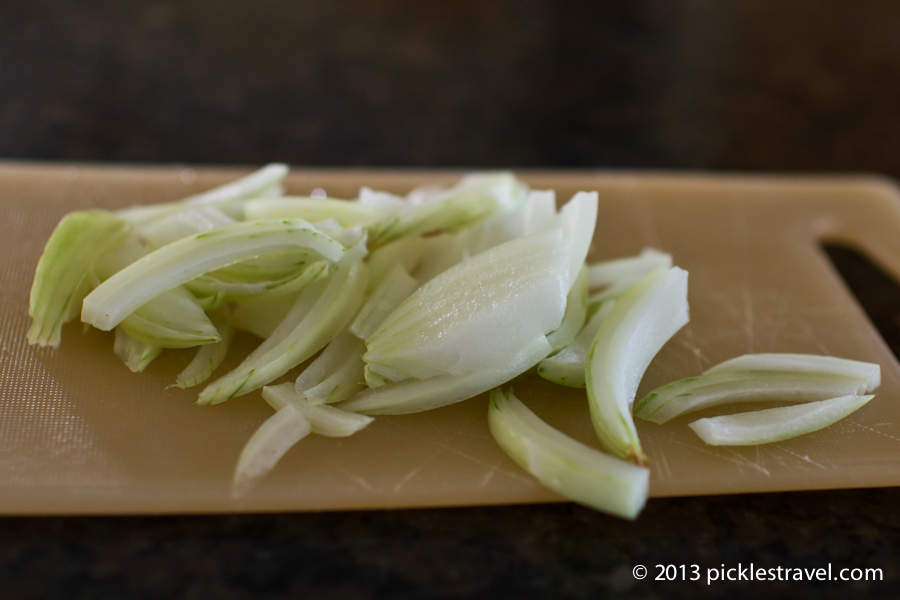 Slice the onions up so that you have long strips of it. Then throw it in the heated olive oil and cook down for about 5 minutes before you add in your meat (in this case, hot dog, but feel free to experiment).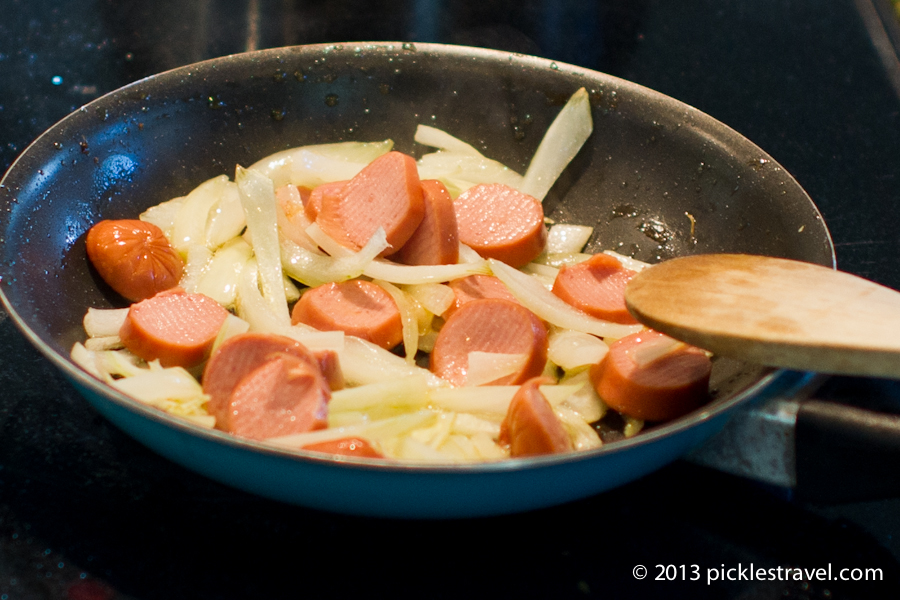 Add in the hot dog/meat to the mix and cook until both the onions and meat are browned before adding in the egg.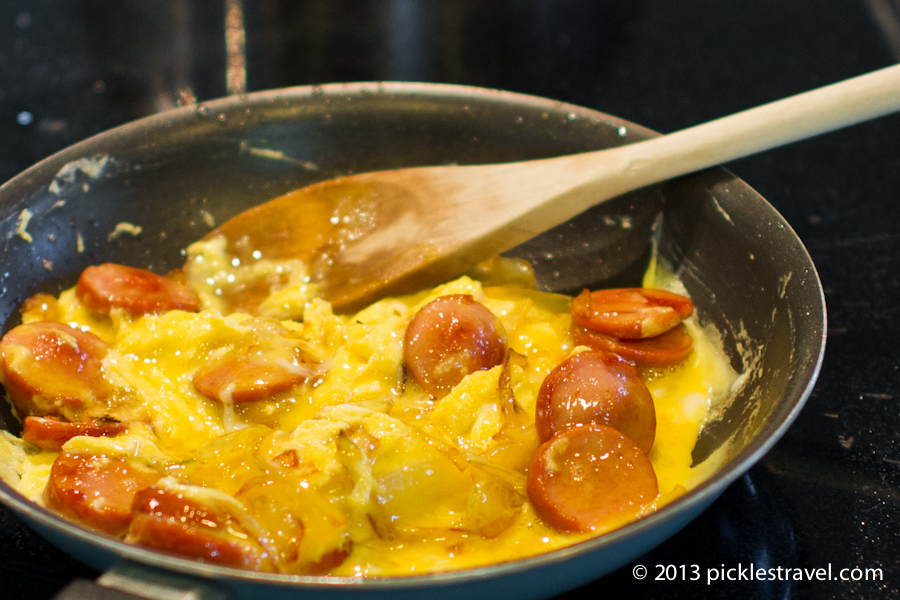 I recommend turning off your electric stove once adding the egg to your meat and onion mixture. The residual heat will continue to cook the egg, but you won't have to worry about it getting dried out. Your egg topping mixture is done.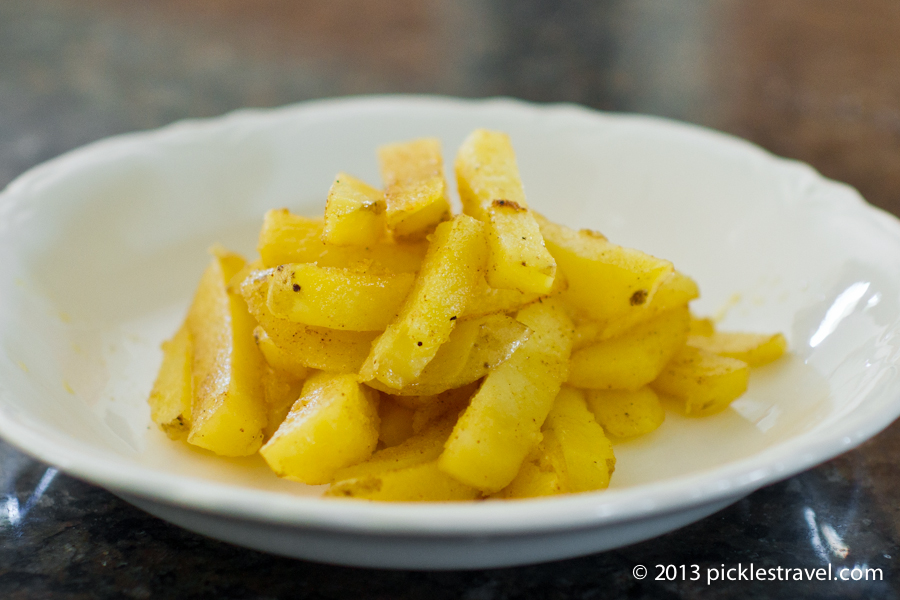 Place your fries in a platter and pour the egg, onion and meat mixture over it.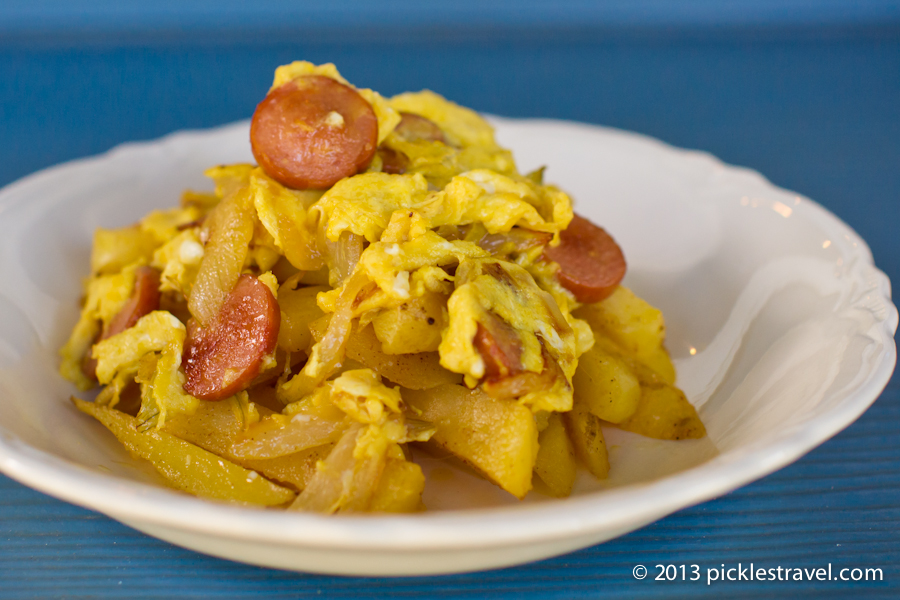 | | |
| --- | --- |
| | |
Heat up the olive oil in a frying pan. Add sliced onions and cook at medium heat. Cook onions for about 5 minutes, then add hot dog slices.

Cook hot dog and onions until both start to brown. If using an electric stove turn off heat (if using a gas stove, turn heat down low) and slowly pour beaten egg into mixture. Stir slowly to get large clumps of scrambled egg mixed in with meat and onion.

Layer the warm, cooked french fries in the bottom of a dish and top with egg mixture. Enjoy as is or with ketchup or Sriracha Sauce.
Keep in mind that while this recipe calls for hot dog, you can use any kind of meat you would like. Cheap, thin steak is the preferred option in many places, like Jota Cruz.
Join the newsletter
Planning your next Outdoor Adventure?
Get your free
National and State Park Checklist
of Minnesota
by clicking here!