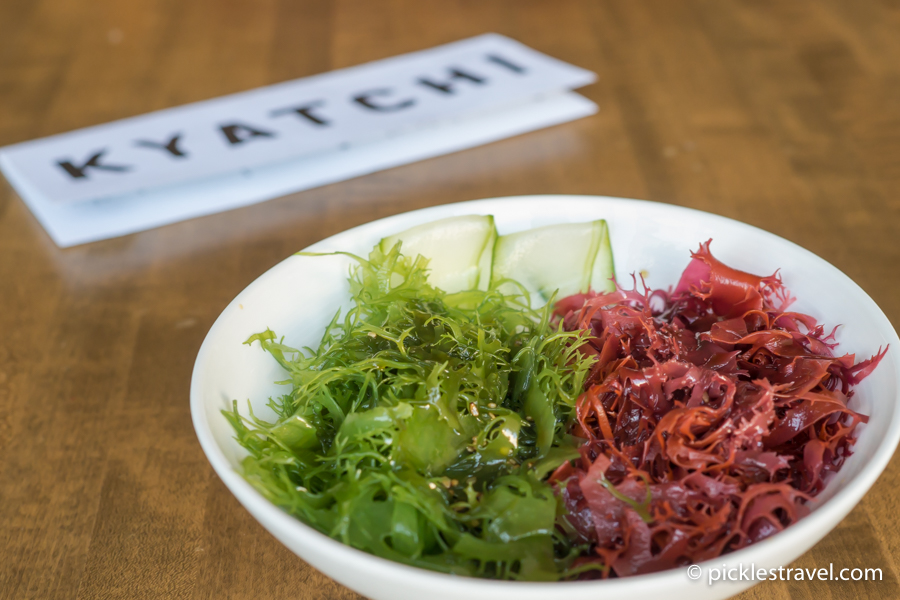 Kyatchi is my kind of restaurant, and not just because they rock at sushi. They care about the environment and where food comes from. The majority of everything served in house is homemade, plus they source everything locally that isn't seafood from sustainable farms. Kyatchi is one of the only sushi restaurants in Minnesota to make the commitment to sustainable seafood- even going so far as to join the Monterey Bay seafood watch program!
I was thrilled when I was recently invited to sample the menu at Kyatchi. A chance to enjoy their menu, but also to learn more about them, the philosophies behind the dishes, and to be able to share that with all of you. While my meal was free the opinions expressed are mine.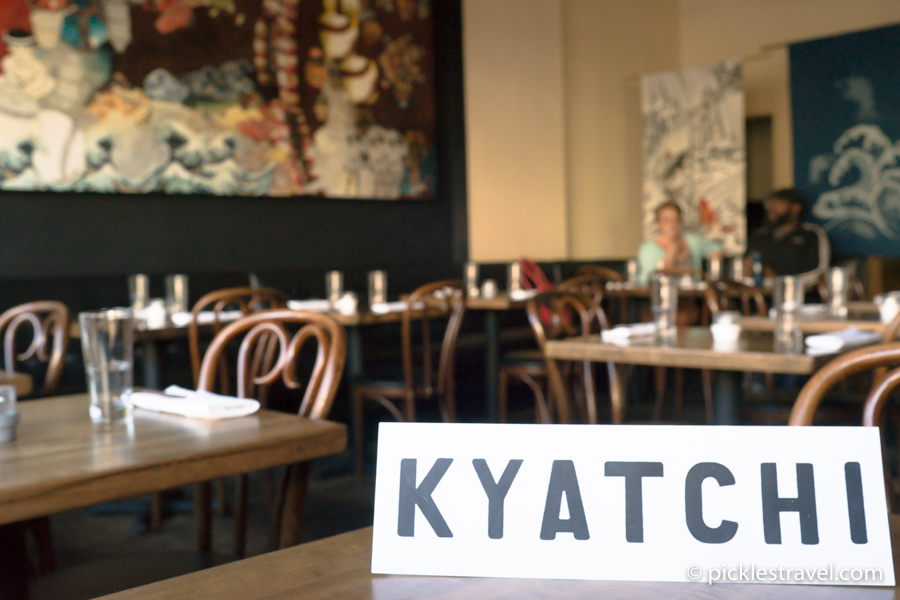 The focus at Kyatchi is on sustainably sourced seafood and have even partnered with the Monetery Bay Seafood Watch program.
Kyatchi may be a sushi restaurant, but don't expect soy sauce on any of the tables. Since they are focused on sustainable and quality of their seafood the sushi is served more simply than you would get in a standard sushi restaurant and there are less roll options. There isn't the use of mayos and sauces to enhance the flavors like you would expect from most sushi places, instead Kyatchi is about bringing out the flavors of the fish. Simple ingredients that enhance that wonderful flavor that is the fish or seafood without the extras make for a delightful sushi experience.
There is a great happy hour menu (4-6 pm every day) that includes a variety of small plates at discounted rates, as well as a nice drink menu. Plus the restaurant is very kid friendly. I saw at least three families with kids come through while I was there. I'm sure part of the draw is the made-from-scratch hot dogs, but it's also an easy going atmosphere!
The wait staff is excellent- incredibly knowledgable and happy to help you with any tough ordering decisions you may be trying to make, The general manager, Mike, walked me through the entire menu while pointing out highlights worth trying!
Kyatchi Seafood
The red snapper nigiri is a perfect example of Kyatchi's move towards a more simple and flavorful experience. The red snapper is blanched and then topped with a little Fleur de Sal and a shisho leaf between the fish and the rice. It's a simple, yet elegant way to serve the fish and it's perfect this way.
Follow it up with a bite of the fresh pickled ginger- it's also quite amazing.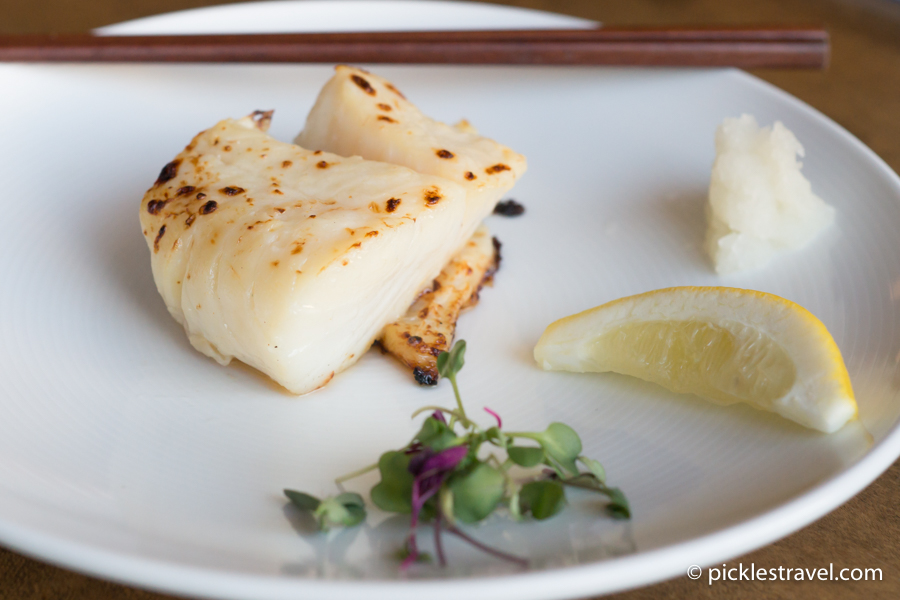 According to the GM, Mike, the cod, the tara shiro miso yaki is the best thing on the menu-and it did not disappoint. Flakes of soft cod with a slightly caramelized crust just melts in your mouth. So good that for a minute I forgot I was eating cod and thought I was diving into Chilean Sea Bass.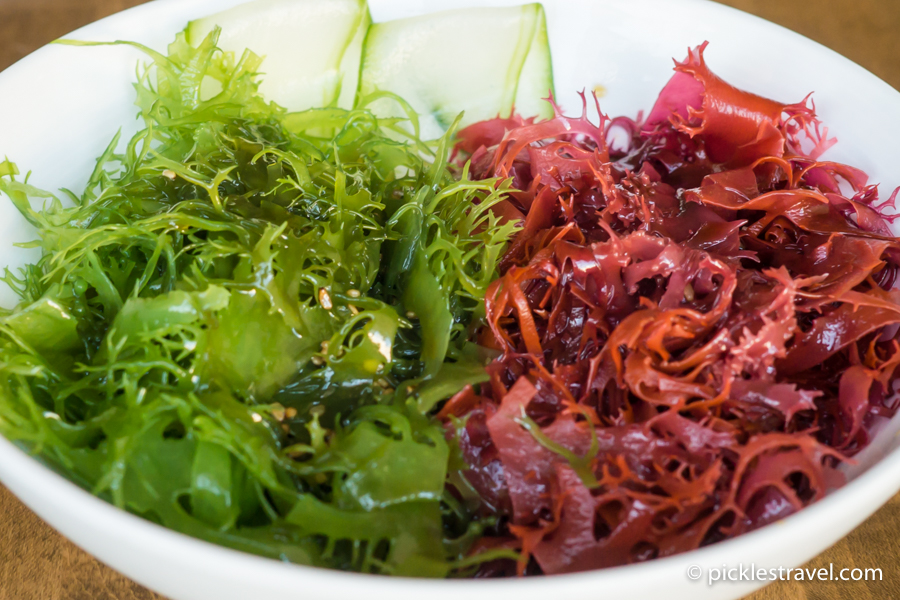 But my all time favorite menu item was the kaiso salad. Call me strange, but I love a good seaweed salad and I have never had one this amazing! Made from two kinds of fresh seaweed you won't find another kaiso salad this good anywhere else in the Twin Cities- I kind of wanted to lick the bowl when I got done, that's how good it was!
Kyatchi Locally Sourced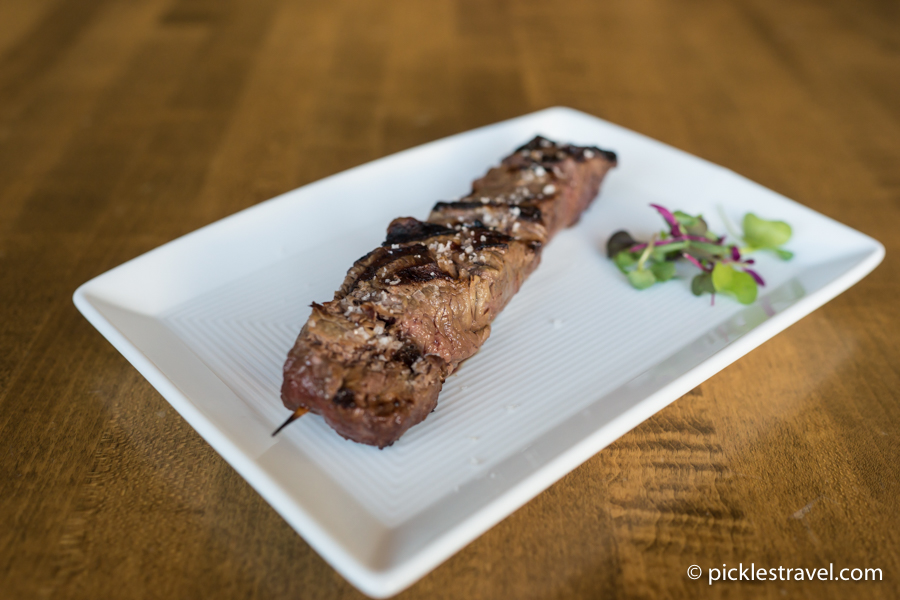 Kushimono – Skewers. The Limousine beef is simply flavored with sea salt and lightly cooked to medium-rare perfection for the best possible flavor win.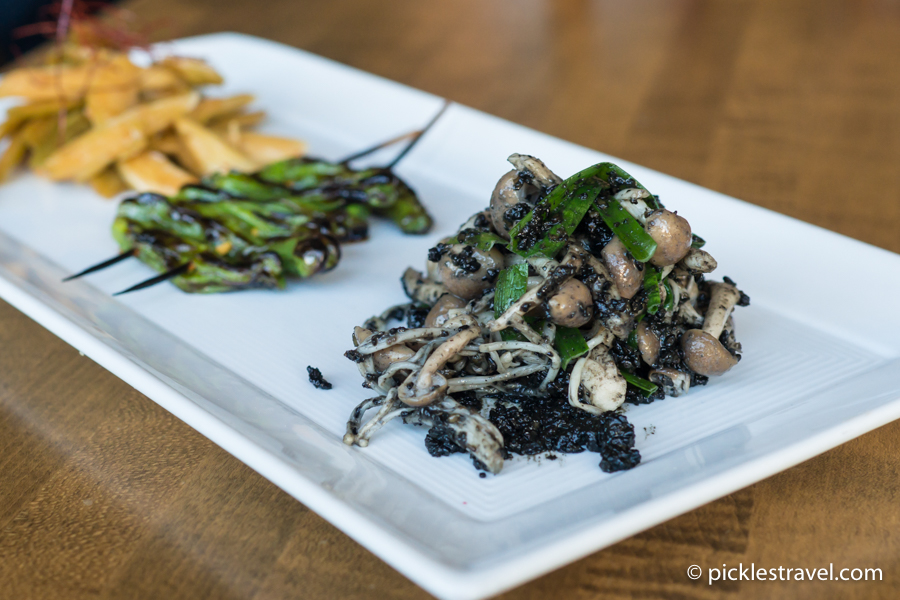 The Goma-Ae was a completely unexpected mix of mushrooms, black sesame seeds and chives. I had no idea what to expect for flavor as I bit into my first enoki mushroom and was pleasantly surprised with the nutty flavor the sesame seed paste gave the entire dish. Although the flavor was great, I'm a big fan of mushroom flavors on their own and felt that the sesame seed flavor overwhelmed the subtle mushroom flavor a bit too much.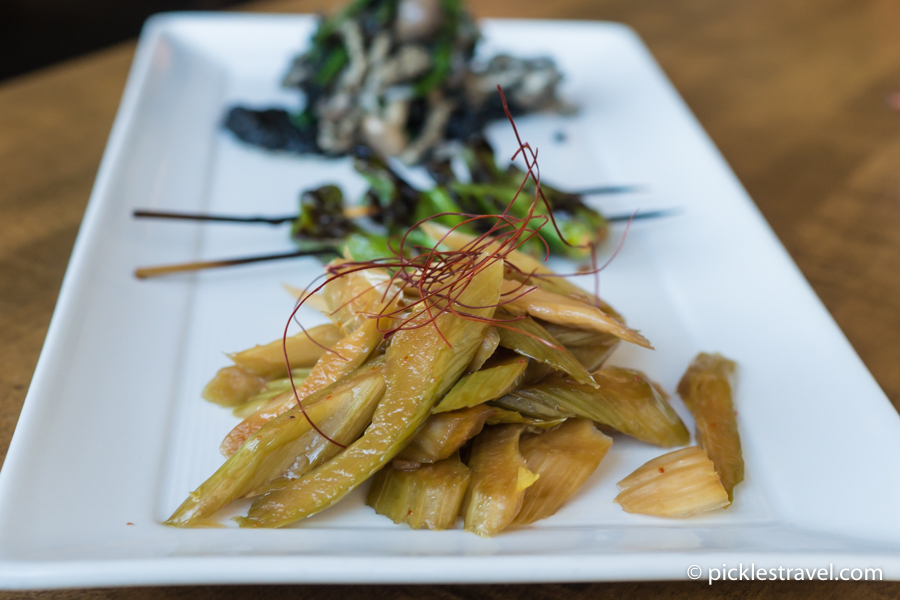 Pickled anything is a food group close to my heart, so imagine my excitement at seeing Pirikara Celery- pickled celery- on the menu. The flavor was sharp, flavorful with a nice vinegar kick, although too strong to eat alone, so order it to come with your other food as a condiment of sorts. What I loved most about it was that it maintained its crisp celery snap when you bit into it. Texture is everything in a pickle and this one's crunch topped the list!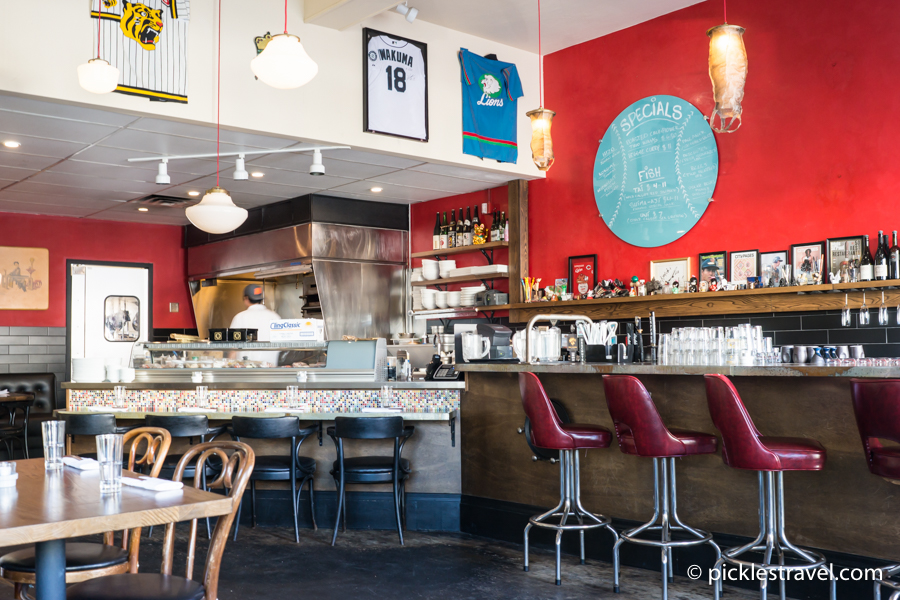 Kyatchi is also famous for its hot dogs- which I was too full to try on this particular outing. The Yakisoba Dog was rated the "Best Hot Dog" in the Twin Cities by Citypages. The idea of a hot dog at a sushi/seafood restaurant makes more sense when you examine the decor at Kyatchi. There is a strong baseball theme throughout, due to the head chef's collection of baseball memorabilia.