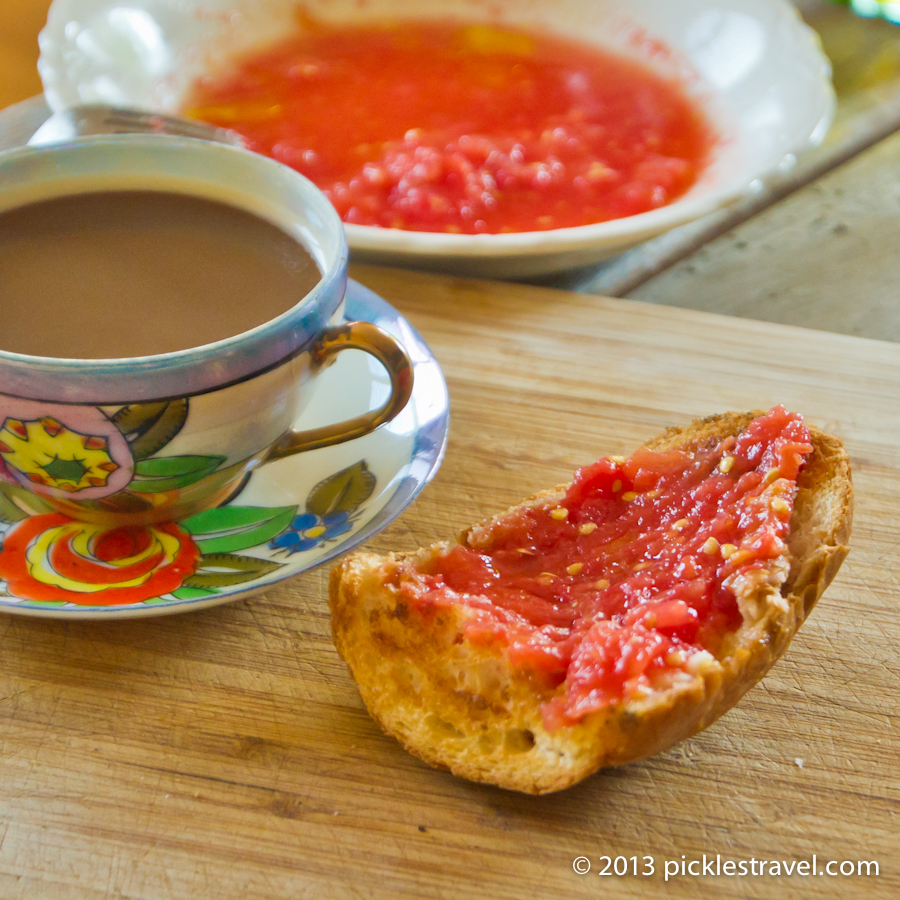 Pan con Tomate, or tomato on bread, is standard Andalusian breakfast food and so good that I could eat it all day long.
It's easy to make, delightful to eat and consists of only 4 ingredients (5, if you want it to be garlicky).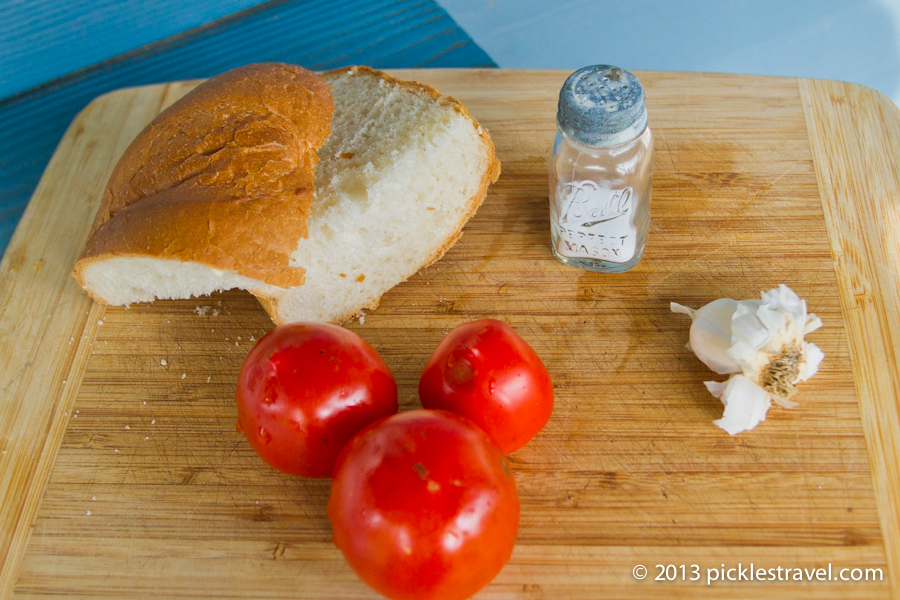 Ingredients are Bread, Tomatoes, Salt, Olive Oil and maybe Garlic. No olive oil in the photo, but that's a prime ingredient.
Make sure you have an extra virgin olive oil of good quality, as you're going to want to taste it in this recipe.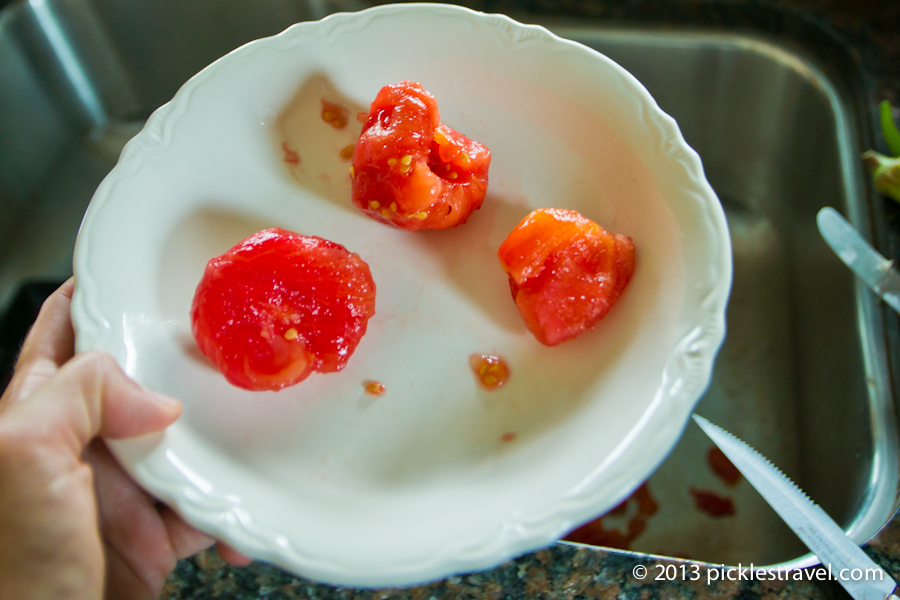 I always start by toasting my bread to get it nice and crispy. I then peel my tomatoes and squeeze out a fair amount of the juice. I want my mashed tomato pulp to be juicy, but not watery.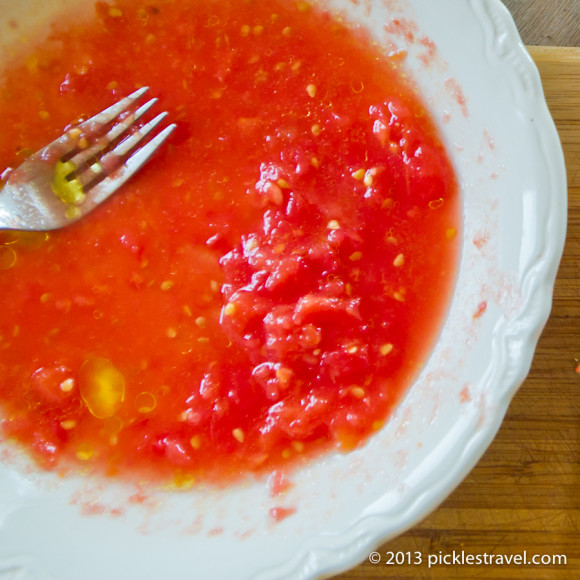 Once you've mashed your tomatoes, mix in the olive oil and salt. Let it sit for 5 min for the flavors to fully meld; allowing the salt to do its thing.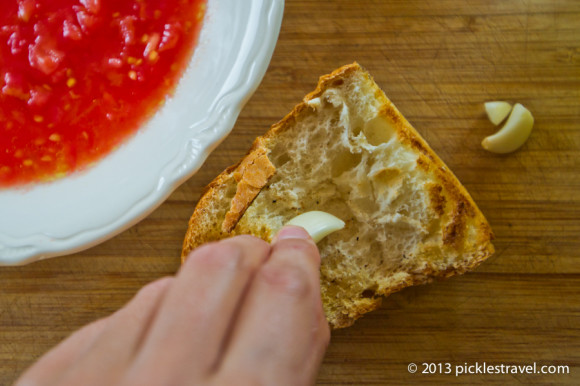 If you want garlic, now is the time to add it- Rub the cut pieces over your bread to add the garlic flavors, but not any texture. Then add your tomato mix. I dare you to eat only one- it's pretty much impossible.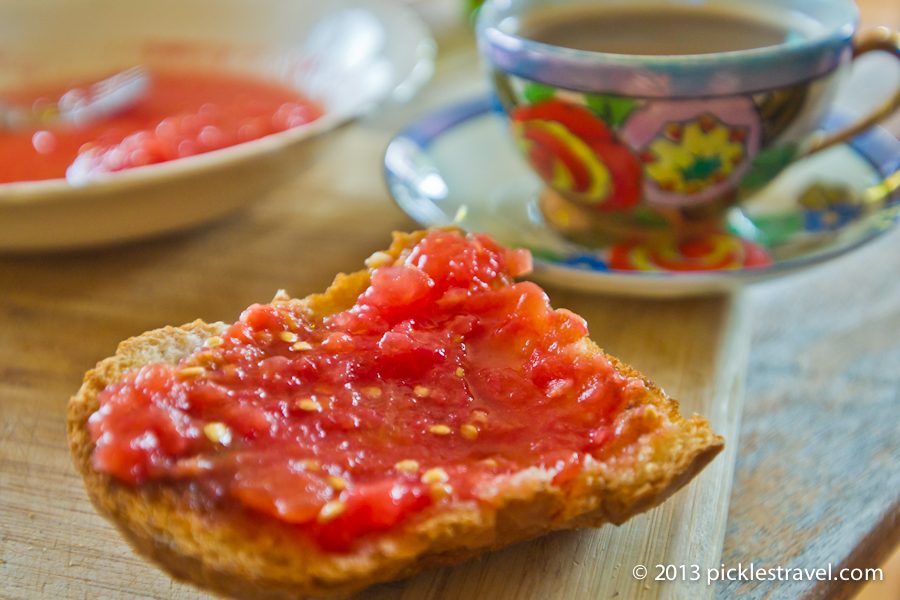 | | |
| --- | --- |
| | |
Toast your French or Ciabatta Bread slices so that they're somewhat browned and crispy.

Peel tomatoes. Squeeze out most of juice (don't worry about seeds). Place tomatoes in a bowl and mash together. Add olive oil and salt. Mix together. The longer your tomato mix sits the better flavor it will have- wait at least 5 min. before eating.

If you want garlic slice the clove in half and rub on your toasted bread. Then add tomato mixture. Top with more olive oil and salt to taste. Using a fork "knead" the tomato mix into your bread, so that the crispy toast soaks in the moisture of the tomatoes and olive oil.

Enjoy with your favorite coffee drink, or Cafe con Leche like the Spaniards.