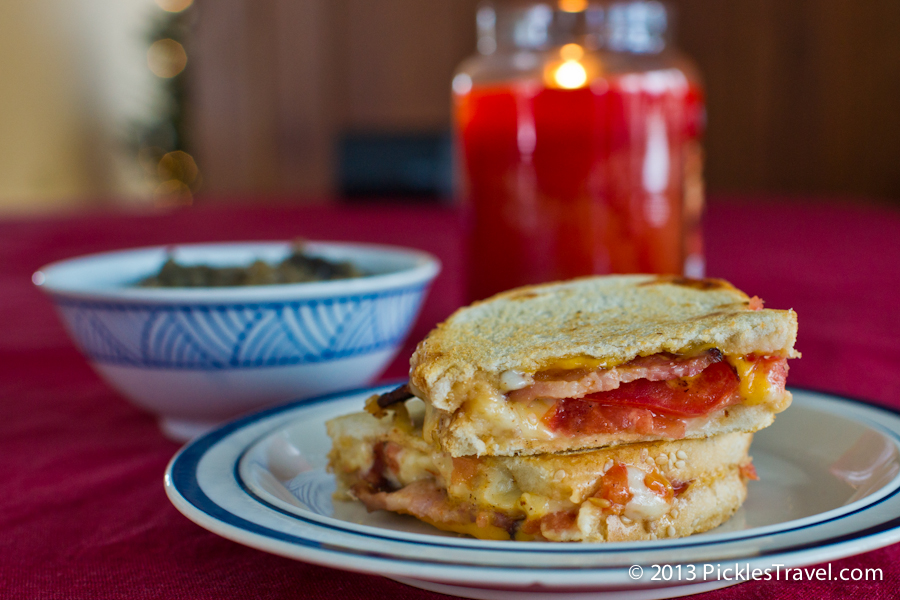 There is nothing better when it's cold than a grilled cheese sandwich with tomato soup or chili. The more simple the soup the more elegant you can make your grilled cheese!
I make my grilled cheese sandwiches on my panini/griddle maker. I use it because it's fast and easy, but it also allows me to leave off the butter when cooking them.
For a full-bodied grilled cheese sandwich I use 3 different types of cheese, thinly sliced tomatoes and crunchy, spicy, cooked bacon. (mmm, bacon really does make everything better!). Plus maybe a pickle on the side!
Ingredients for Bacon-Tomato Three-Cheese Grilled Cheese Sandwich:
2 slices of quality Bread; I prefer multi-grain but anything will work
1 slice Smoked Gruyere Cheese
1 slice Sharp Cheddar Cheese
1 slice Swiss Cheese
2 slices of crispy Raspberry-Chipotle Bacon from my local butcher- any thick-sliced, spicy bacon will do
2 slices of thinly sliced Tomatoes
Directions:
1. Layer ingredients on single slice of bread and cover with the second. Place the order of ingredients so that it start with a cheese and end with another cheese (cheese next to each slice of bread), so that it melts onto and through the tomatoes and bacon, as well as combining nicely with the other cheeses.
2. Place sandwich on panini grill at medium-high and lower grill top. Cook for 2 minutes or until bread is browned.
If cooking your grilled cheese on the stove, cover bread ends with a small amount of butter. Heat fry pan on stove to medium-high heat. Place sandwich on one end and cook for 1 minute and then flip. Cook for 1 minute. Repeat until bread is browned.
3. Eat warm. Dip in your soup for extra effect!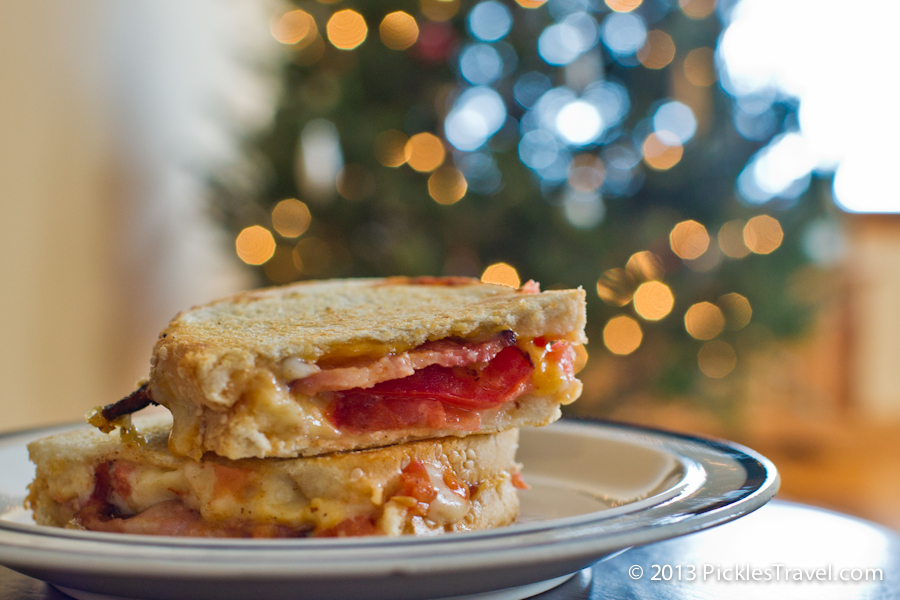 Enjoy your Christmas tree or Holiday decorations while munching down! My Christmas Tree is my favorite view in the house at mealtime :c)
Join the newsletter
Planning your next Outdoor Adventure?
Get your free
National and State Park Checklist
of Minnesota
by clicking here!