I love food, but I am now officially obsessed with Korean food. It's filling and light, lots of fresh vegetables and rices. I should preface this post by saying that, by far, my favorite food in S. Korea was all the different types of kimchi available at every meal (In my mind kimchi is Korean for pickle). I like kimchi so much that it gets it own post, and therefore will not be featured in this one- I just don't want you to be disappointed.
Enormous King Crabs are widely available around of the coast of South Korea. You walk up to any street vendor selling seafood, pick out the crabs, weigh them and have them brought to your table, fully prepared. I ate these two giants in Kampo, with just the help of two other people! I was too full afterwards, but it was so worth it! The restaurants in Korea always have to have little side plates (think sides of kimchi) to accompany the meal, and this one was no different. Instead of kimchis though, it was different types of seafoods and sweet potatoes.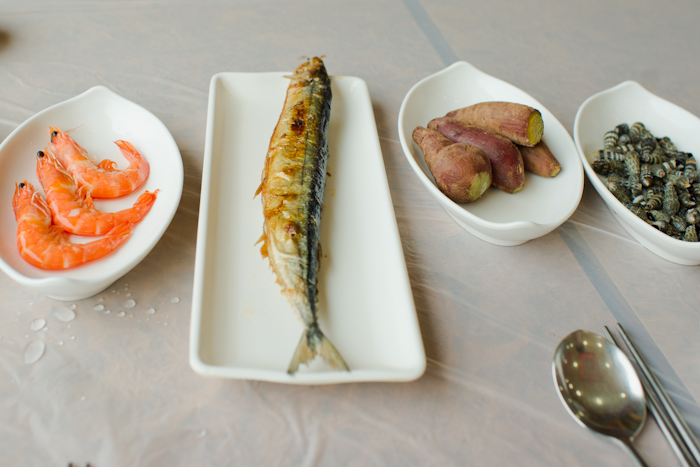 Some of the sides that came with our King Crab
Samgyetang is a chicken that has been stuffed with ginseng and rice in a lite chicken broth. It was very tasty, though I found the flavor to be a bit lacking (perhaps my American tongue just needed some salt).
It's hard to find restaurants dedicated to Bulgogi in S. Korea, but we found a great one on the coast, in Busan. In Korea the barbecue restaurants bring you the meat raw and you cook it at your table. I think this is a fantastic idea, then the meat never gets cold!
At the Kalbi Sal barbecue places you usually cook your meat and then eat it as a lettuce wrap (or however you like).
Jjim Dak is a spicy chicken dish. It has potatoes, green onions and noodles and all the red peppers give it its bite. It isn't as runny as a stew, but I would definitely put it into that category
This rice dish is great for a cold day. It has a smooth flavor and would definitely be my meal choice when I was feeling under the weather!
While there are fast food restaurants on every corner, I would not say that American food is a Korean's first choice. Italian food would be more their preference. I include this hamburger simply because it was amazing and is from one of my sister's favorite restaurants. She works near by and has gotten to know the owners and chef very well. I would have to say, I think it's one of the best hamburgers I've ever eaten!
Have I missed your favorite Korean dishes? What are they?