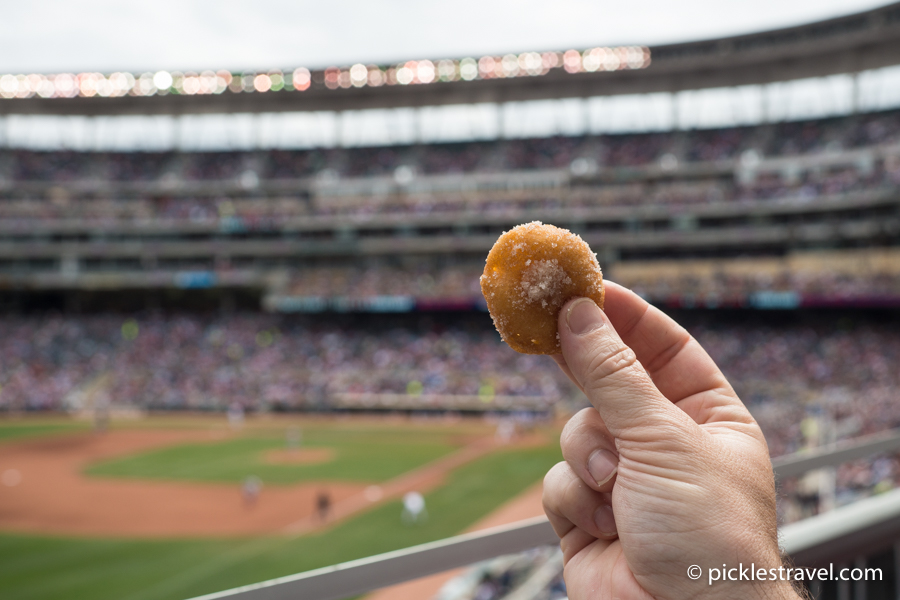 Going to a baseball game at Twins Stadium is the event. Choosing what to eat at said game is the adventure. Of course no baseball game is complete without a hot dog and you can always eat peanuts and Cracker Jacks. But it's time to venture outside the 'foul ball' lines and try something new and adventurous. Here is a "Top 5 list" of the best food at Target Field.
Best Food at Target Field
1. Korean fried chicken sandwich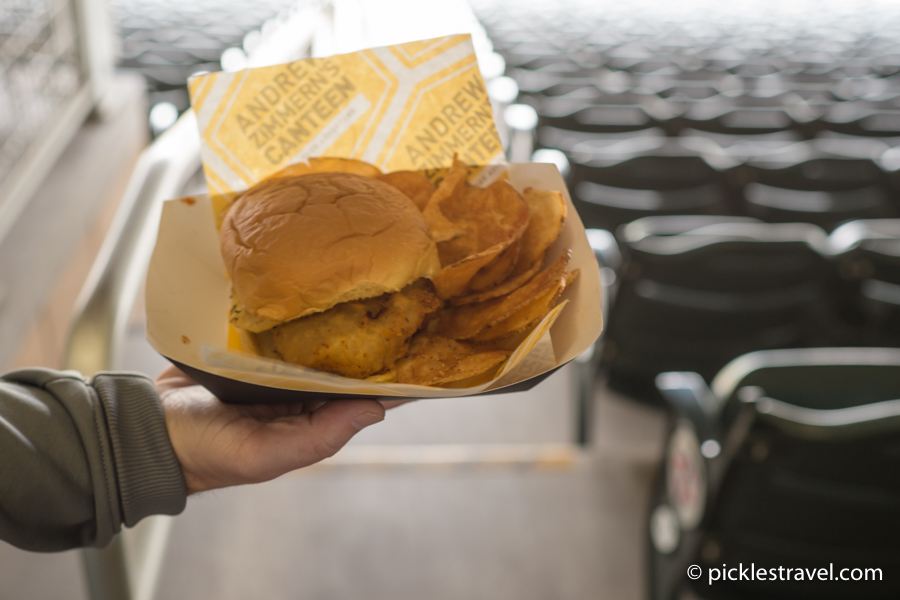 Perfectly cooked with moist chicken and a thin slice of grilled pineapple counters nicely with the spicy Korean red sauce. The sandwich is supposed to have a nice chili lime slaw on it, which I'm sure would have added a nice round out of flavors, unfortunately they neglected to put the slaw on my sandwich so I can't confirm that. Just make sure they put it on your sandwich!
In spite of missing a key ingredient it was still a highlight. Chips are included with the sandwich, although they are nothing special.
$13.00 Sandwich at Andrew Zimmern's Canteen includes chips
2. Walk-a-Taco by Burrito Mercado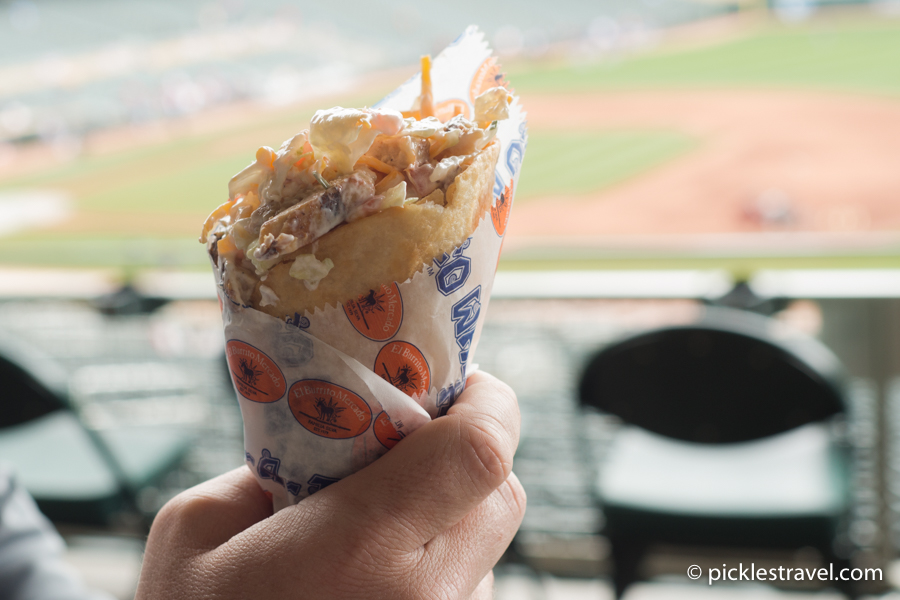 Having fairly low expectations and assuming something piled into a bag of chips I was blown away by the ingenuity and flavor of the Walk a Taco. Served almost like a Japanese hand roll this taco is a rolled hard tortilla cone that sports and chicken and slaw mixture with little spice but plenty of simple, delicious flavor.
The best part? This taco is as promised, easy to eat as you walk.
$9.50 at Senior Smokes.
3. Vegan Aloo Gobi by Hot Indian Foods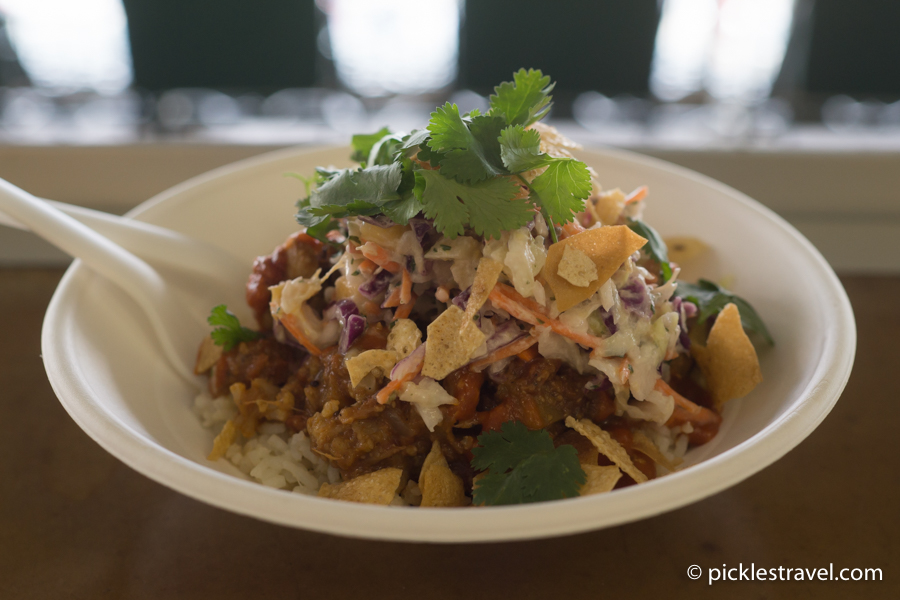 Rice in an eco-friendly bowl gets topped with a spicy curry sauce that includes large pieces of potato, cauliflower and squash then topped with crispy fried bread and Indian slaw.
Definitely the most filling meal and value of the food at Target Field. Some great heat, if you order it spicy, is rounded out by the cooling slaw, the crisp texture of the fried bread and the fresh cilantro on top- you'll feel so good about yourself after eating this that you'll forget about the two hot dogs you just devoured.
$11.00 at the Hot Indian Foods Cart (Section 120)
4. Pork Rib Tips at Butcher and the Boar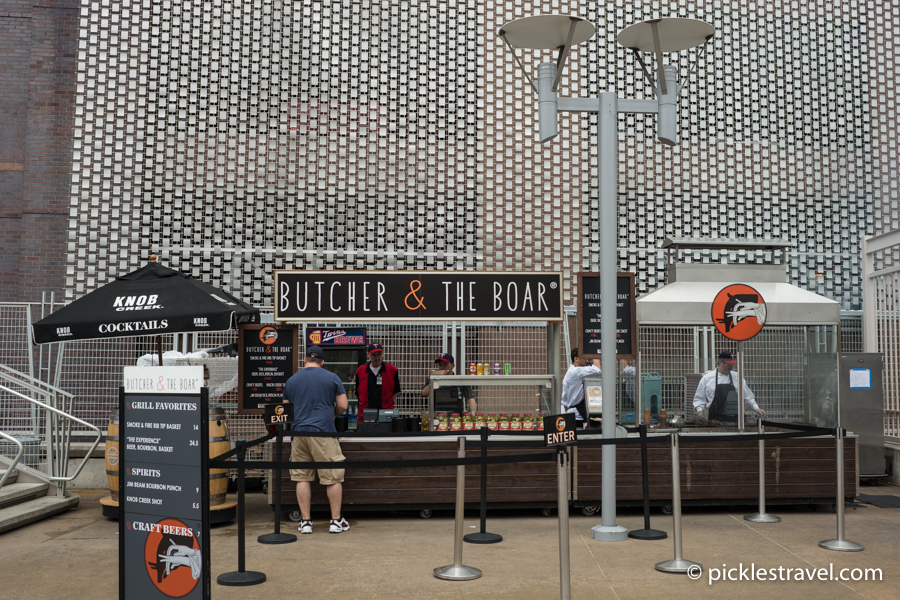 If eating vegan makes you queasy then head back to the Butcher and the Boar stand and order the rib tips. Thickly cut and served with some jumbo spicy bread and butter pickles I dare you to wait until you get back to your seat to eat these babies.
$14.00 at Butcher and the Boar (Section 140)
5. Kramarczuk's Sausage
Skip the hot dogs all together and get a sausage. Whether you get a polish sausage or a bratwurst Kramarczuk's is the only way to go. Top it off with a load of sauerkraut for a truly amazing bite plus if you order your sausage from the main Kramarczuk's stand there is some phenomenal dijon-style mustard at the condiment's stand near-by. You won't find anything but plain yellow mustard anywhere else, so stock up.
$8.00 at Kramarczuk's Sausage carts (Section 112, 117, and 312)