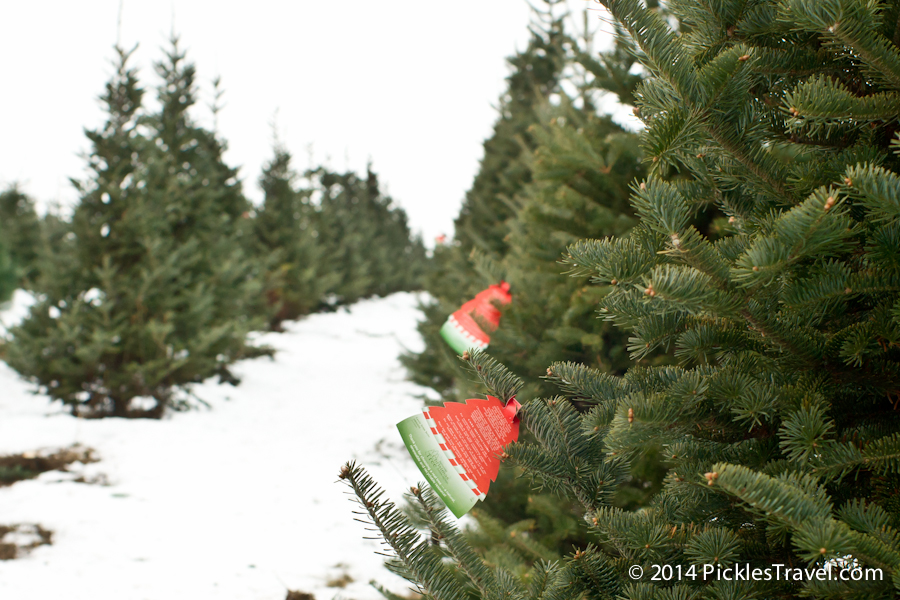 Picking and finding the perfect Christmas tree for display at home is a big deal. Several years ago we got rid of our fake tree because the process of finding 'perfection' is all part of the fun. Every year we go through our list of needs and wants in a tree. To make our whole home subtly smell of Christmas pine. To reach almost to the ceiling, but leave enough space for our star. To  look good on at least 3/4 of the sides…
Then there's the analysis of which tree would look best with my great-grandma's homemade snowflakes dangling from it…
Finding the perfect tree is a process. So why not make it fun for everyone!
Christmas tree farms make tree shopping enjoyable for the entire family!
Guggisberg Tree Farm

Guggisberg Tree Farm definitely makes the process enjoyable. Located just outside of New Ulm, Minnesota it is a winter wonderland oasis. Turkeys roam the fields as you walk row after row of firs, pines and spruce trees and if you're lucky enough to show up when it's snowing it feels like a page straight out the Polar Express (sans train, of course). As you pull into the Guggisberg Tree Farm Parking lot Tony, the smiling owner, will greet and help direct you to the tree of your dreams. He'll even supply you with a hand saw, which you'll need for cutting down your tree.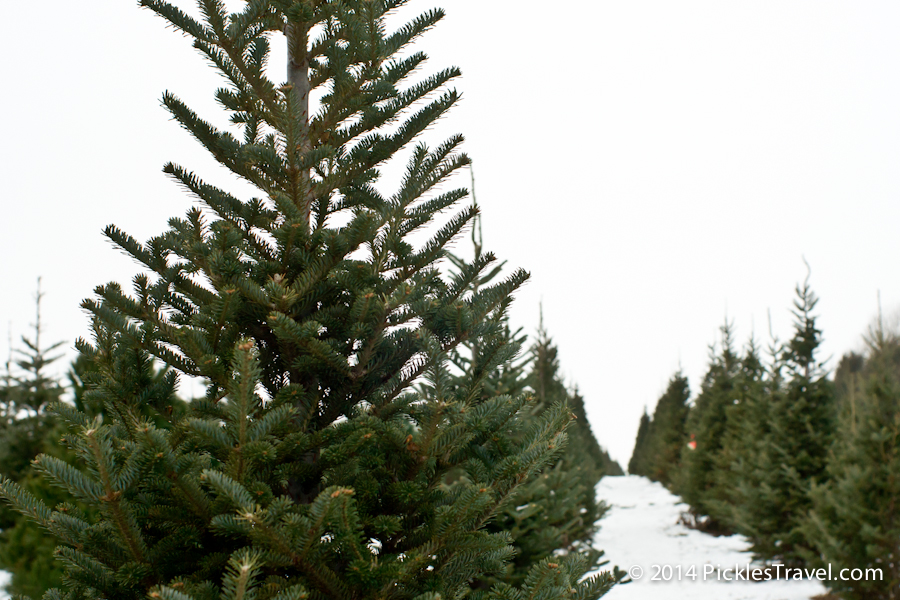 Not all trees are created equal, so make sure you find the perfect one for your home. For example, Balsam Firs smell amazing in your home, but if you're allergic to strong smells they may not be right for you. If you're looking for an exact height for your tree make sure you have the measurements with you. You can always do some trimming, but it's good to be as prepared as possible.

Once you have found that perfect tree it's time to get down and dirty. Get as low to the ground as possible, clear any debris that may limit your sawing motion and start cutting your tree down. No need to yell timber as it falls, but feel free to do so.

If you drag your tree down the row of trees to the parking area the owners of Guggisberg Tree Farm will meet you with their Gator Utility Vehicle to take it back to the 'home base'.
The row of trees pictured here are 10+ years old. It takes that long for a Christmas tree to be ready  for 'harvest' which means a lot of planning years in advance. Can you imagine having to calculate the amount of business that you will be getting 10 years down the line?! There is a lot of upfront work and thought that goes into running a tree farm

Once back at 'home base' your tree will boogie in the shaking machine so that you don't have to worry about stray branches or needles getting stuck all over your car. They will make sure that any limbs that are broken or dead have come off and that all the snow is gone too. All the things that you don't want to end up dragging into your home are taken care of by the shaking machine.

As your tree shakes you can head inside the lodge for a delicious cup of hot apple cider and cookie. It's a cozy retreat after tree shopping in the cold. One Sunday per season they have Santa come to visit as well, so plan accordingly if you have a long list of gifts you want!

After your cider and cookies you can pay for your tree at the front counter. They accept cash and checks. You can also purchase a bag for disposal after the holiday season if you'd like. Notice the Minnesota Grown sign- Be proud for supporting a local company!

When you emerge from the lodge your tree will be neatly and tightly tied to your vehicle and ready to go! Tony's jacket is perfect for his job and reads 'A Traditional Christmas Begins With A Real Tree.' He admits to loving the jacket even more so for protecting all his jackets from the sap of the trees. Clever, clever.
Where: Guggisberg Tree Farm: 17703 Grandview Rd., New Ulm, MN 56073
Directions: Located 10 miles SW of New Ulm on a gravel road. Take County Road 13 South of New Ulm 4.5 miles. Turn right on County Road 24 and go 3 miles. Turn left on 180th road (gravel) and go 1.7 miles- the road will curve and stay right as you come to the fork in the road at the lake (there should be a sign there). Guggisberg Tree Farm will be your next left from there.
If you go: Opens the Friday after Thanksgiving. 9 to 5 on Saturdays and 11 to 5 on Sundays until Christmas.
For a picture perfect tree shopping experience try going out when it's snowing!

"In December, evergreen boughs are rich with potential wonder.
All they need is a glance from you to come alive."
~Vera Nazarian