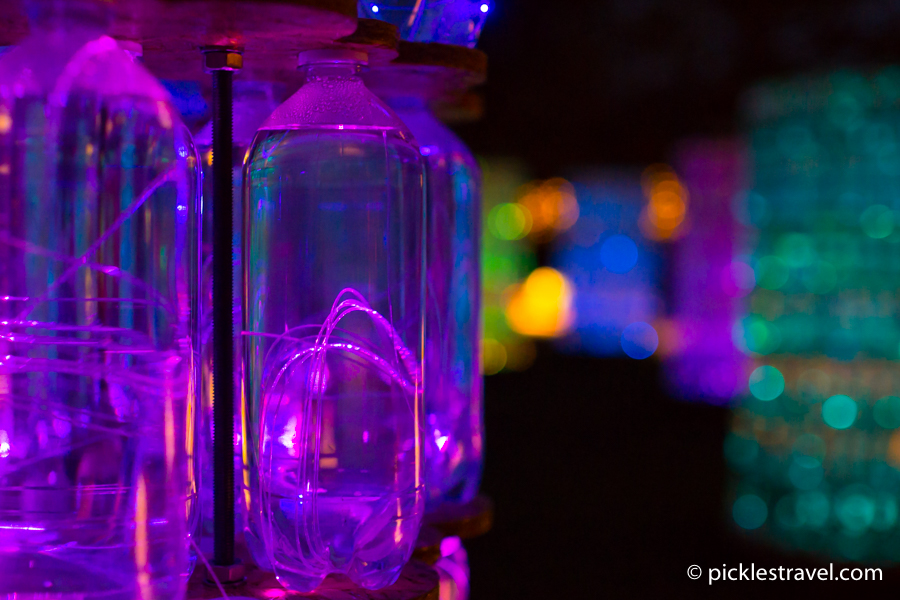 One of the best things about the holiday season are all the vibrant winter light displays- flickering Christmas lights of all colors and shapes are so cheerful and fun to see. This year the Minnesota Landscape Arboretum has an extra special light display that you can visit now through April (so no need to worry about how you're going to do everything in the next month) that is only open in the evenings Thursday through Sunday to ticketed visitors.
While there are only six separate installations that you can realistically walk in 30 minutes or less, the exploration of the colors and light is what captivated me.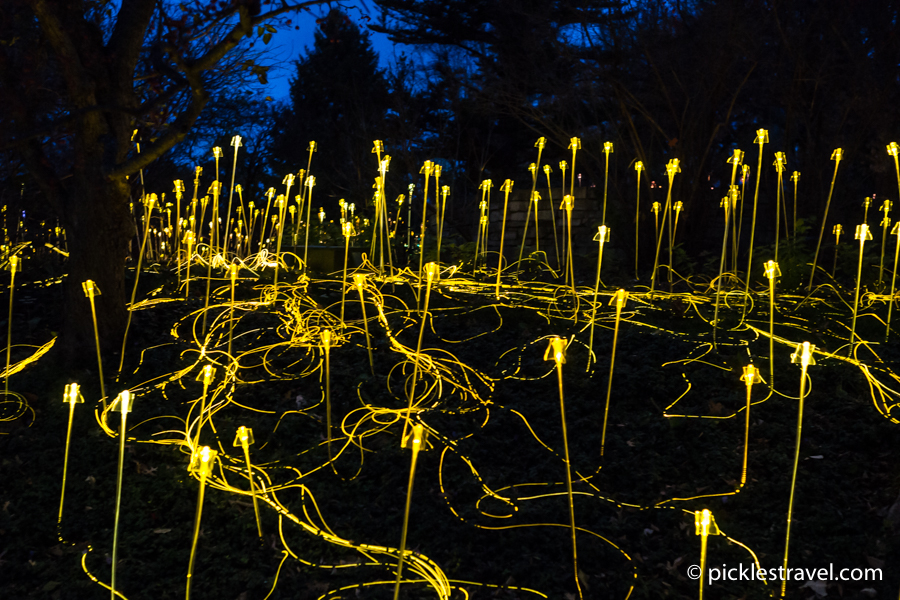 Bruce Munro is a British artist who knows how to tell a story with light. He uses anything from clothing pins to wrapped hay bales as his canvas and speakers to create an immersive atmosphere by sound byte. Some of his installations are expansive, like Oreum, pictured above, while others are more confined to a single space, like his Harry Potter-esq statue called Good Seed (below). You can find out more about his artwork and future installations here.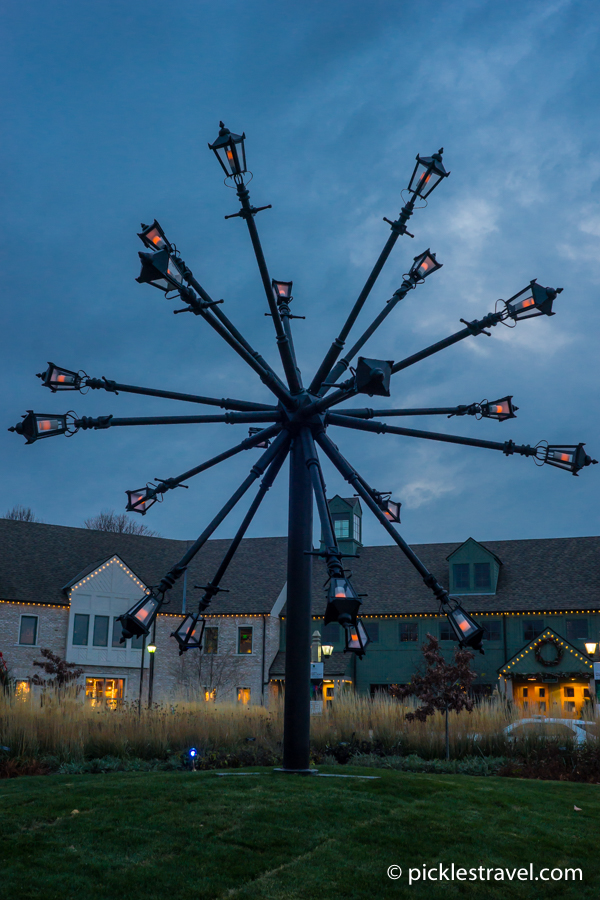 19 Lampposts branch out from a single source, which is the "seed" in the Good Seed sculpture. It looks like something beautiful and magical that belongs in the world of Harry Potter, although it was actually inspired by CS Lewis's lamppost in The Lion, The Witch, and The Wardrobe.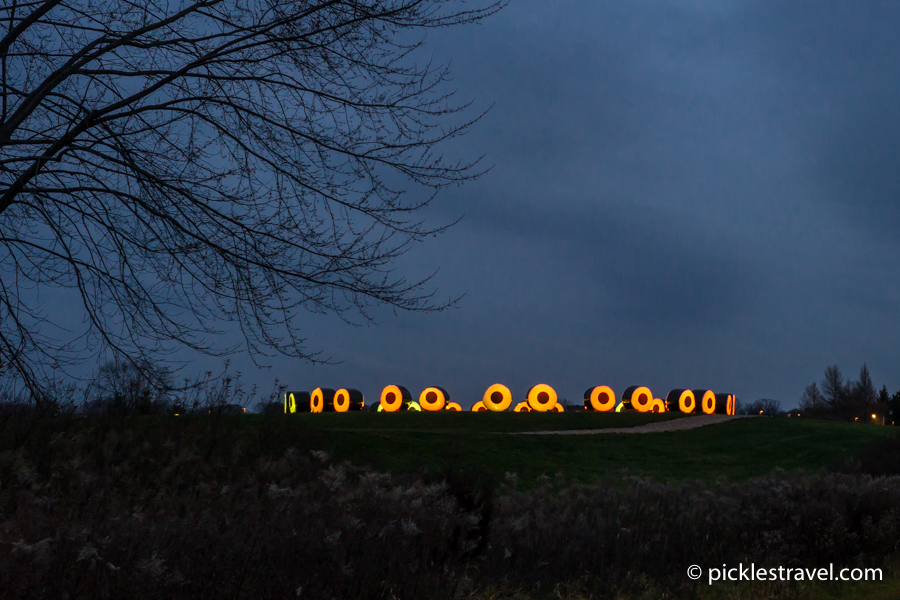 Think hundreds of blinking owls' eyes. The cool thing about this installation is that each "eye" is an individually wrapped hay bale- which is quite fitting given the almost rural setting of the Landscape Arboretum.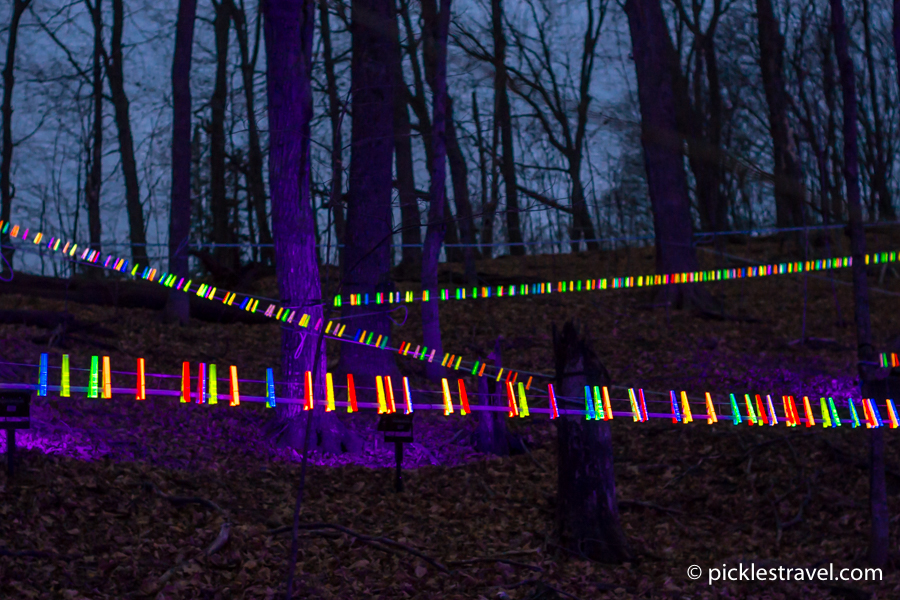 Clothespins become crows and the clothing line becomes their perch, while speakers caw from all directions, making you feel fully immersed in the experience.
The lines of the crows paralleled the lines of maple sugar collection that the Arboretum has in place. While the parallels were quite stunning I must admit that I was disappointed to not be able to get up closer to the installation to really enjoy the unique elements of the florescent clothespins.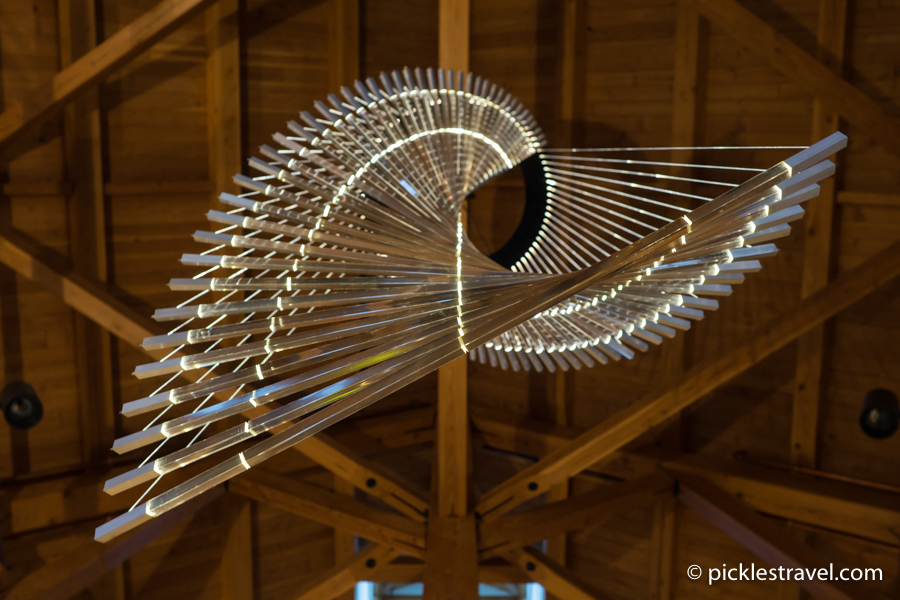 Located inside the arboretum main building Chindi is probably the one exhibit that you will get to fully see and appreciate whether you purchase tickets to the evening light exhibition or not.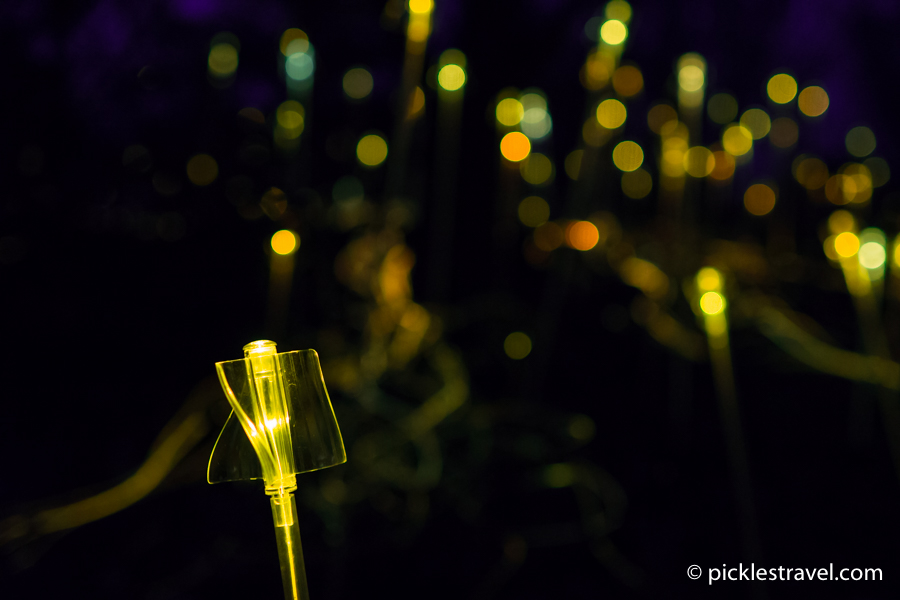 Flickering lights "hover" off the ground like fireflies and the lines of light that connect them on the ground feel like an amazing root system. Up close each one is a slightly different shade of light as they slowly change color with the night and when you step back to take it all in it almost feels like a small cityscape.
Water bottles full of water, strung together, and then filled with little lit fiber optic cables to light up the night. A genius, "homemade" type sculpture that is absolutely stunning up close and far away. It's also incredibly fun to watch as the lights change in and out.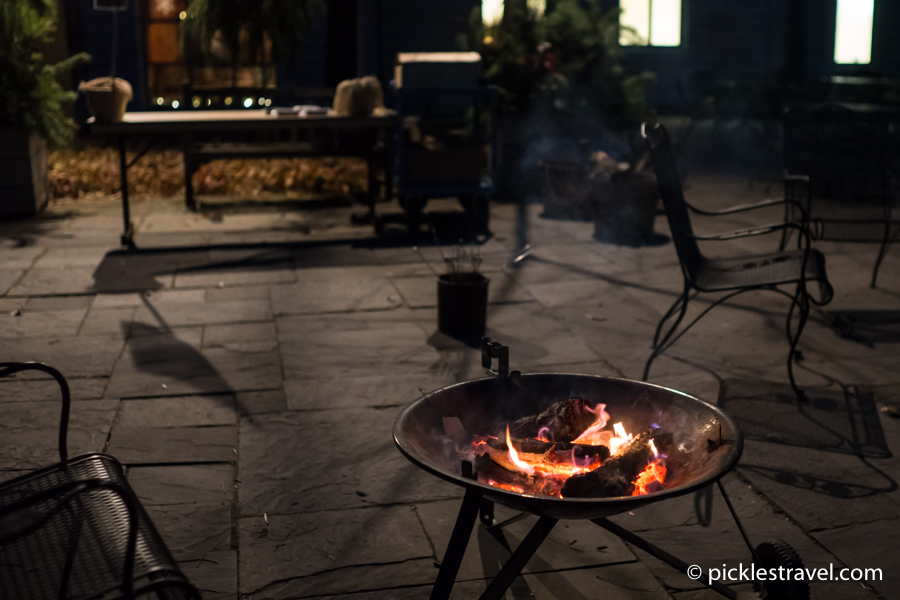 After the tour warm your toes by the fire with an ooey, gooey s'more treat ($5 for ingredients).
Suggestions:
Go after a fresh snowfall and a full moon to take advantage of the light and the reflective surface of the snow.
Details:
Tickets are $17/person ($12 for children 4 and older). There is a $2 discount for arboretum members.
Tickets can be purchased ahead or at gate (for a $5 increased rate) but are necessary in order to enter arboretum.
Walking tour is handicap and stroller friendly.
S'more ingredients and beverages are available for purchase.
Update:
The Nature in Glass Artwork at Minnesota Landscape Arboretum is no longer there, it was a seasonal installation for the summer of 2014. Although a few pieces do remain (like the dandelion) and one of the waterfall pieces.
There is always a beautiful installation in place at the arboretum though so go and check out when they currently have on display! Who knows, you may like it even more than this.
Address:
Minnesota Landscape Arboretum
3675 Arboretum Dr. Chaska, MN 55318