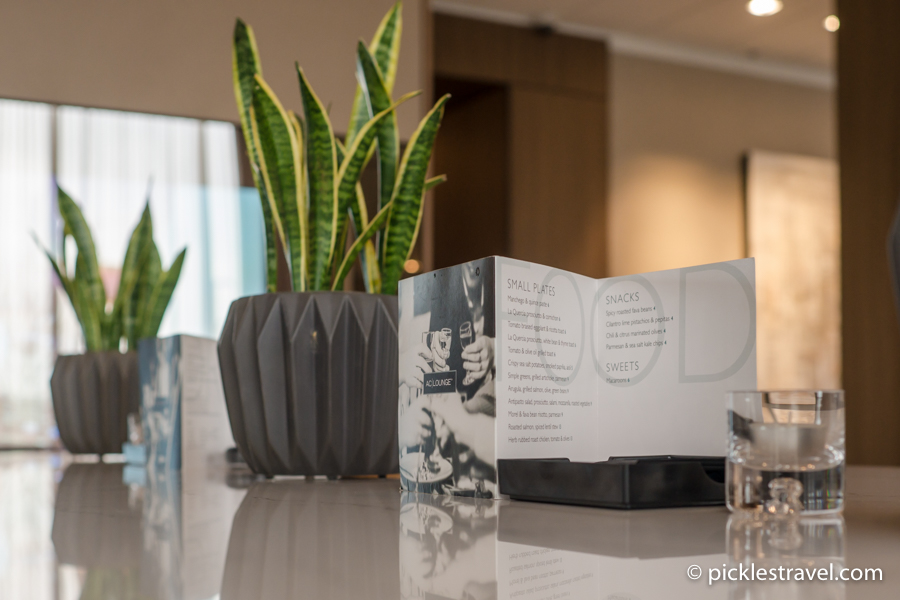 If you have ever grabbed drinks with a friend at the Mall of America, or are planning on doing so soon, but want to avoid the parking chaos and crowds of MOA then do I have a recommendation for you! AC Hotel Cocktail Lounge at the AC Hotel Bloomington has a wide array of small plate and tapas options and some incredible cocktails that are well worth the visit.
I was invited by AC Hotel Bloomington to stay at their hotel and had 3/4 of our cocktail and small plates meal comped. However, all opinions expressed are my own.
AC Hotel Cocktail Lounge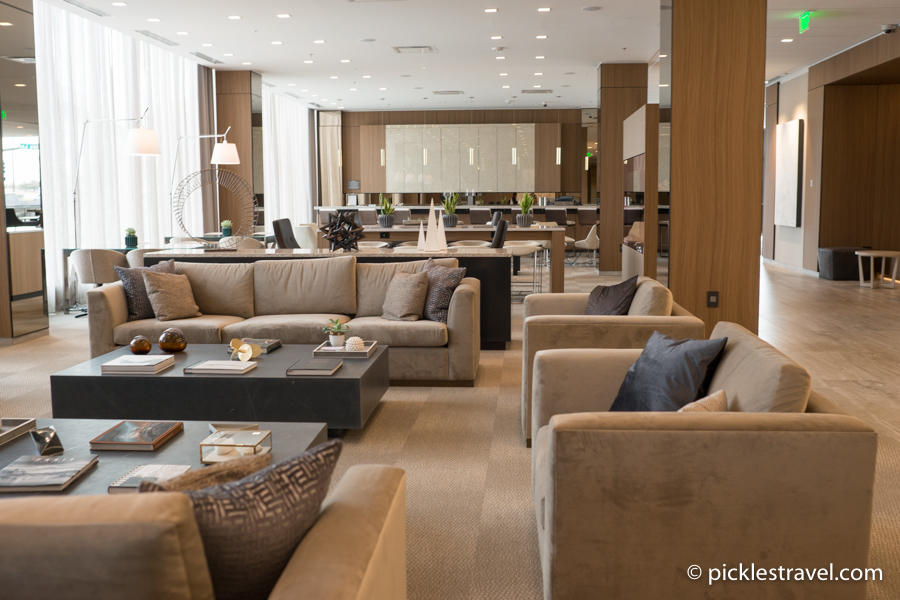 The AC Hotel Cocktail Lounge is a wide, spacious area with floor to ceiling windows, plenty of different seating options and even some great reading options if you're just trying to relax after a long day. On one side of the space sits the full bar, and on the extreme other side is the hotel check-in desk (it is a hotel, after all). You can order both at the bar or there is also wait staff that is more than happy to help serve you at any point in time.
The Drinks
The signature drink for the AC Hotels is the 'Signature Gin Tonic' which includes Hendrick's Gin and Fever Tree Mediterranean Tonic. The hint of flavor on that tonic water, combined with the fresh slice of cucumber that they put in the drink creates the perfect combination. It's refreshing and light – the perfect drink for our warm summers. Not to mention that visually it's an absolutely gorgeous drink!
Interestingly they serve all their beers in cans- they believe that the can tells a story and that the beer tastes better straight from a can. Their 'On Tap' drinks consist of wines and a Spiced Blood Orange Margarita.
I had the margarita and was really looking forward to the blood orange flavor. While I definitely got the really nice after heat from the 'spiced' part of the description I was a bit disappointed that I didn't get a stronger sense of the Blood Orange- that being said, it was still a great drink. I'll just stick to the Signature Gin Tonic in the future!
All of their drinks have some exceptionally solid ice cubes that don't melt very quickly at all, which keeps it nice for those of us (like me) that slowly sip their drinks.
Small Plates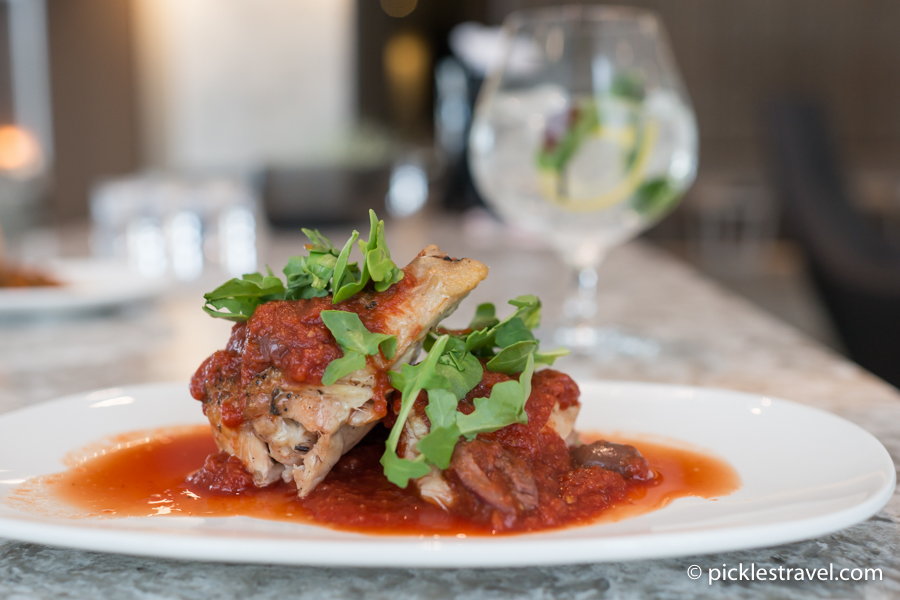 The philosophy at AC Hotel is that they aren't a full-service hotel, so they provide small plates of food and tapas, but not your complete, fully robust meals. You can get a small plate of food ranging from olives or pistachios for $4 to chicken or salmon for $13 so there is a wide range of options and price points.
We tried several of the different plate options and while you won't be stuffed afterwards you could probably get away with eating the salmon or chicken and make the sea salt kale chips for a complete meal.
My favorite of the two "larger" plates was the roasted chicken with tomato and olives. The sharp flavor of the olives perfectly contrasted with the sweetness of the tomato. Plus it was a fair amount of chicken- considering that it is called a "small" plate.
Tapas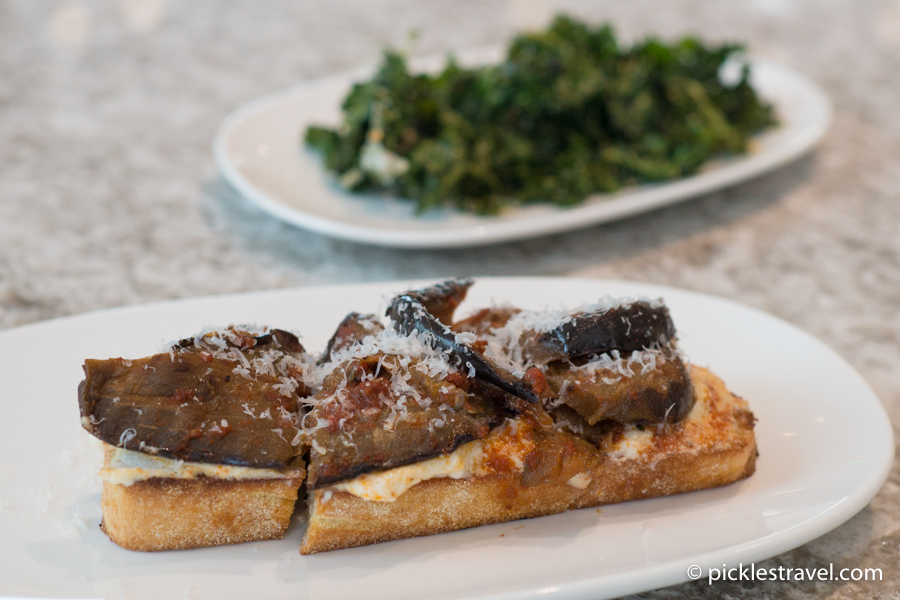 The tomato braised eggplant and ricotta toast was my favorite of the menu items that were set up more like tapas. The ricotta was perfect under the warm eggplant. My husband was less than a fan, but I usually have to trick him to eat eggplant as it is, so take that with a grain of salt!
My second favorite tapas item were the sea salt potatoes with smoked paprika aioli. They were so good that we basically inhaled them, which is why there is no photo to share…
We also tried the morel and fava bean risotto, because I love morel mushrooms almost as much as I love pickles. The flavor was great, but if I'm going to eat something with morel in the title I want to see and eat a morel and there weren't any- I think it's dried, ground up morels- which still gives a delicious flavor… Just not what I was hoping for.
Snacks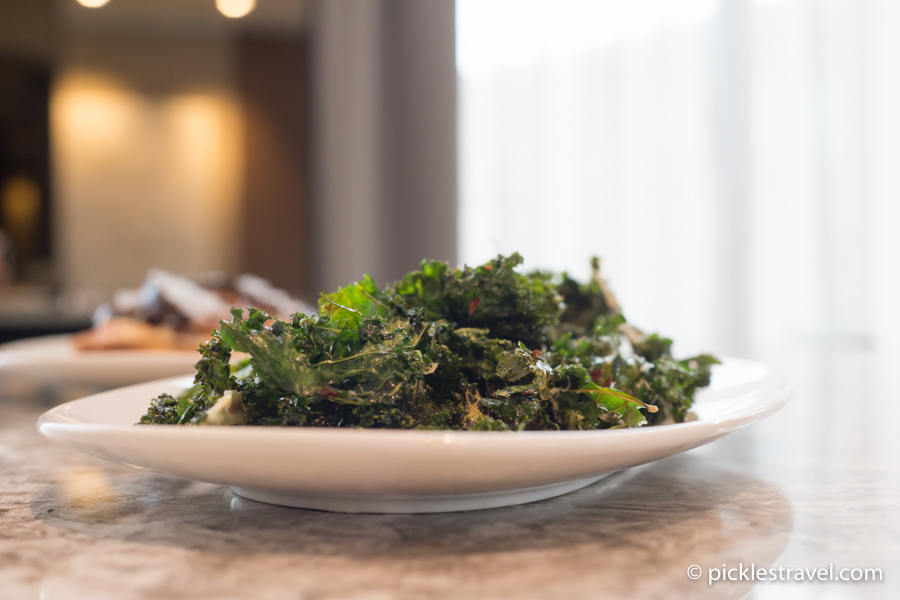 For the snacks options we had the parmesan and seas salt kale chips. They were amazing. I told my husband that they were the best kale chips I have ever had- so definitely worth getting a plate of them.
Overall it was a wonderful dining and drinking experience. The flavors were on point and I loved the ambiance with all the natural light streaming in. If I lived closer to the MOA I would definitely make this a happy hour spot!
The Details
Where: 8100 26th Ave S, Bloomington (Literally right across the street from the Mall of America sign)
When: AC Hotel Cocktail Lounge bar opens after 4:30 pm
And remember that you don't need to be a hotel guest to enjoy it!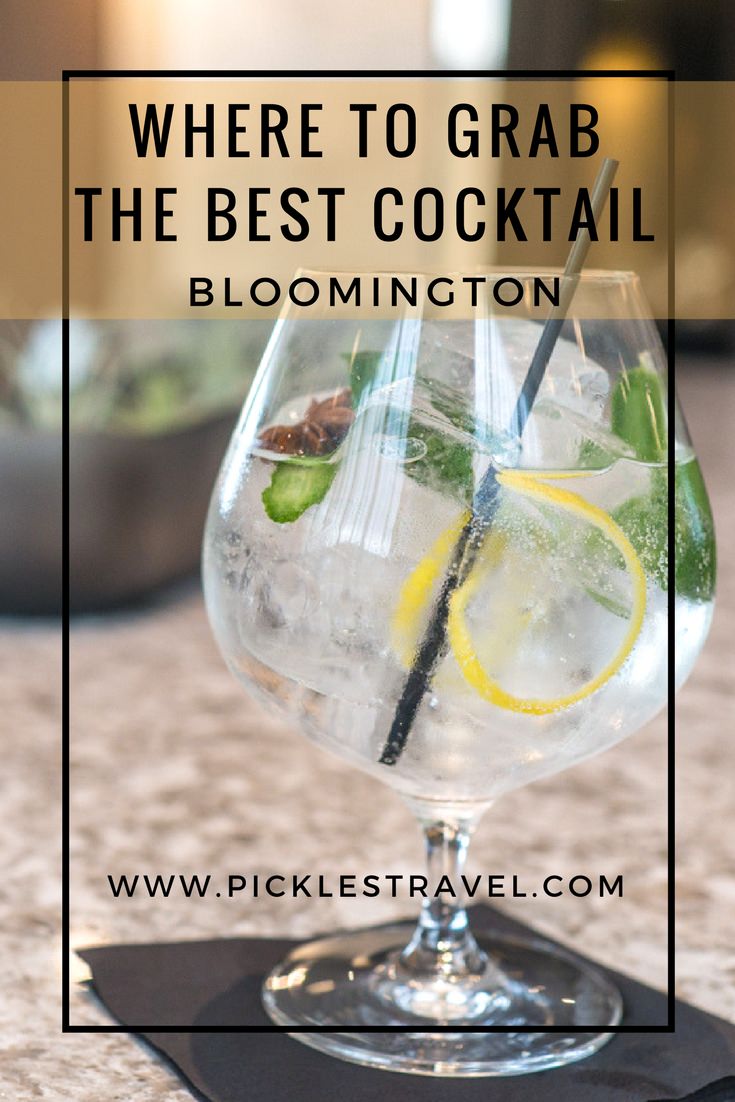 Join the newsletter
Planning your next Outdoor Adventure?
Get your free
National and State Park Checklist
of Minnesota
by clicking here!