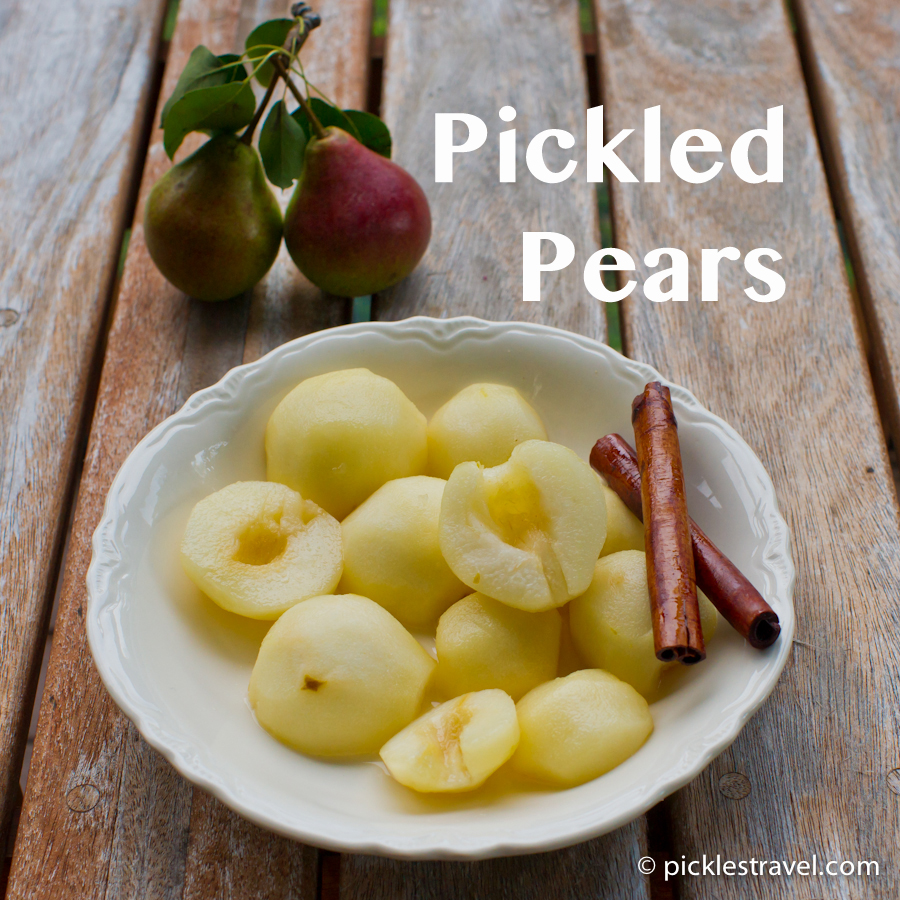 This year I picked an over abundance of pears. Lots and lots of pears; small, firm and perfect for canning.
I had always shied away from pickling fruits, as I was nervous that the vinegar flavors may overtake the sweet flavors, but boy was I wrong. There is nothing better than a pickled pear when it's cold out! (Plus it's still a 'Pickle' so it can be my favorite food without changing a thing).
If you have never tried pickling pears, the time is now- you won't be disappointed. They are great as a treat or as a part of dinner- I really like to eat them with my grilled pork chops.
As I had never pickled pears before I didn't want to just wing it, so I followed my favorite, and trusty-worthy pickling book: The Joy of Pickling, by Linda Ziedrich. I made a few changes as I went along, mostly to the amount of sugar being added, as I always try to minimize the use of sugar in my recipes, but nothing drastic.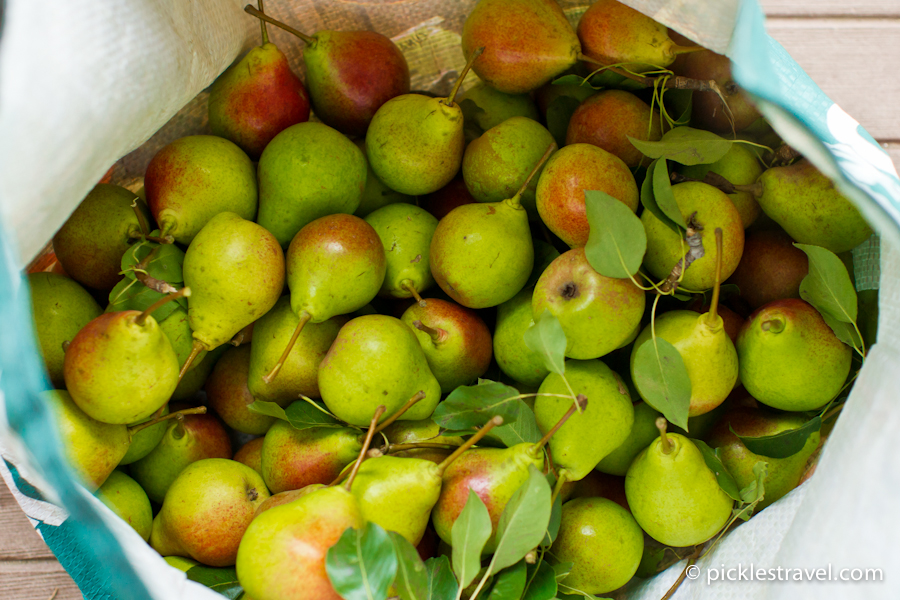 Start with about 6 lbs of firm pears. Wash and peel them. This is why you want firm pears- so they are easier to peel (and so they don't disintegrate in the liquid mixture you'll cook them in).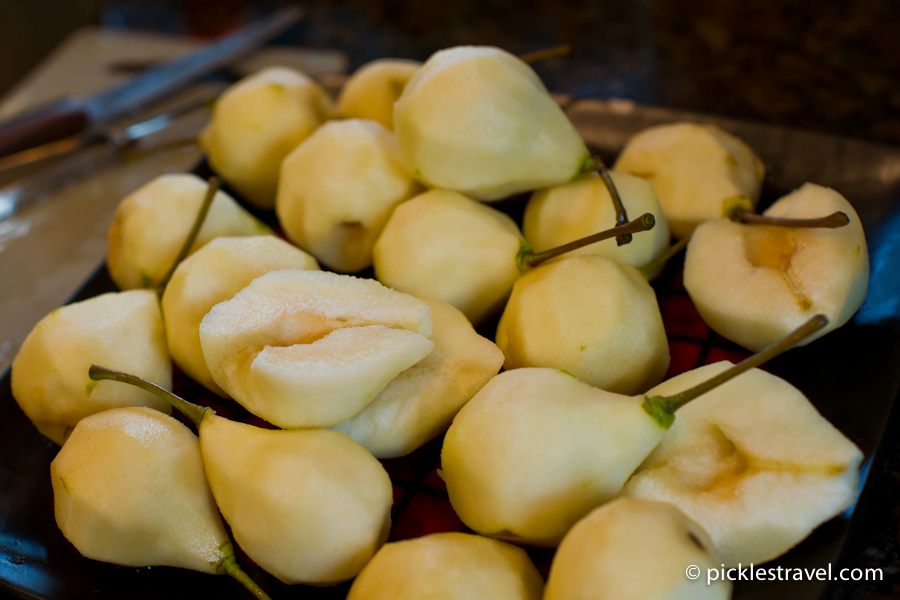 Once your pears are peeled you can either slice them in half, or if small enough, leave them whole (or do a mixture of both, like I did).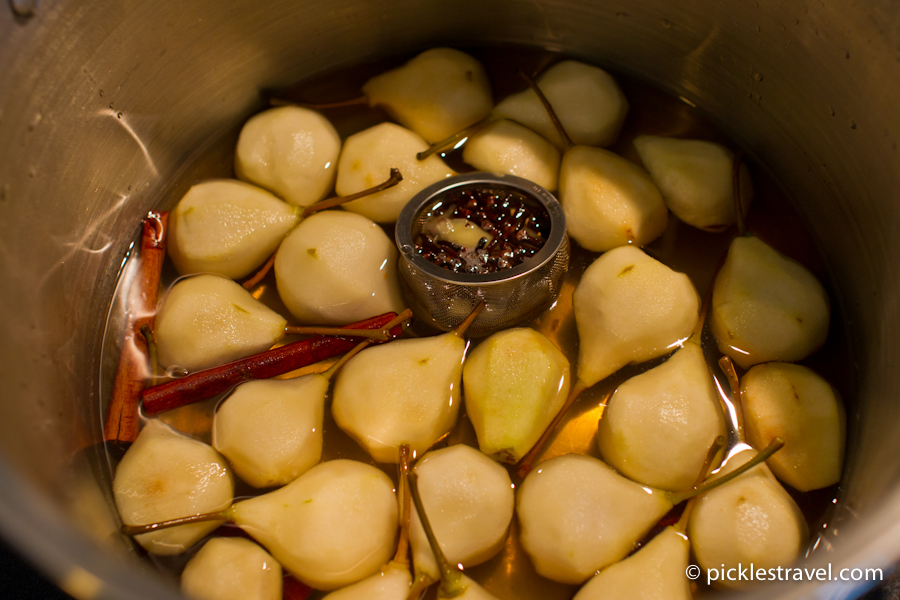 In a large, nonreactive pot add the vinegar, sugar, water and spice bag (I didn't have a spice bag so got creative and used my nonreactive, mesh tea infuser- not perfect (or recommended), but it worked). Bring the syrup to a boil and then add in the pears.
Once they've boiled for 15 minutes you can add them to jars and boil them using the water canning method.
Here is the full recipe- Enjoy!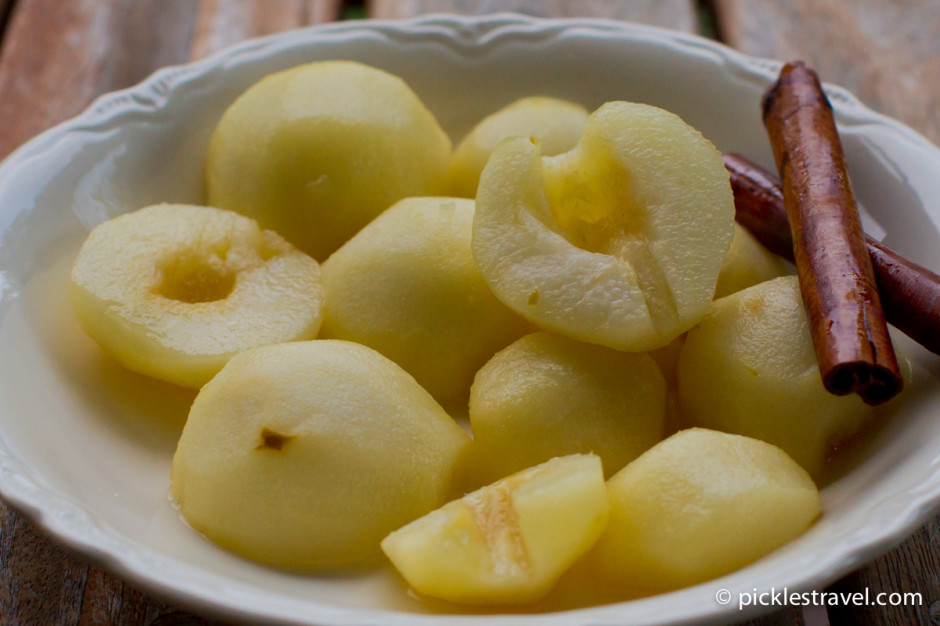 | | |
| --- | --- |
| | |
Peel your pears, if they are small enough you can leave them whole, with the stems attached. If they are larger, slice them in half and core them.

Tie the spices up in a spice bag or cheesecloth; cloves, ginger and cinnamon sticks.

In a large, nonreactive pot, combine water, vinegar and sugar. Add the spice bag to the mixture and bring the syrup to a boil. Stir while boiling to dissolve the sugar, and then reduce the heat. Simmer syrup for 5 minutes.

Add in a single layer of pears, cooking on low heat until they are tender; anywhere from 5 to 15 minutes, depending on the variety. Once pears are tender, transfer the cooked pears to quart or pint mason jars. Note that you won't be able to cook all the pears at once.

Repeat the last step with a new batch of uncooked pears.

When all the pears are cooked and packed into the mason jars, remove the spice bag from the syrup and pour the hot pickling liquid over them, leaving 1/2 inch of headspace in each jar.

Wipe the rims of each jar and close with two-piece lids. Place jars in a boiling water bath for 15 minutes. Remove and allow to cool and seal for up to 24 hours. Store jars in a cool, dark place.