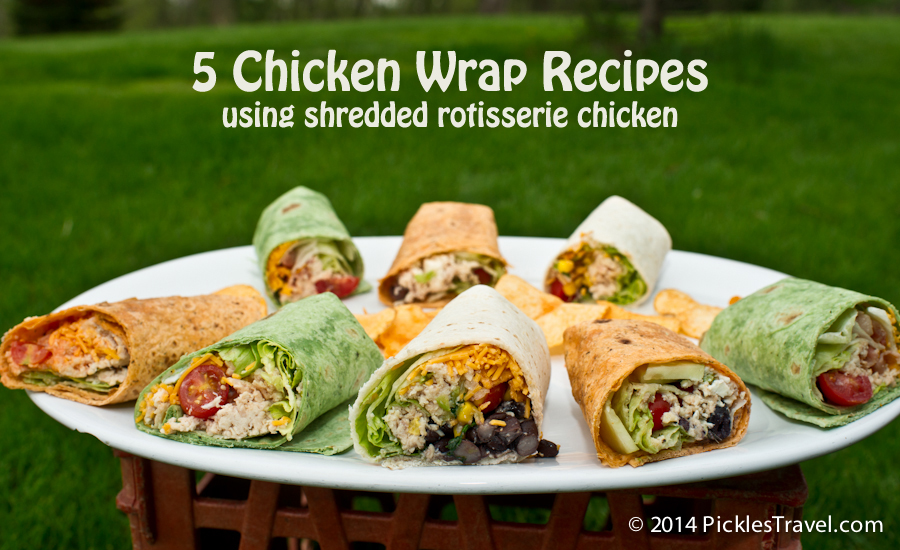 I'm a huge fan of sandwiches. When I was younger I looked forward to the Summer purely because it meant I got to have sandwiches every day for lunch. I still love sandwiches- but I love all the different kinds of sandwiches; from wraps to bagels to open-faced sandwiches, there's something new to try every day! This week it's all about the wraps-specifically this amazing Chicken Wrap Recipe. They are a perfect paper-bag lunch sort of meal, as well as picnic ready for the Memorial Day Weekend.
This post contains affiliate links which means I will make a small percentage if you buy the item. I only recommend products that I use and love.
Use Rotisserie Chicken to make a Wrap
One Rotisserie Chicken can be shredded using a food processor up to make 8 or 9 of these simple chicken wrap sandwiches. A great option for brown bag lunches: cheap, easy and delicious. The 5 variations on the Simple Chicken Wrap Recipe mean each meal will be completely different from the last, using much of the same ingredients.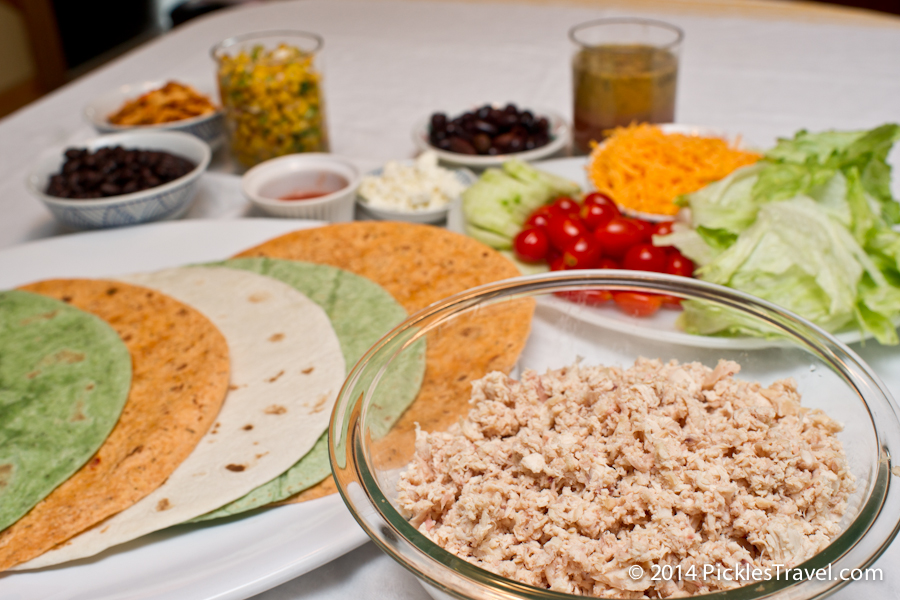 It's easiest to make several wraps at once if you lay out all the ingredients ahead of time and shred all of the chicken from the rotisserie chicken at once (demonstrated in the photo below).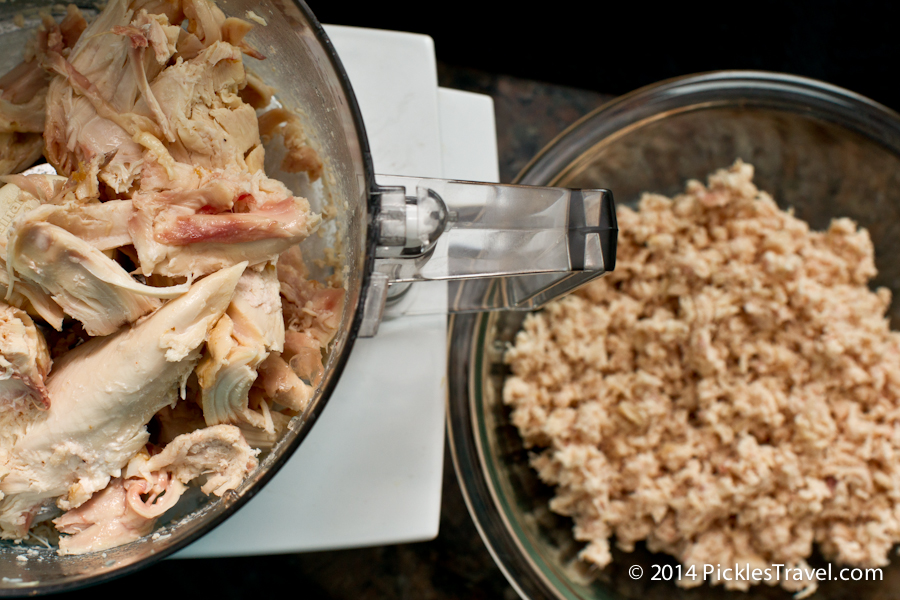 I use the Cuisinart 14-Cup Food Processor to do the "shredding" because you need something slightly more heavy duty to shred a chicken and I love my food processor! It's so nice to have the even consistency of the chicken when you use the food processor versus trying to shred everything by hand.
Basic Chicken Wrap Recipe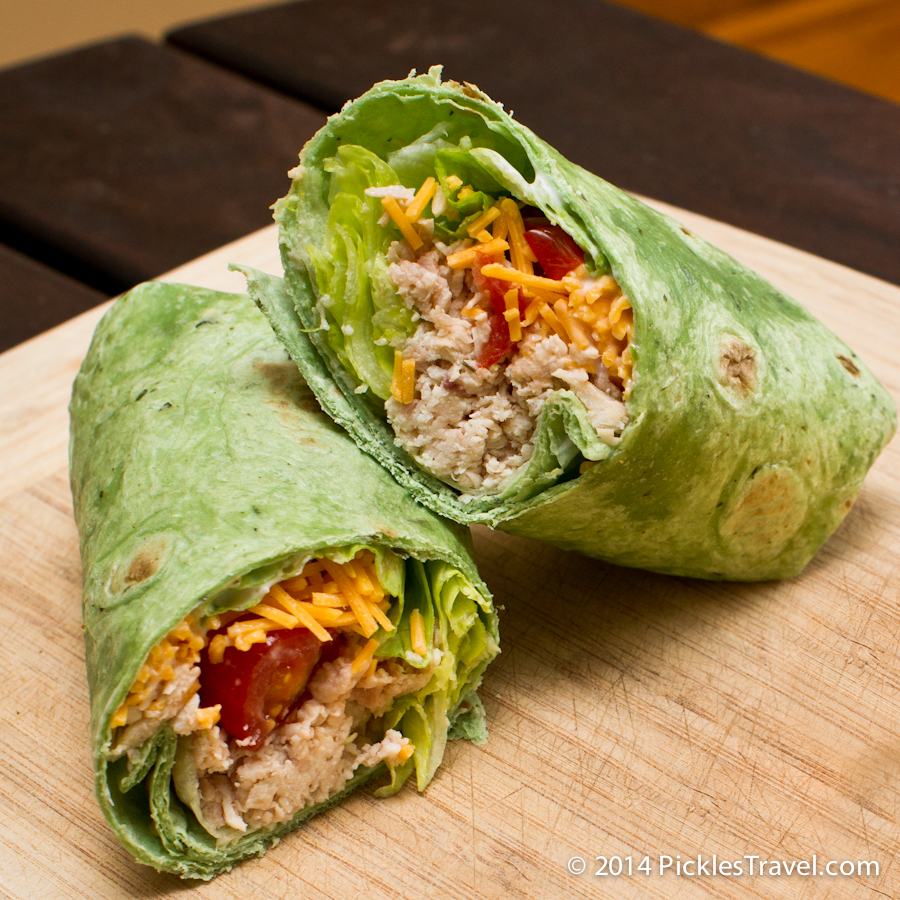 Ingredients:
Rotisserie Chicken
Lettuce
Tomato
Finely Shredded Cheddar Cheese
Large Tortilla (whole wheat, sun-dried tomato, spinach, etc.)
Directions:
1. Start by shredding your chicken. Pull all of white meat off of rotisserie chicken and place in a food processor. Pulse slightly until chicken looks close to being ground.
2. Lay out your tortilla and line ingredients down the middle of the tortilla: 2/3 cup of shredded chicken, 5 to 10 grape tomatoes sliced in half, 1 leaf of lettuce torn apart, 1/8 cup of shredded cheddar cheese.
3. Roll up tortilla by slightly folding in sides towards the center as you fold the side nearest  you upwards toward the top of the tortilla. Roll wrap away from you keeping all of the inside fillings tight. Slice wrap in half and serve.
5 Chicken Wrap Recipe Variations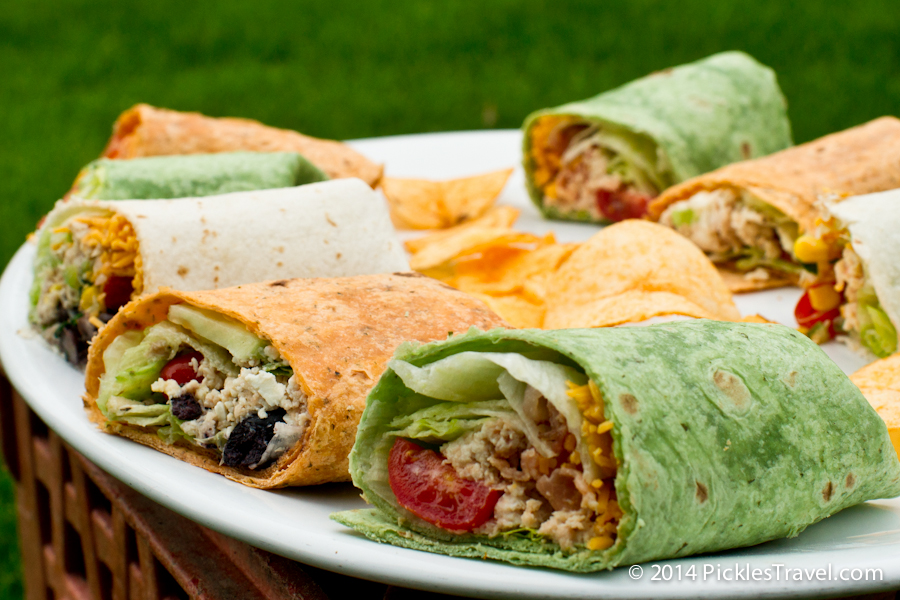 Follow ingredients above and include 1/3 cup cooked black beans, decrease shredded chicken to 1/2 cup, 1/4 cup of tortilla chip strips, 1 Tbsp. corn salsa
Follow ingredients above and include 1 Tbsp. of ranch dressing.
Follow ingredients above and include 4 to 5 cucumber slices– sliced in half, 6 Calamata olives, decrease chicken down to 1/2 cup, substitute cheddar cheese for feta cheese and top off with 1.5 Tbsp. of Greek vinaigrette– try this Greek Salad Dressing for a homemade twist.
Follow ingredients above and include 1 Tbsp. of ranch dressing and 2 slices of cooked bacon.
Follow ingredients above and include 2 Tbsp. buffalo hot sauce, and 1 Tbsp. of ranch dressing.
Mix and Match or make all of them and serve as a party tray. Which is your favorite of these Chicken Wrap Recipes? Do you have another variation?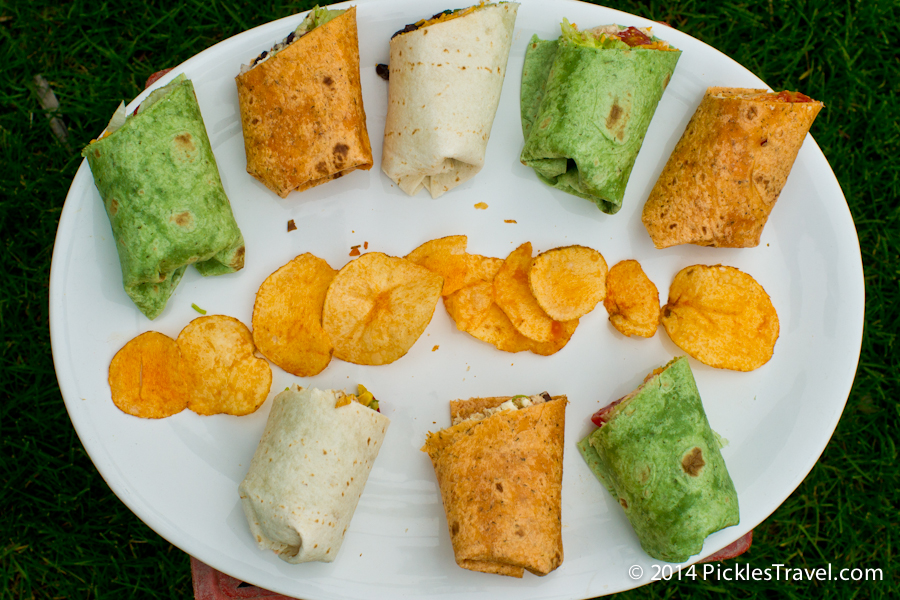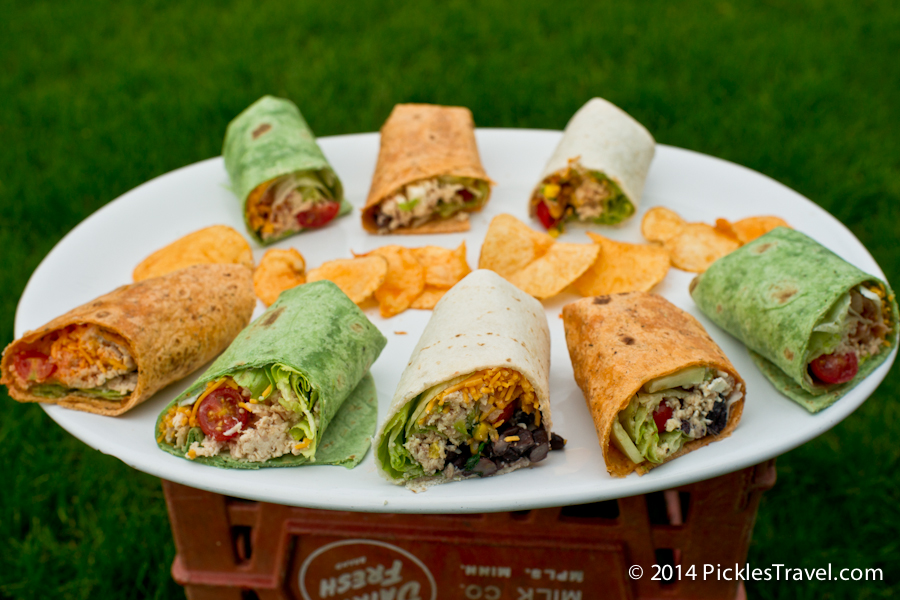 Do you love lunch and picnic foods as much as I do? Then we have something in common! Keep in touch by liking PickleTravel's Facebook page or following me on Pinterest. I will be publishing more picnic ideas and recipes in the future.