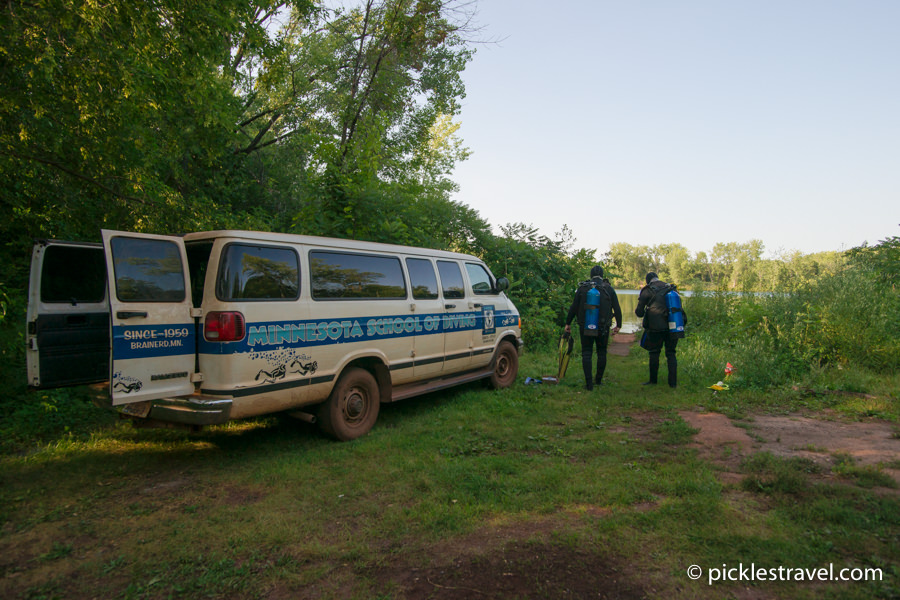 Cuyuna Country State Recreational Area- the adventure definitely starts here. Cuyuna has been discovered by the mountain biking and paddle boarding lovers of the Minnesota, but did you know that there are a plethora of deep water scuba diving adventures available too?! With six natural lakes PLUS 15 additional lakes created by former mining pits it should also be highlighted as a paradise for the scuba community. Fresh water scuba diving Cuyuna Country should absolutely be on your bucket list! Keep reading for 5 reasons to Scuba Dive Cuyuna Country
While not every lake is accessible, as some are completely situated on private property, there are more than enough lakes that you can explore. If you are unfamiliar with the area the absolute best thing you can do is join the group on the regular Tuesday, Thursday and Saturday Minnesota School of Diving free dives!
Note that any time you spend time on water in Minnesota you are required to have a personal floatation device with you (or proper scuba gear). Make sure you have your "dive in process" flag along with you! Also, all water sports are done at your own risk, so please, please be careful out there.
No matter what water activity you are doing, always bring a buddy!
I was hosted by Cuyuna Area Chamber of Commerce, Minnesota School of Diving, and Ruttgers Bay Resort. All opinions expressed are my own.
Scuba Dive Cuyuna Country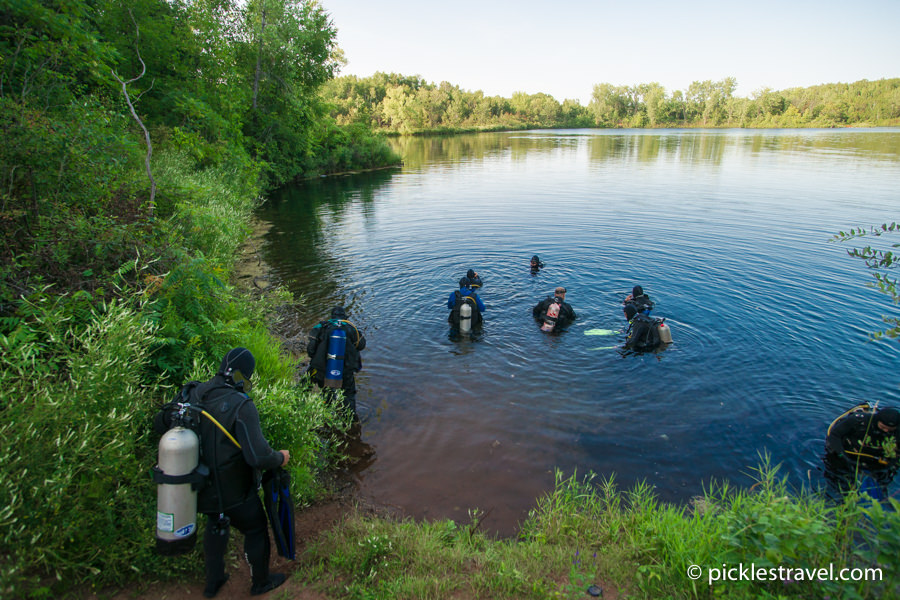 Scuba Diving is an incredible adventure in Cuyuna Lakes- for one, it's such a specialized adventure that not a lot of people know about it, and for two- there is soon much to SEE in the old mines.
5 Reasons to Scuba Dive in Cuyuna Lakes
1. Clarity of the water
The water is SO clear in the Cuyuna Mine Lakes. Depending on the weather you may be able to see as much as 60′ down! Just know that the bottoms are incredible silty, so once you touch bottom you'll start stirring it up and have way less visibility.
2. Into the Depths
The mines were dug out so incredibly deeply that there are options for the very beginning diver to the most experienced. Go out with your wet suit, or don your dry suit and heated gear for the deeper dives. You won't be disappointed.
3. Fun and games underwater
There is a very active community of scuba divers that get together regularly to dive together. Find your people! Plus they have some fun "finds" down below.
4. Fresh Water Scuba Diving
Scuba diving is usually associated with the oceans and tropics- this is the best opportunity to try something new!
5. Scuba Education
Whether you have never dived before or are an "old hand" at it there are always opportunities to learn new skills from the Minnesota School of Diving. They have an incredible team- friendly, helpful and so cool (divers are just naturally cool, am I right?!)
Can you find the skeletons? Or join the yearly underwater pumpkin carving!
Want to start diving but don't know how to get certified? Well you're in luck, because the Minnesota School of Diving will guide you through the entire process! See below for details.
Fun Dive Details:
Minnesota School of Diving offers fun dives every Saturday (May through October with the last Saturday in October being their annual underwater pumpkin carving contest!!!) and a rotation of dives on Tuesdays , Wednesdays, and Thursdays. They take a van or two load 2-3 times a week, so just call to find out when their next fun dive will be.
Scuba Diving Certification:
Minnesota School of Diving offers training and certifications for people who want to learn how to scuba dive. They have two locations: Brainerd and St. Cloud and they run a PADI open water diver course once a month in each location.
The cost to be completely certified (including books / materials for class, Classroom sessions, pool sessions, both days of check out dives, most of the rental equipment & certification card processing fee) is just under $450. They HIGHLY recommend that each student bring (or purchase) their own mask, fins, snorkel and boots however if it is a financial issue they can rent those 4 items.
You can learn more about their certification programs here.
Where to Stay: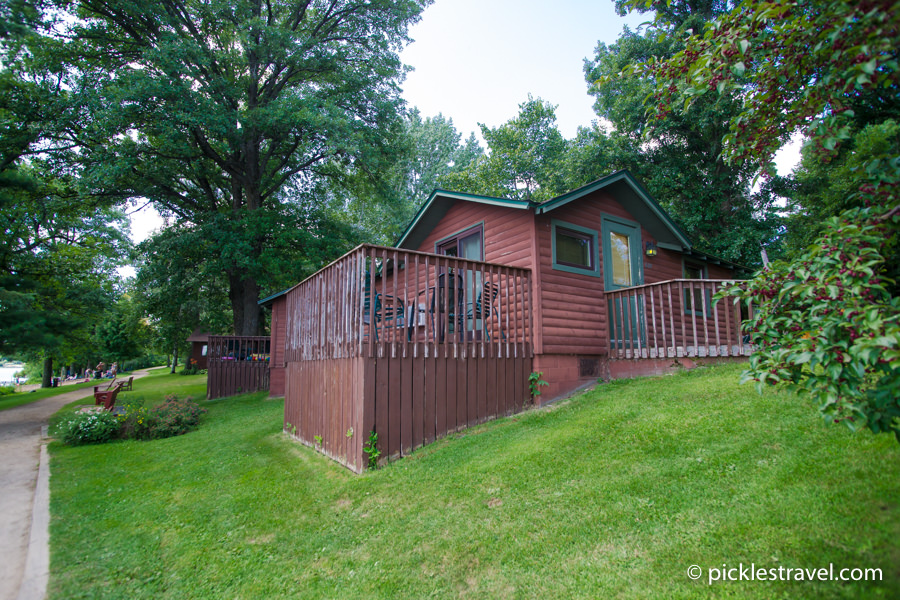 When you're enjoying the depths of the Cuyuna mines you want to make sure you fit in some relaxing recovery time too! Staying at Ruttgers Bay Resort can certainly make that relaxation perfect. From sand beaches to swimming pools to a full service spa to an ice cream shop to included breakfasts and dinners (with the meal plan) you won't want to leave- other than to scuba!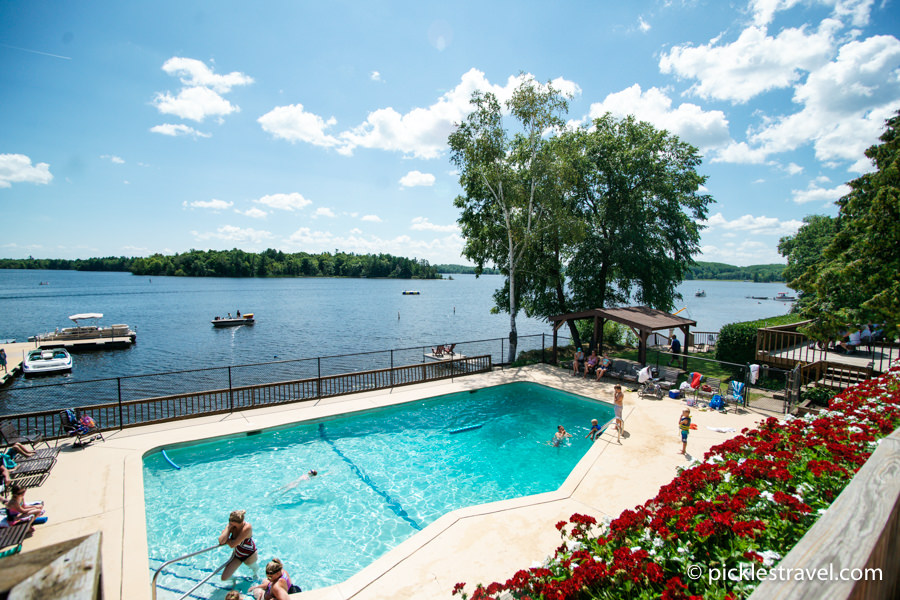 If scuba diving is the extent of time you want to spend in the lake there Aare even options for indoor and outdoor pools- so no matter the weather you can enjoy the water!
Where to Dine:
Rutgers Bay Resort has two restaurants plus a coffee shop and ice cream shop. The main restaurant in the lodge serves breakfast and supper daily and is free if you get the package deal when booking your room. I personally can't think of a more delicious deal!
Iron Range Eatery– I had the luck of eating there on their second night open a few years ago – it's great! There is a great array of options to eat, including perfectly-sized pizzas. If you're looking for something different, try the Chicken and Chorizo Flambe – as a lover of all things spice, the warning to not test the chef makes it a tempting dare…
Grab coffee and a breakfast sandwich from Mixed Company or for lunch try their vegetarian grilled cheese- it's so good I'm STILL dreaming about it! Get it to go and drive up the winding, gravel road to the top of Miner's Mountain, overlooking the long and narrow Huntington Mine Lake. An impressive view with some great benches along the bluff is the perfect place to sit, drink a coffee and start planning your next trip back!