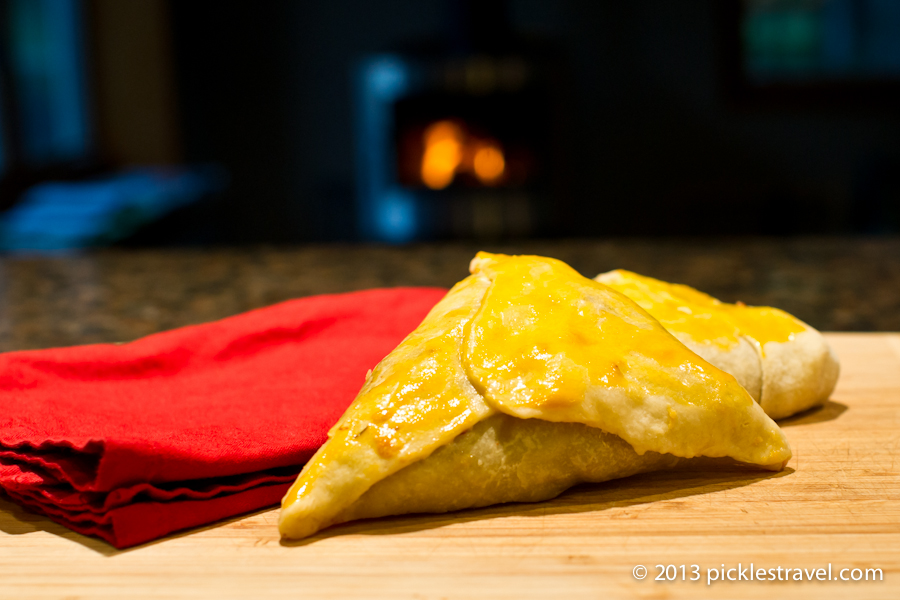 Chilean Empanadas, Piño Empanadas, made with ground beef, onions and spices should be a staple in everyone's home . It's a savory treat in every bite of this delicious hand-held meat pie. It's a great dish for any party, and perfect for a Chilean Independence Day party, if you are holding one tonight.
You know how a smell or a food can instantly take you back to a place and time in your memory? That's what empanadas do for me. On a cool, dreary day in Minnesota baking these puts me back in Chile- to my ocean views up in the hills, the micro buses and the joyous way Chileans celebrate their country and themselves!
When I lived in Chile I couldn't get enough of the empanadas, but couldn't figure out how to make one, everyone had their own style and recipe, held close, and rarely shared. I lucked out though when a close "family" member made them for our 18 de septiembre (Chilean Independence Day) celebrations. After one bite I knew I had to learn how to make hers. So a few weekends later I, the gringa, and some other gracious ladies gathered in her tiny kitchen to make empanadas and drink pisco sours, like any good Chilean get-together demands.
It was an afternoon full of fun, laughter, messes and great food! And I learned how to make empanadas, which was the best part. Now every time I bite into empanadas it takes me back to that kitchen…
I am not going to lie, but this is a time consuming recipe. Lots of steps, but oh so worth it. You might want to double the recipe though, as one is never enough and if you're going to do the work, you might as well have the empanadas to show for it!
Pino Empanada Recipe
I always cook the meat portion of the empanadas first. The meat mixture needs to cool before being placed in the dough, so I have found it's a more efficient use of my time to cook it first. I tried to break the recipe up in sections so that you can move things around to how it works best for you. 
Meat Ingredients.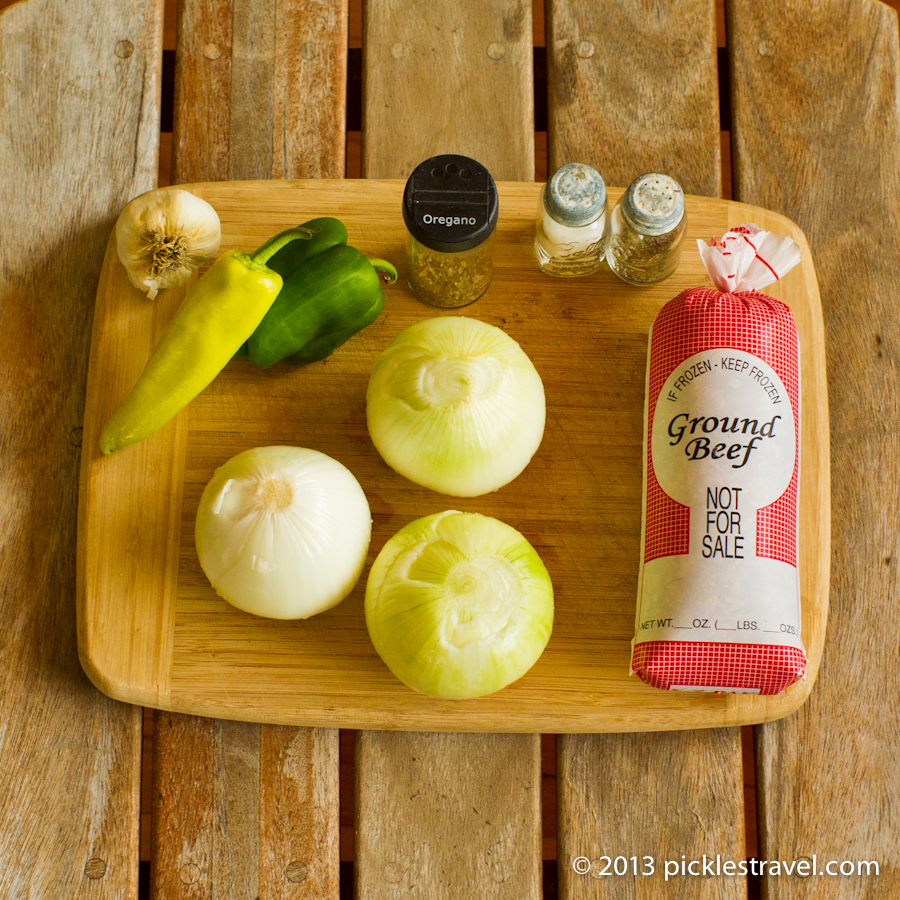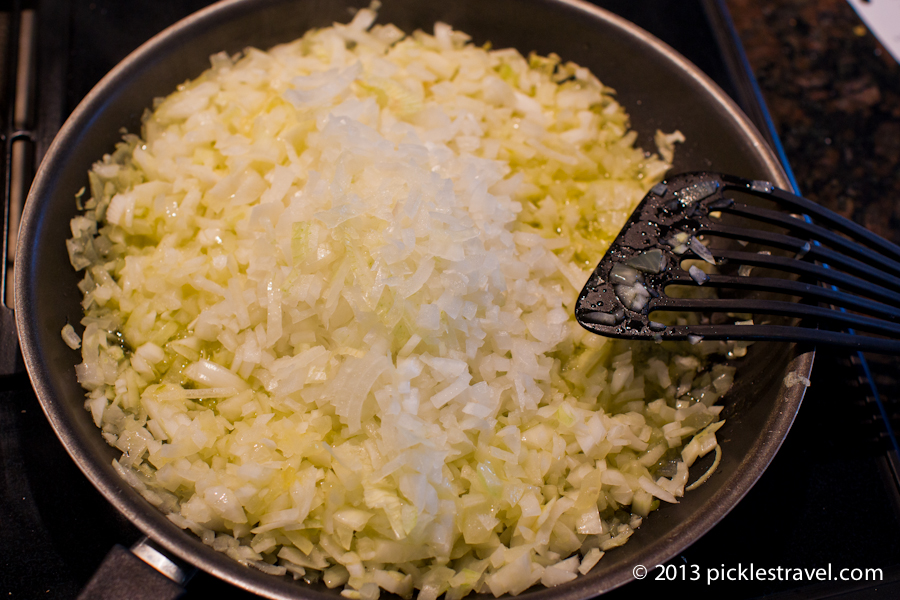 Start with the onions. 
The onions get cooked first, so that they're soft and cooked down. Then pretty much everything else gets aded in: garlic, meat, spices, and pepper.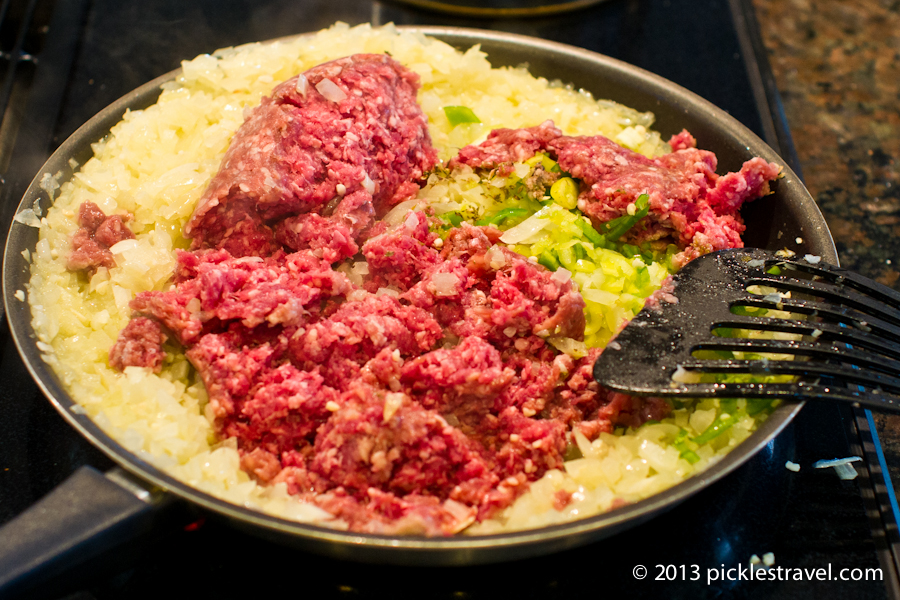 Mix everything up and around so that the meat can brown evenly.
Please note: I enjoy the extra flavor the pepper gives so I chop my pepper up small and include it in my pino meat. This is not typical, my recipe reads to leave the pepper in large pieces so you can pick it out once the meat mix is done cooking. This way the flavor of the pepper is in your meat, but the pepper itself is not. Completely up to you how you do it.
Once the meat is cooked put it off to the side to cool and move on to making the dough- my favorite part, as you get to use your hands!
 Making the Dough:
The dough is pretty straight forward- add together your salt, flour and butter, then add in the water, slowly. Mix with your hands until you have a nice, smooth ball.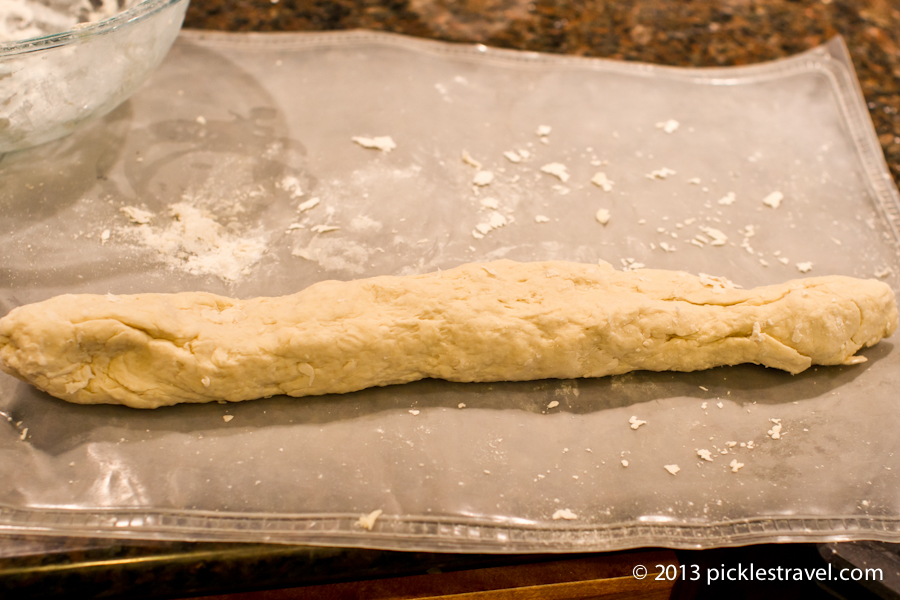 Roll that ball of dough into a thick log so you can cut it up.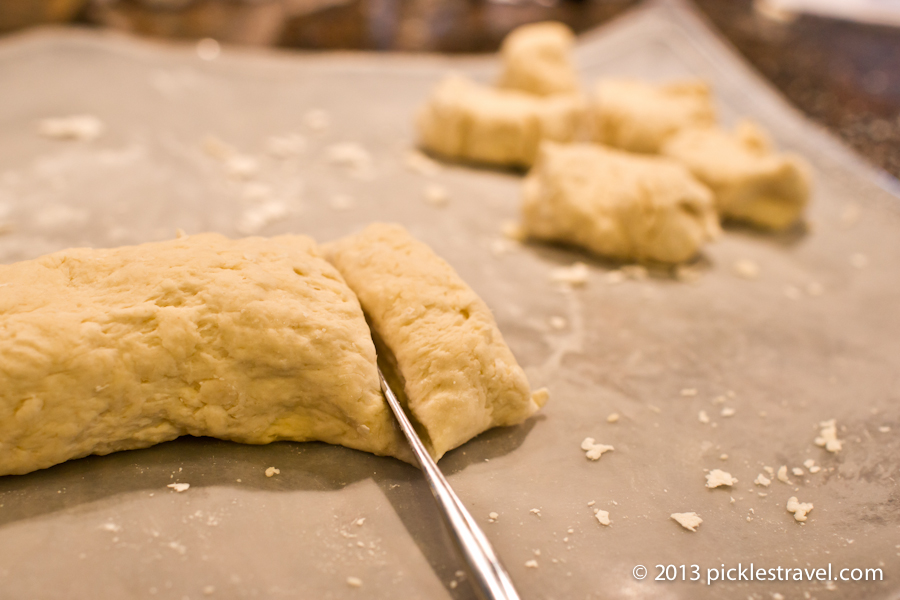 Cut the dough "log" into pieces, about one inch thick (give or take). You should be able to get about 15 slices out of your log.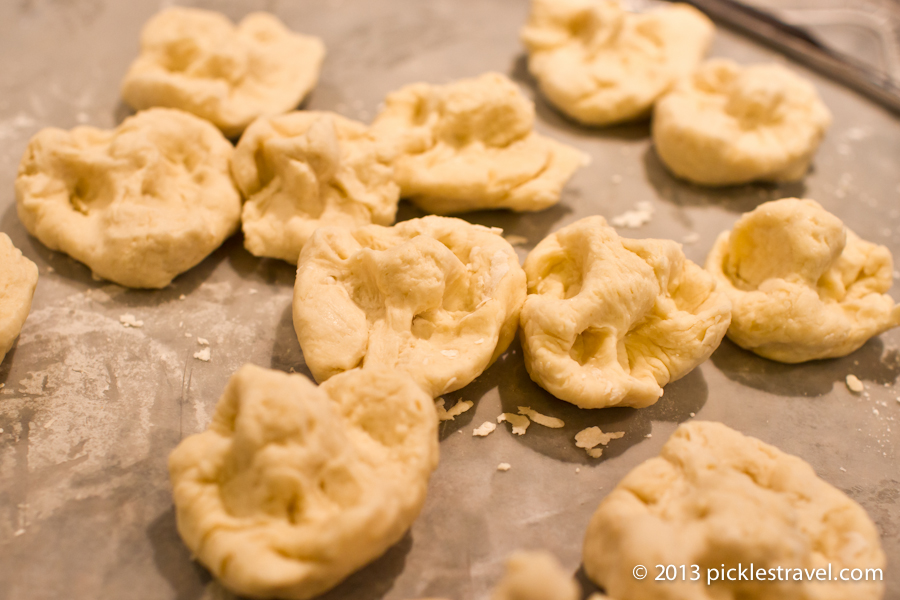 Roll each slice into ball and make it into a little hat shape. This makes rolling them out later on much easier.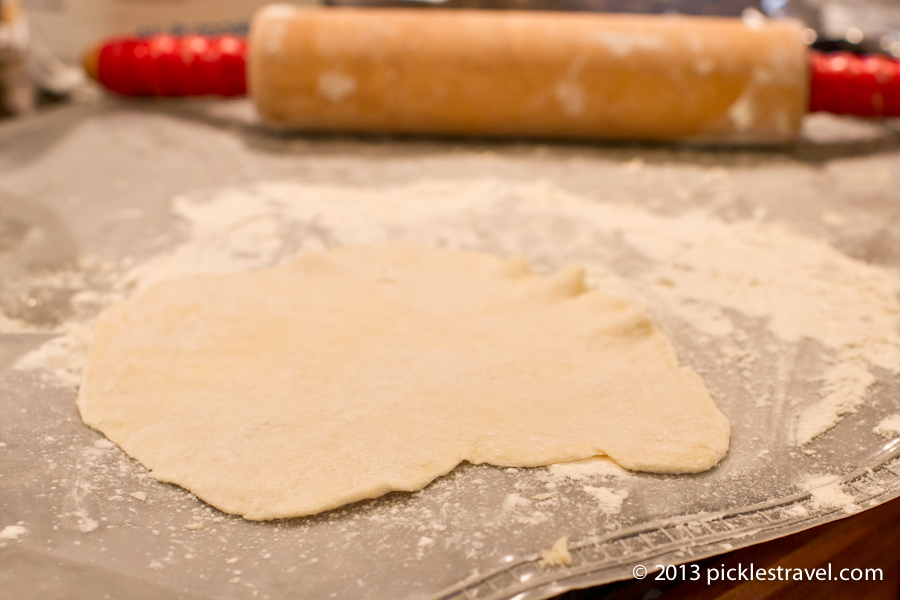 Now you're ready to make empanadas: Roll out the dough and start filling!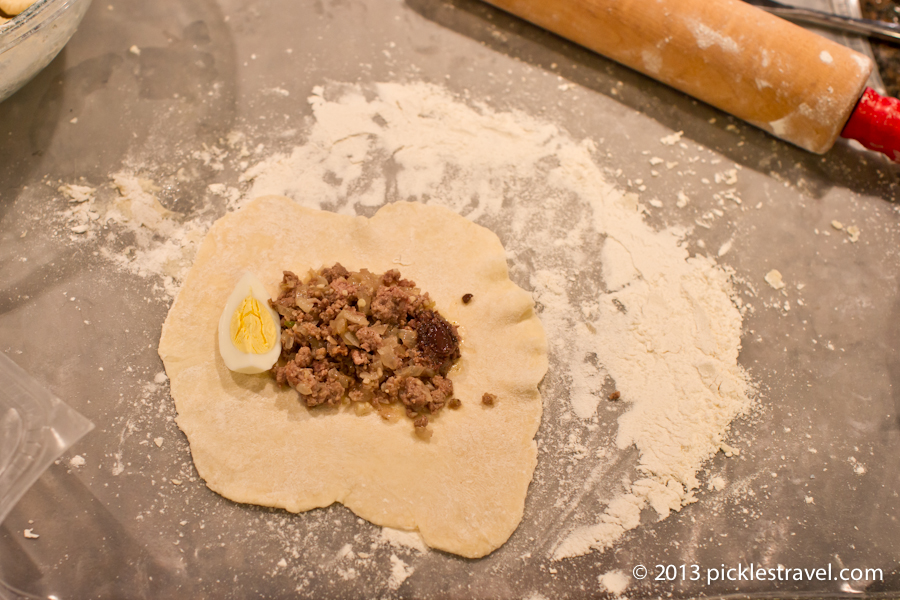 Place about 4 serving spoonfuls of the pino meat mixture into the center of the dough. A quarter egg slice goes in one corner, and a black olive in the other. If you like raisins feel free to sprinkle them throughout as well. Then fold it up.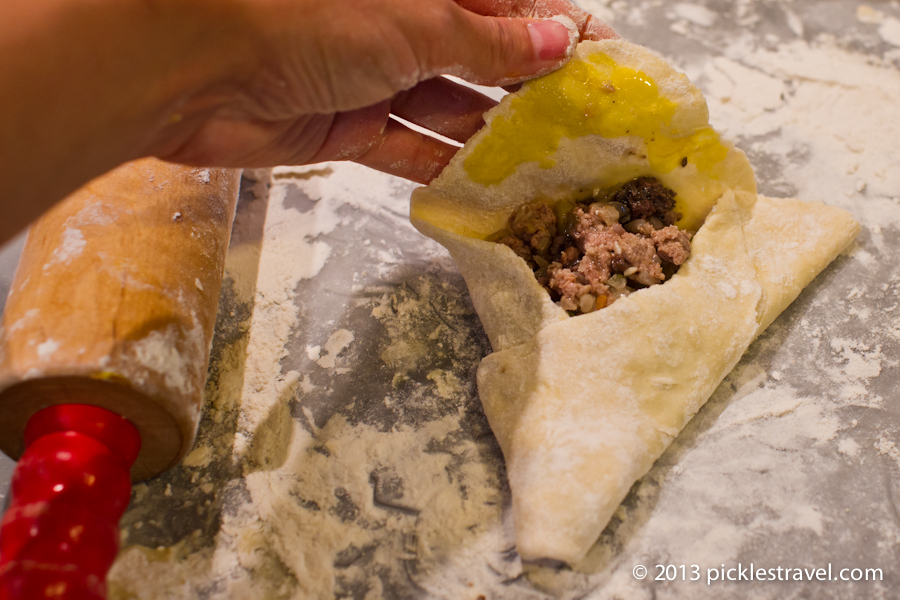 These get folded into a triangle, so that the egg and olive literally reside in opposite corners- a treat at each corner. Wet down the edges as you fold, "gluing" the dough in place.
Coating the Empanada for Baking:
Combine two egg yolks with a little less than 1 tsp. of powdered milk so that the mix is still wet and sticky.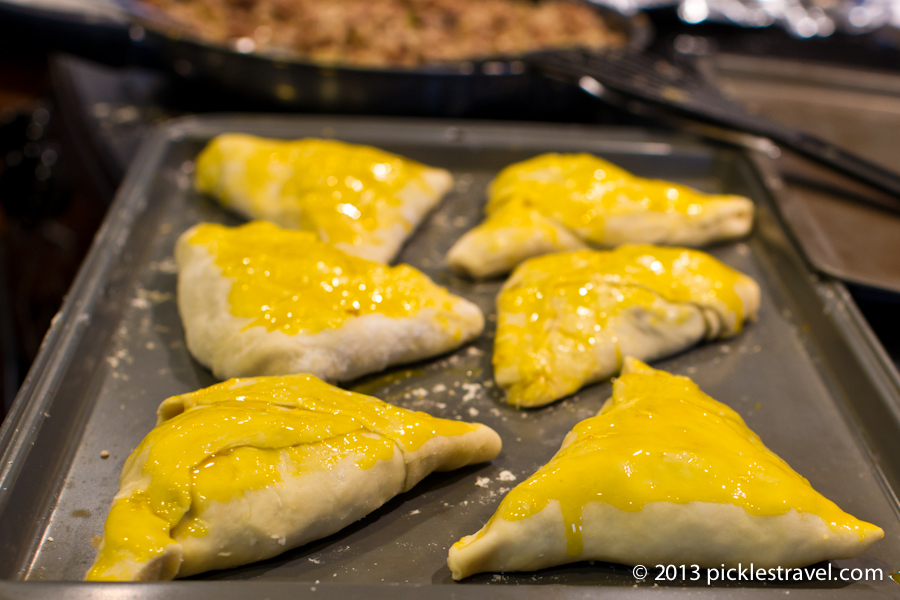 Brush each empanada top with the egg yolk mix. This step allows the empanadas to get a golden brown top during cooking, with a nice shiny surface.
Place them in the preheated oven (at 375° F) and cook for about 20 minutes. Pull out and serve warm!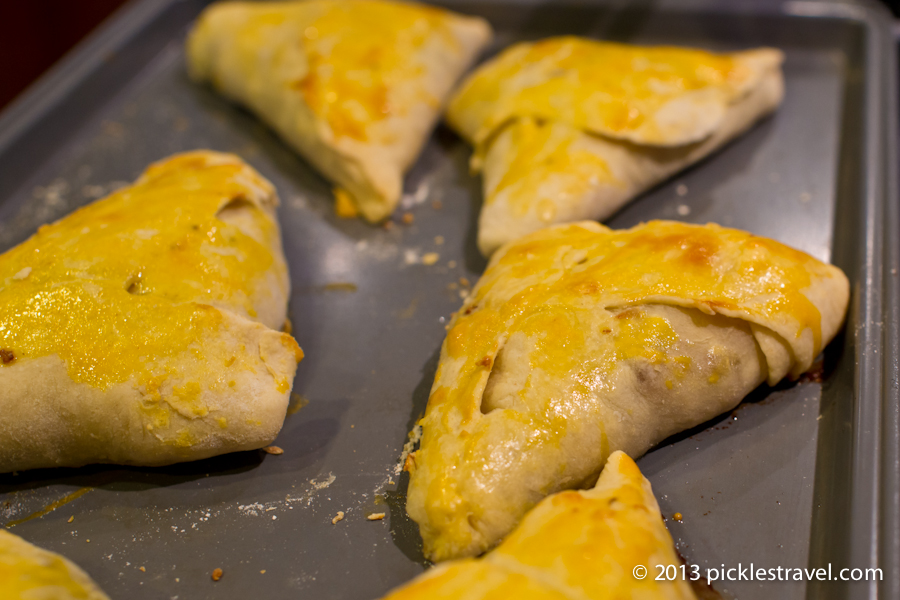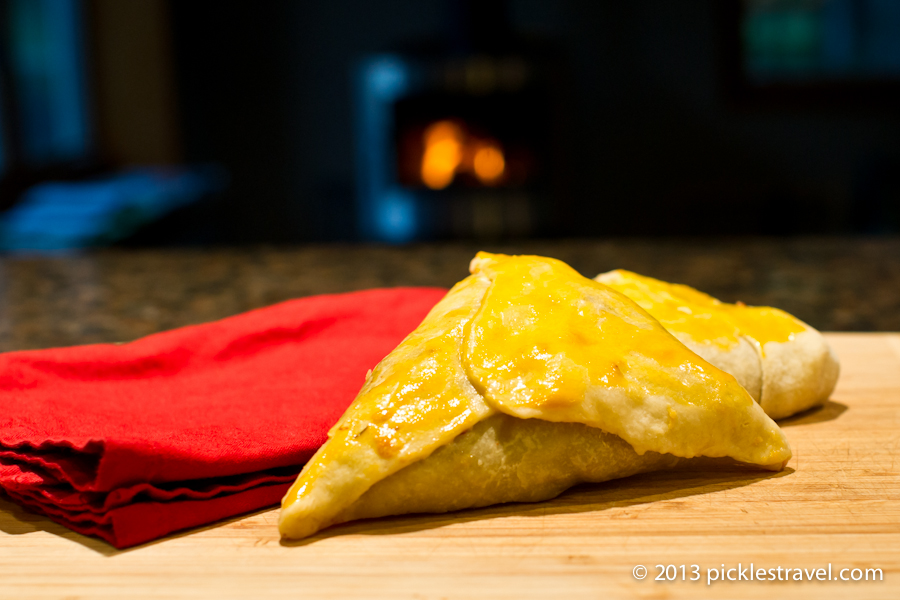 | | |
| --- | --- |
| | |
Making the Dough: Combine the flour and salt, adding in the butter with hands. Mix until well blended- flour mix should look pebbly.

Start slowing adding in the water, you may not need it all. Mix with hands until dough is soft and smooth.

Roll dough into a log and cut into 14 to 15 pieces. Roll each piece into a ball and pull up a part in middle, so that it looks like a hat/boat. Leave off to side for later.

Combine the egg yolks with powdered milk and set aside for brushing onto empanadas.

Heat the olive oil in a pan- it needs to be large enough to fit all the ingredients. Put the diced onions in the heated oil and cook until soft. Slice the pepper into long pieces and add to onions. Once soft add ground beef, garlic, and oregano. Add in Cayenne, if desired.

Cook meat ingredients until almost ready, add salt. Finish cooking and set to cool. Remove large pepper pieces.

Roll each piece of dough into a circle. Put 4 serving spoons of cooled meat in center of circle. In one corner add 1 olive, in the other corner add a 1/4 egg slice. If you want raisins, place them now too.

Fold Empanada into a triangle, wetting sides to "glue" it together. Coat top with the egg yolk topping and place on a greased pan. Repeat

Cook for 15-20 minutes. Serve Warm.