Road Trips are one of the best ways to get a sense of the food that abounds in the USA. The variety is astonishing and you never know upon which kind of delicious meal you will happen.
Last week my road trip took me through Missouri, Kansas, Oklahoma, Nebraska and Iowa. All of which have great food (BBQ and ice cream, mmm) but if you're heading through Nebraska and looking for something really unique, then Runza is the place (and food), especially if you're looking for 'fast food'.
The Runza is essentially a dough-wrapped sandwich- dough surrounding delicious meat flavors, yum! At first I expected the runza to be similar to that of an empanada, but the flavors of both the dough and meat are entirely different. A sweeter bread dough that is allowed to rise around the meat and a bite of flavor so grand it's hard to describe- salty, slightly greasy – what could be better?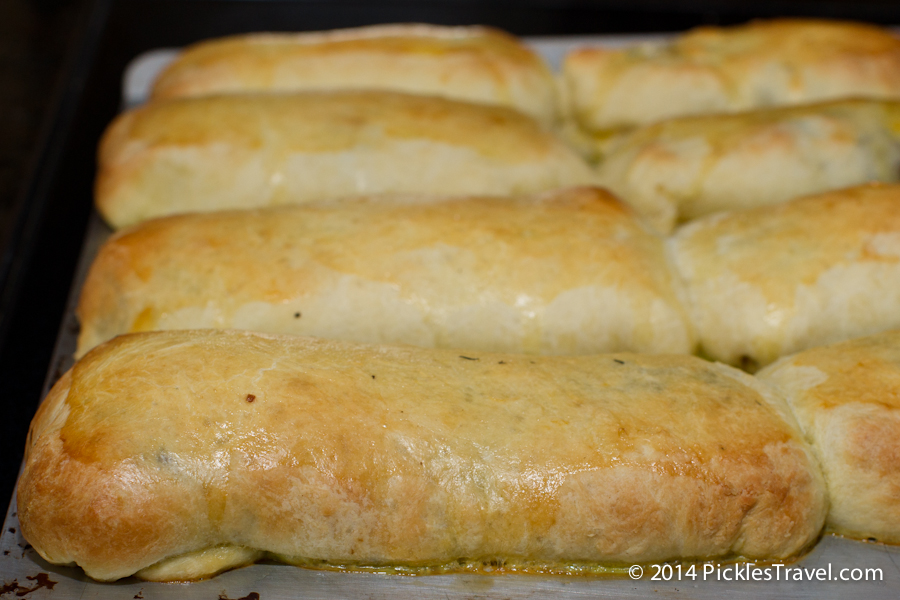 I mean how could you not want 5 or 6 of these!?
Meat Pie or Pirogi Runza Recipe:
This Runza recipe has been adapted from the delicious one in The New Midwestern Table: 200 Heartland Recipes cookbook by Amy Thielen– The dough recipe is hers, as I couldn't possibly improve upon it, but I changed up the meat filling a bit.
Amy does a fantastic job at breaking down difficult recipes so that they're easy to follow (and even easier to eat!) I highly recommend grabbing her book and devouring it!
Recipe makes 8 to 9 Meat Pies.
Dough Ingredients:
3/4 cup Water, lukewarm
2.5 tsp. Active Dry Yeast (a .25 oz packet)
Pinch of Sugar
3 Tbsp. Sugar
3 Eggs
3.75 cups Bread Flour
12 Tbsp. Salted Butter (1.5 sticks of butter)
2 tsp. Salt
Meat Filling Ingredients:
1 lb. Ground Beef or Venison (if using venison do 3/4 lb venison & 1/4 lb pork sausage)
3 cups Shredded Cabbage (or thinly sliced)
3 Tbsp. Butter
1/2 Onion, diced
3 cloves Garlic, minced
1.5 tsp. Dried Thyme
1.5 tsp. Dried Rosemary
Salt and Pepper
Topping:
1 egg
1 tsp. powdered milk
Directions for Dough:
1. Combine water, yeast and pinch of sugar in a large bowl. Let sit until foamy, about 10 minutes.
2. Add 3 eggs to yeast mixture and whisk. Add 2 cups of bread flour to the yeast mixture. Quickly stir until completely mixed for about 3 minutes. Add the butter, 3 Tbsp of sugar, salt, and remaining flour. Mix well. (the dough will be sticky). Allow dough to rest for 15 minutes.
3. Knead the dough for about 5 minutes or until it's no longer lumpy. Rub some butter on the sides of a bowl and put the dough in it. Cover and allow to rise for 1 hour at room temperature. Place in refrigerator for an additional 1 to 2 hours (or overnight).
4. Remove dough from fridge and divide into 8 even portions. Roll each piece into a ball and let sit out, covered loosely until they are back up to room temperature. Start making Meat Filling.
Directions for Meat Filling:
1. Heat a skillet over medium-high heat and add ground beef (or venison/pork sausage mix). Add in 3/4 tsp. salt and 3/4 tsp. pepper and cook for around 5 minutes- until beef is slightly browned. Make sure to stir often enough to break up the meat so that it's extra crumbly. Move the cooked beef to a bowl- The easiest way to do that is by using a slotted spoon to drain off fat.
2. Drain and discard the fat from pan. Keeping skillet at medium heat add butter. As it melts add in the onion. Then add in thyme, rosemary, and garlic. Once the onion becomes transparent add shredded cabbage. Stir and cook together for about 15 minutes, until cabbage is cooked (see photo below), but not completely wilted. Place mixture in bowl with meat. Stir meat and cabbage mixture together.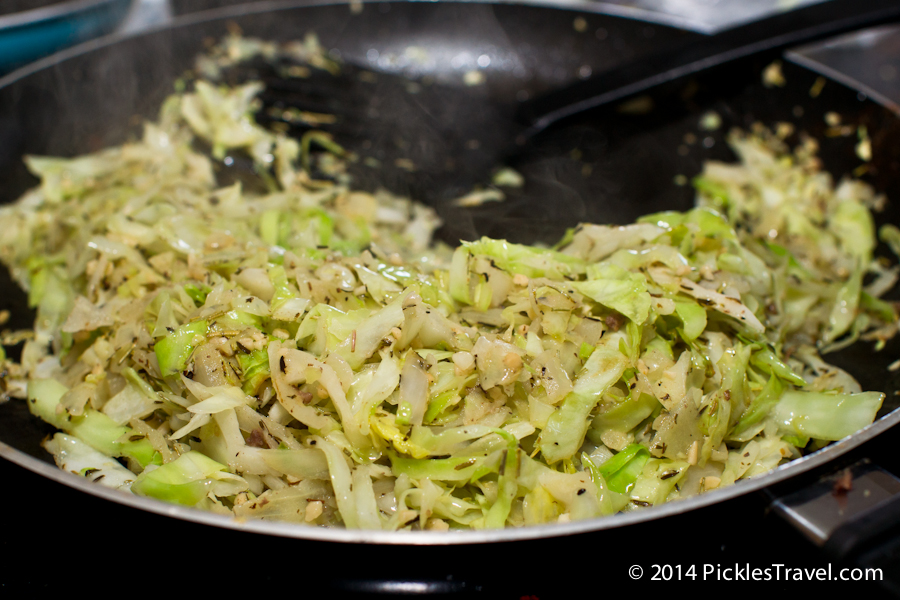 Directions for the Nebraska Meat Pie Pirogi or Runza:
1. Flatten the dough ball on a heavily floured surface and roll it to form a 3×5-inch rectangle (or something as close to that as you can get- mine were less than perfect).
2. In a straight line, spread about 1 cup of meat mixture to the center of the flattened dough ball. Now wrap the meat up in the dough like a burrito. Take a side of dough from the long vertical edge and wrap it around the meat to the other side, while at the same time fold the ends of the runza in towards the center. Make sure the meat mixture is completely enclosed by the dough. If it doesn't look pretty you can form the roll a bit at this point by pushing and kneading specific areas to make sure that the meat mixture is evenly distributed- so that it's long and rectangular- think large burrito. Place the seam side down on a buttered tray (see photo). Repeat with each dough ball.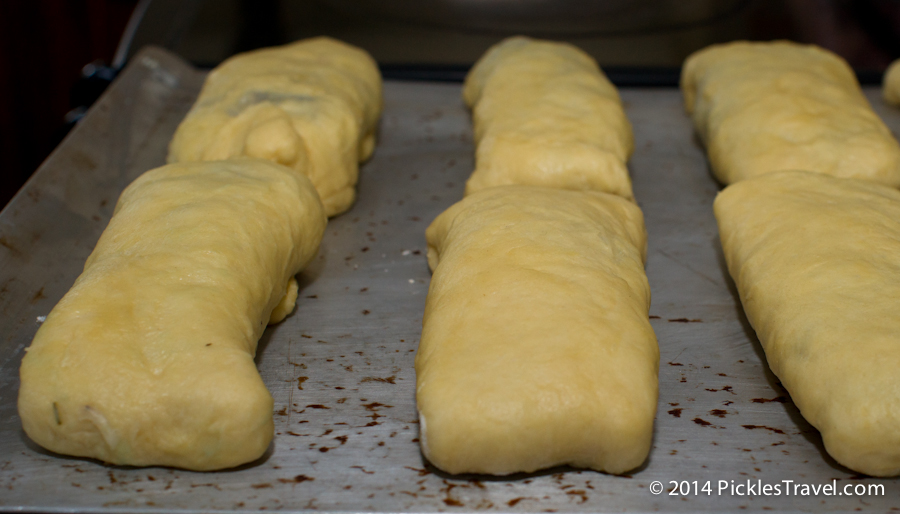 3. Now you have to sit and wait some more before cooking: Let the runzas rise, uncovered for about 45 minutes. They should rise roughly an inch.
4. Preheat oven to 375 degrees.
5. Mix together the remaining egg with 1 tsp of powdered milk and brush mixture thinly over the tops of the meat pies for that beautiful golden color. (This is to make them pretty)
6. Bake for about 25 minutes, or until the tops become golden brown.
Do you love exotic foods as much as I do? Then we have something in common! Keep in touch by liking PickleTravel's Facebook page or following me on Pinterest. I will be publishing more exotic travel recipes in the future hope you follow along.