Chicago offers an incredible adventure for the whole family year 'round, but the events for family friendly holidays in Chicago seems to be the best of all the adventures one can have there! I've created a list of my top 6 picks, but there are so many choices that don't let these options limit what you and your family do this holiday season!
Note: I was hosted in Chicago by Enjoy Illinois to experience these family friendly holidays courtesy of them. All opinions expressed here are entirely my own.
This post may contain affiliate links, which means I may make a tiny percentage if you buy something using them. I only recommend places and products that I know and trust that I think can help you.
Chicago offers an incredible adventure for the whole family year 'round- rain, snow, sun or wind- but its especially amazing over the holidays. Chicago offers indoors and outdoors adventures, light shows, indoor educational fun, shopping, some of the best eating you may ever have and so much more! Here is a list of the top 6 family friendly holiday events in Chicago
Top 6 Events for Family Friendly Holidays in Chicago
Make sure to grab the delicious Belgian chocolate hot cocoa! $12 for one in a beautiful, heart-shaped souvenir mug! Plus there is an entire booth dedicated to all things dipped in chocolate. YES Please!
As a lover of all things pickled and fermented I'd be remiss if I didn't direct you to grab some of the sauerkraut ($3) or you can even get it with a brat if you'd like ($8) if you're not into devouring sauerkraut on its own like some people *quietly raises hand*…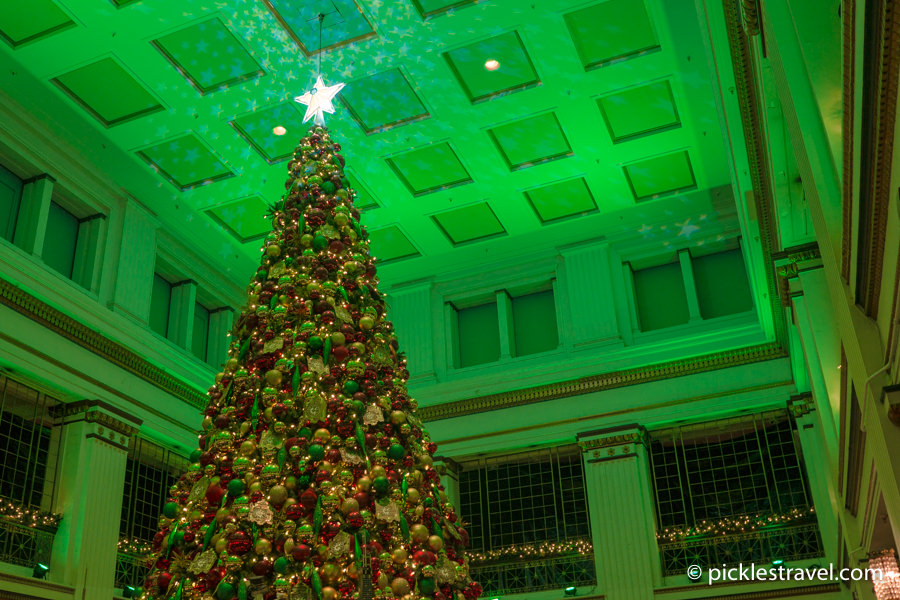 You could easily make Macy's your entire day's worth of holiday exploring. Gorgeous holiday displays, Santa, and the famous window displays!
The Walnut Room is a great place to grab a meal while you're in town. Sit next to the famously decorated Christmas tree. If you're lucky enough a fairy princess may stop by your table and sprinkle some fairy dust your way too. Macy's also has a food court for the younger eater that can't sit still for long.
3. Christmas Around the World Exhibit
The Museum of Science and Technology is always an incredible place to visit with kids or not, but over the holidays it's all the more impressive with its great hall filled with Christmas trees from around the world. Can you find your favorite one?
Details:
5700 S Lake Shore Drive, Chicago, IL 60637
Adult tickets are just under $20 if you buy online ($22 in person), Kid (3-11) tickets are $13 in person.
4. Holiday Train
I have heard amazing things about this incredibly decorated Christmas train that takes pride in sneakily snaking around the loop, waiting to delight her next passenger. Alas I have yet to ride in it. Maybe someday…
If you're gung ho about making it happen I'd recommend using social media to your advantage to find out where it is and approximate direction its headed… You'll see a flashing candy cane next to the train arrival sign if she's on her way. Just beware that she's a sneaky one and may switch tracks right before arriving at your stop!
5. Millenial Park
No trip to Chicago is complete without a visit to "The Bean"- no matter the season. In the cold, dreary days of winter the reflections of Cloud Gate blend all the more beautifully with the ground and sky to the point that you may not know where one ends and the other starts- unless of course there's snow sitting on the top…
There is also an impressive ice skating rink worth checking out. I have scars from every time I've ever been ice skating so sipping hot apple cider and watching how others nimbly balance on skates is always a favorite activity of mine!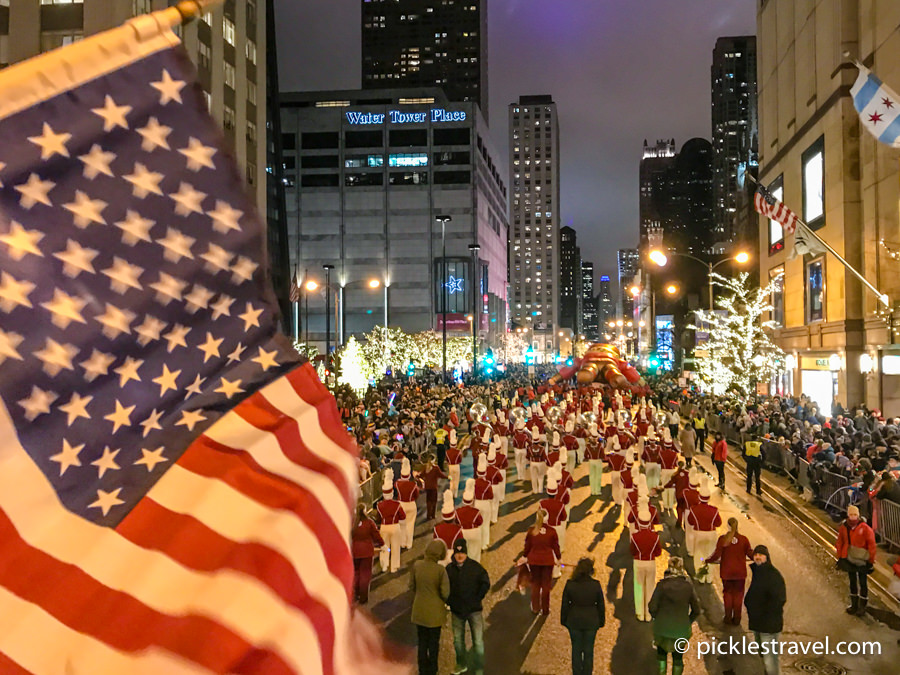 I'm going to go ahead and brag for a second- I got to be IN the Magnificent Mile Lights Parade! I rode on the Enjoy Illinois bus float and waved out over the 1 million visitors that attended the parade this year. If you ever get a chance to be in the parade- do it! It was incredible, but watching the parade is a pretty cool close second.
It gets incredibly crowded on the streets of Michigan Ave so if you go try to pick a spot on the very beginning or very end of the parade route. Make sure you bring more than enough clothing, blankets and layers to stay warm. It's a long parade!
Even more importantly- be patient after the parade is over and let the crowd disperse slowly. 1 million people crammed into one street in downtown Chicago can be overwhelming, so don't expect to go anywhere quickly once it's all said and done and definitely don't waste money trying to get an uber or lyft- everyone's crazy backed up! Just walk and you'll be fine.
Details:
Second weekend in November to start the holiday season off with laughter and lights!
Note: I was hosted in Chicago by Enjoy Illinois and received an amazing tour of the Macy's Store as part of this hosted stay. All opinions expressed here are entirely my own.