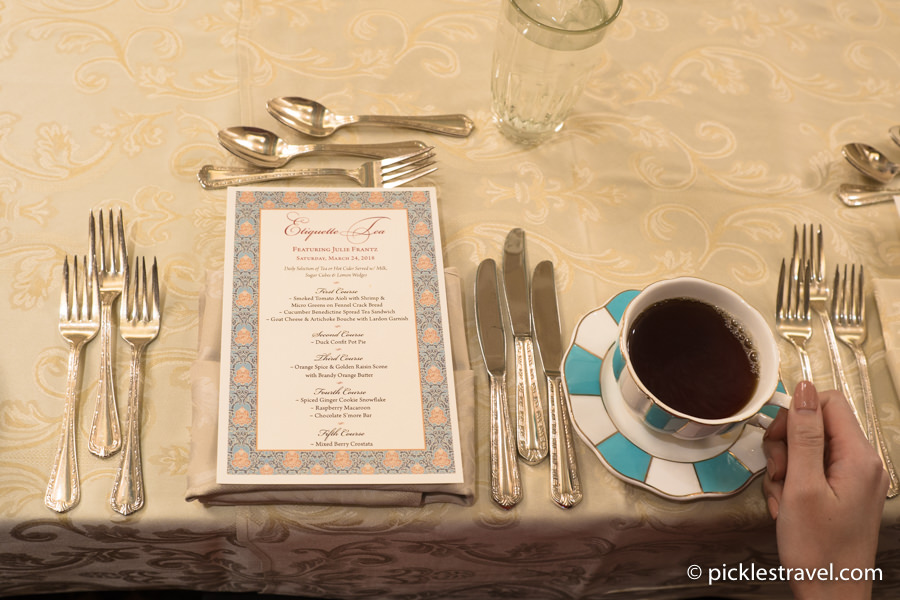 Walking down the carpeted hallways, beneath the sparkling chandeliers, is one of the most elegant ways that one can start an afternoon tea party. Not that it should surprise anyone, since refined elegance is what Julie Frantz and The Saint Paul Hotel do best- especially when it's an Etiquette Tea time that's on the menu!
I love a good afternoon tea- for the relaxing calm that comes with a hot drink in hand, to the delicious treats served by its side. It's one life's best "little luxuries". The St Paul Hotel's Etiquette Tea served up that luxury in large doses, plus it offered an extraordinary glimpse (and education) into proper tea (and dining) etiquette. I will never be the same!
Note: I was hosted by The Saint Paul Hotel and given the opportunity to experience the Etiquette Tea free of charge. All opinions expressed are my own.
Etiquette Tea Time
For the past several years I have been eyeing the afternoon tea times presented by the Saint Paul Hotel, letting it sit on my bucket list – tempting me with every glance. I jumped when the opportunity presented itself, and was not disappointed!
Guide to Afternoon Tea Etiquette
Did you know that tea is the second most popular beverage in the world?! There were so many new and wonderful tidbits that Julie Frantz had to offer.
Here are my favorite insights with regard to hosting a tea and tea etiquette:
1. Tea is meant to connect person to person.
Face to face conversation and human to human interaction is the premise behind any tea. So put down your phone and enjoy your companion's company!
2. Tea cup and tea saucer stay together
Your tea cup is never to be separated from the saucer by more than 12″ at any point. Although you probably shouldn't pull out a measuring tape to make sure- that would probably be even worse!
3. Tea first, then the "extras".
Tea is always proud first and then add in your milk/cream and sugar cubes last. Stir your tea in a gentle arching stir and don't make a ton of noise. (And certainly don't channel the tea hypnotizing by the crazy psychiatrist in the movie "Get Out")
4. Low Tea.
Low tea is served at a low coffee table and is considered to be a simple service. Just basic finger food in the afternoon (most definitely not what we were served with our incredible five courses!)
5. High Tea.
I had learned about what high tea was when we were in Scotland, but I loved hearing her Julie's definition. It's served at a regular high table (as compared to the lower coffee table) and it is typically more around the 6:00 pm/supper hour. It originated as the "working man's" meal.
6. Three Tiers of Tea.
When tea is brought out on a three-tiered server the order is savories and sandwiches at the bottom (largest plate). Then the middle place is where you would find your tea breads and/or scones, with the top tier being the sweet treats. That is also the order in which you should eat them (I epically failed at that in Scotland, perhaps I should return and make sure I do it correctly!)
There were so many more wonderful tidbits given, but I don't want to spoil the experience too much. You'll have to sign up for the Etiquette Tea to learn them!
Tea Time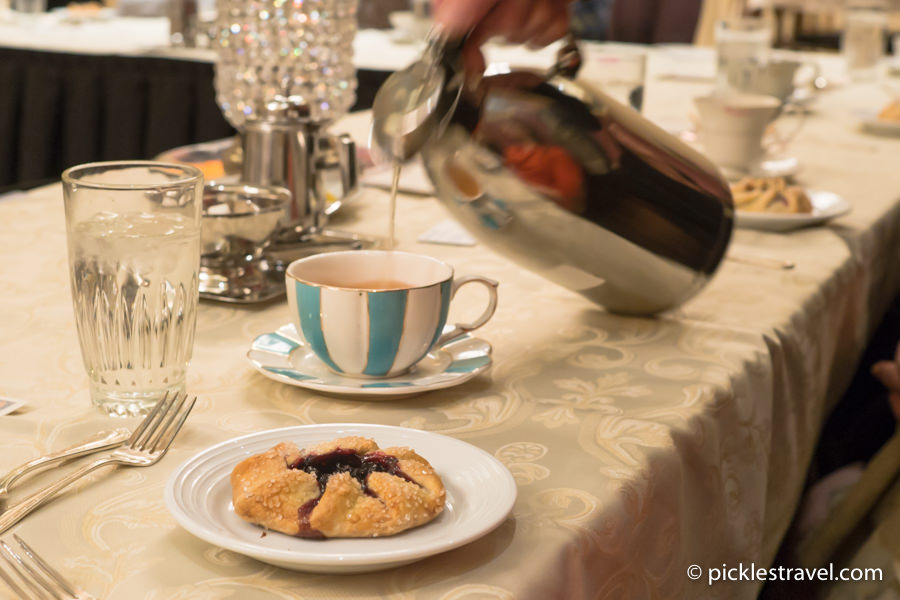 Hot tea is poured by an ever vigilant staff person, Scott- who has been with the St Paul Hotel for 30 years and absolutely rocked the experience behind-the-scenes. With a friendly smile and an ease about him he served and cleared dishes, made sure our cups never quite reached empty, and even helped us pick the best seats when we arrived!
You can choose between the Signature Black Currant Tea or for a decaffeinated tea, a Chamomile. There are cream, lemon slices and sugar cubes offered at the table as well so you can doctor up your tea as you wish. Even more exciting is that they also offer the choice of drinking hot apple cider instead of tea. (If you know me, you know hot apple cider ranks up right behind pickles and hot tea, so this was a very exciting revelation- Yes, I tried it and it was delicious- not too sweet, just a hint of that tart apple flavor that makes me love cider and just the right temperature… sigh).
The black tea was the perfect choice to pair with ALL the delicacies that kept us engaged for the next two hours and stuffed me so full I didn't even finish my last treat.
Five Course Tea Menu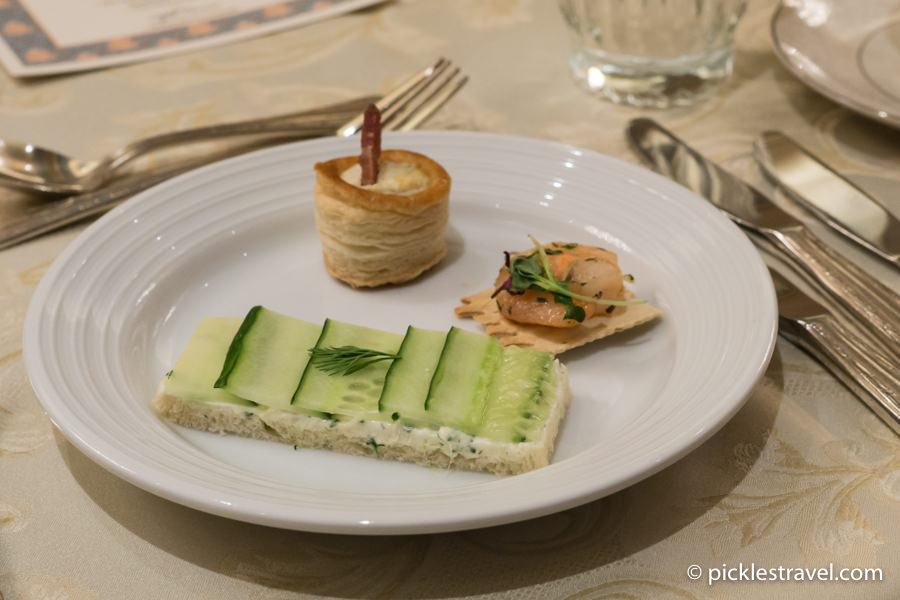 There isn't an easy way to gush enough about the menu- from savory to savorier (is that a word?) to scones to sweet and berry sweet the five courses held something for everyone.
Starting off the tea we were served with the expected cucumber sandwich – delicious in its simplicity and necessity to start off the tea properly! The shrimp in tomato aioli on a fennel crack bread cracker blew me away, and a goat cheese bouche was absolutely delicious (although the shining star was definitely the shrimp for me).
A hard to beat first course was beat out of the park by the second course of duck confit pot pie. Yes, it was as incredible as it sounds – I didn't even need a pickle! In all seriousness though- it was a deliciously heavy pot pie with large pieces of the duck confit and a ridiculously flaky crust served in a 1/3 cup measuring cup. It doesn't sound like much but it was absolutely the perfect amount.
The third course was a beautiful, round orange spice scone served with brandy orange butter. It complimented the black currant tea so perfectly that I slowly enjoyed every crumb.
Course four was as fun to look at as it was to eat. A s'more bar (graham cracker crust, chocolate layer with a toasted marshmallow topping), raspberry macaroon that melted in my mouth and a beautiful ginger cookie in the shape of a snowflake.
The mixed berry crostata and final course was so good that I felt like crying that I was too full to finish it. Large, full berries set inside the crust made me wish it were summer already so I could go pick berries and enjoy their sweetness daily.
Family Friendly Tea
You may be wondering if this is something that anyone over the age of 50 would even remotely be interested in attending. And the answer is a resounding YES! For one I am most definitely not 50 and I was captivated, but the etiquette tea is actually presented to be a wonderful experience for all ages. Granted my two-year old would not agree with that, but there was an 11-year old girl at our tea and she was amazing- and appeared to thoroughly enjoy herself!
Julie's stories ranged from stories about teaching her children proper manners and etiquette to working at schools to conversing with strangers while traveling. Everything she taught is applicable in any setting of life. While it's called etiquette it's really more about the fundamentals of how to treat people. Her insights are such important fixtures of interacting that it easily crosses to any generation and can be applied daily. Anyone over the age of 10 would be able to completely enjoy the experience and learn a lot from it. Not only that, but it's the kind of tea class that you could take again and again and always walk away with new knowledge. I'm lucky that I was there in part to share my story, because I had an excuse to take notes, otherwise I'd have to sign up again!
Afternoon Tea Details: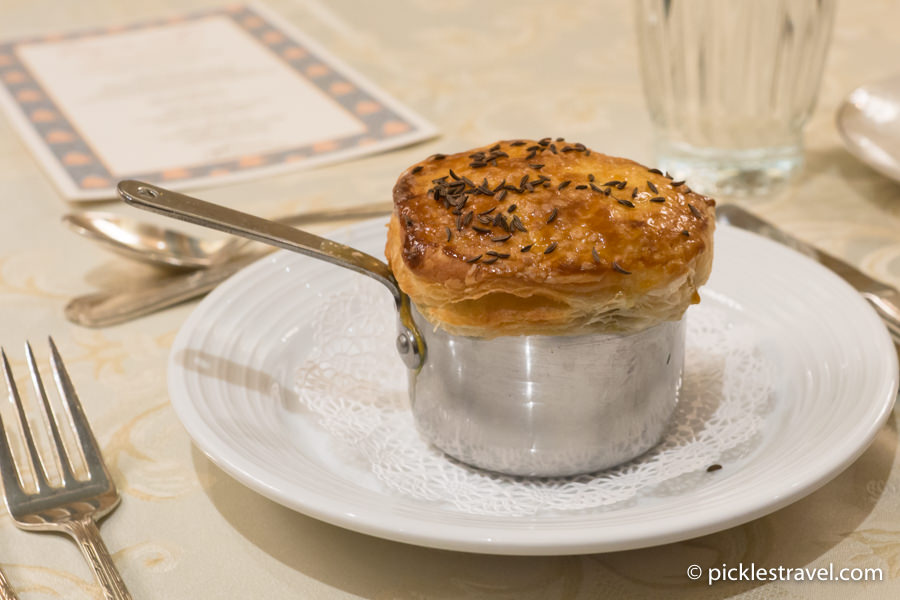 You can check out the Saint Paul Hotel tea schedule and book your tickets for any assortment of teas here.
Cost: Traditional Afternoon Teas – $42 per person; Specialty Afternoon Teas – $50-55 per person
Location: Downtown Saint Paul – 350 Market Street, Saint Paul, MN 55102
Parking: There is plenty of on-street parking available, although note that all parking meters are for a max of two hours at a time, so make sure you keep your eye on the time. There is also valet parking available, as well as a parking ramp right next door, so no need to fret about your car.