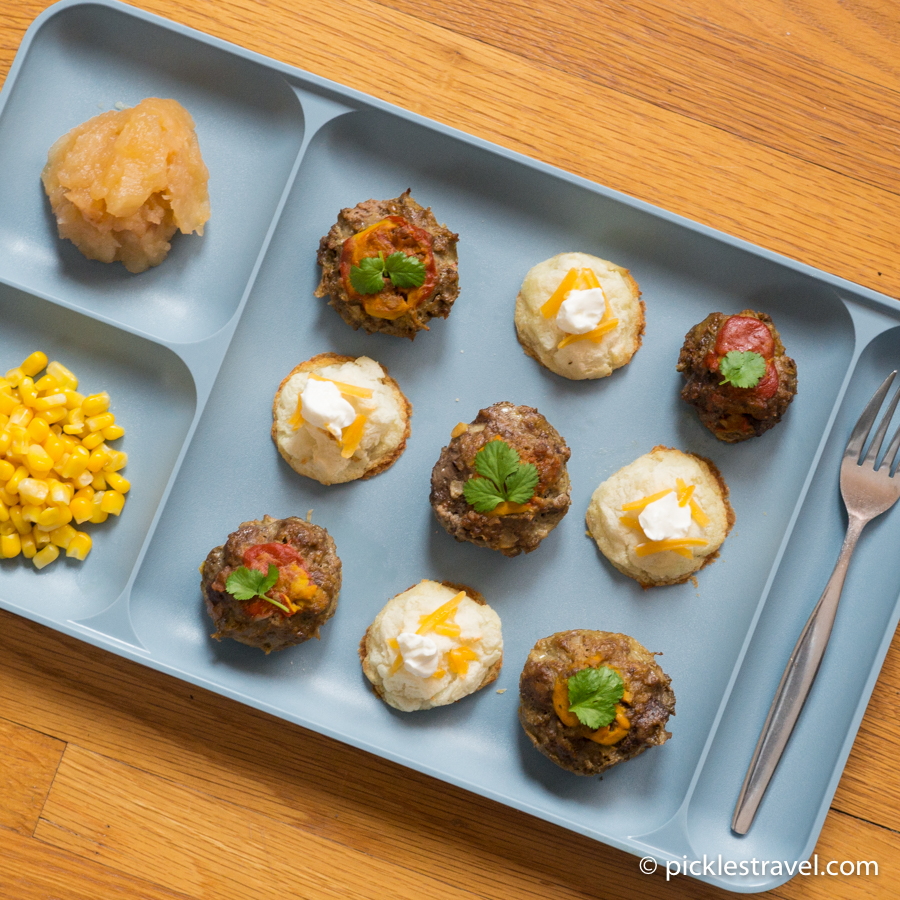 It's Academy Awards time again!  Which means it's time to plan for an unforgettable Oscar's party! What better way to celebrate the glitz and glam of some incredibly powerful movies by some of the best names in the business than by creating a menu to reflect said movies.
Last year my friend and fellow blogger Haley at Cheap Recipe Blog had the wonderful idea of creating a themed party based on all the movies that were nominated for Best Picture. You can see last year's links here. We had so much fun with it in 2015 we decided to repeat it again this year! Each blogger was given a movie and told to create an appetizer or dessert that reflected the movie in one way or another.
This year my movie was Bridge of Spies about the Cold War and the story of an insurance attorney who risks it all to exchange hostages of an American pilot and student stuck in East Germany and the USSR for a Soviet spy stuck in the USA.
Much like my movie nominee from last year, there was little to no eating in the movie, but there were a lot of worried families sitting around the TV watching the news… Which made me think of TV dinners as a family sat around the TV at meal time to catch up on the news.
Since the point of this "blog party" is to throw a party I thought it would be fun to turn the normal TV dinner scenario into an appetizer tray of bite-size fun.
Meatloaf and Mashed Potatoes appetizers; delicious and ready to be eaten as finger food!
Bitesize "TV Dinner" Meatloaf Appetizer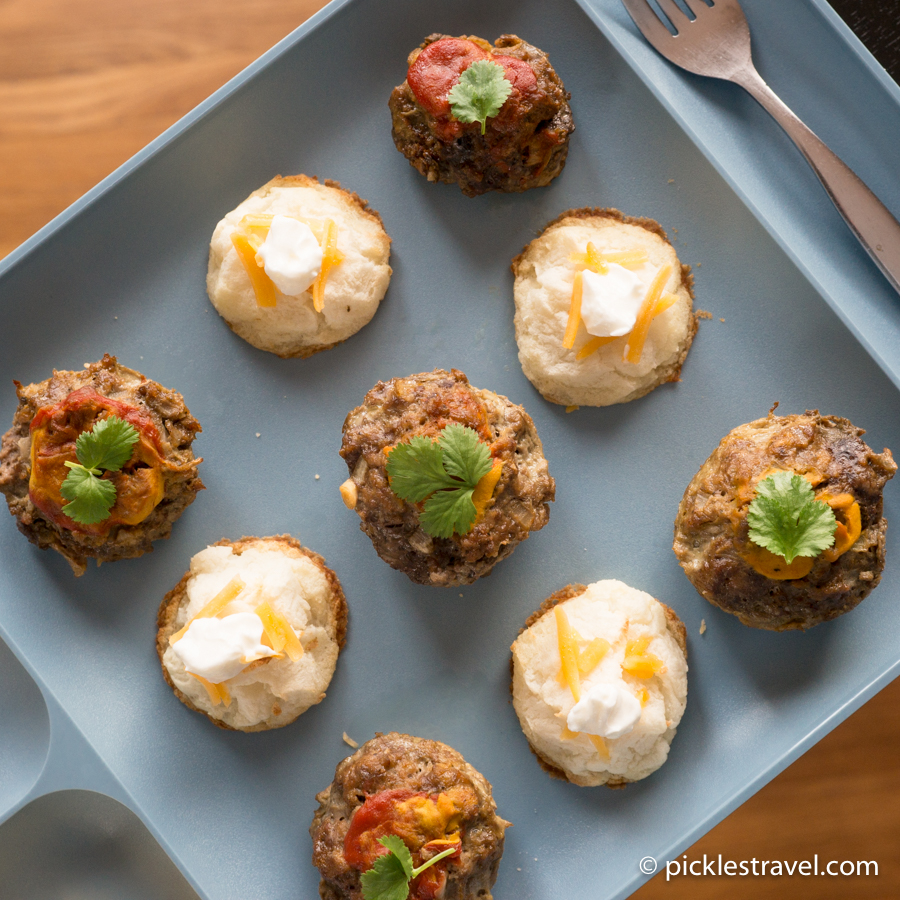 The meatloaf is inspired by Ina Garten's meatloaf recipe as I just love how the chicken broth in her recipe makes the meatloaf perfectly moist.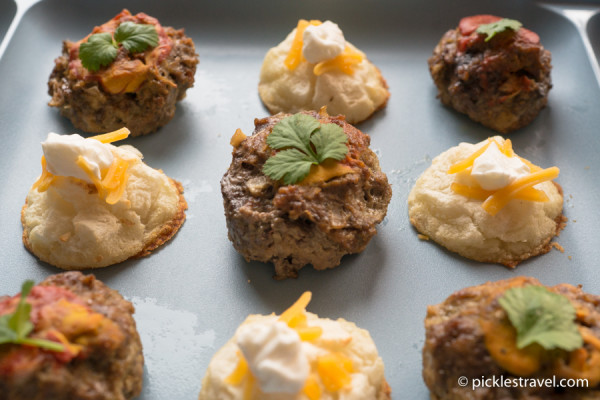 | | |
| --- | --- |
| | |
Preheat oven to 325 degrees. In a pan heat olive oil and add minced garlic and onion. Cook until translucent, about 5 to 10 minutes. Add thyme and salt and pepper to taste.

Remove mixture from heat and add chicken broth, worcestershire sauce, tomato paste and yellow mustard.

In a separate bowl mix together egg, ground beef and bread crumbs.

Combine liquid mixture with meat mixture. Roll meat mixture into 1.5 inch balls.

Grease all edges of a cupcake pan. Place meatballs in the cupcake pan and top with ketchup or mustard (if so desired).

Place in oven and cook for 45 to 55 minutes or until completely cooked through. Remove by sliding a knife along the sides of the meatloaf before removing, in order to maintain shape. Serve warm.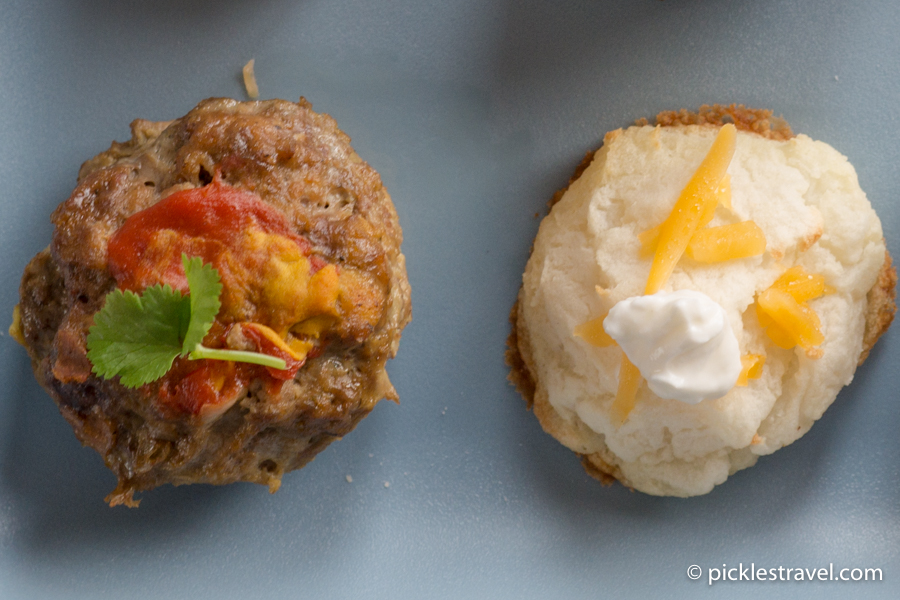 Mashed Potato Appetizers
The mashed potato appetizers are even easier. Mix up instant mashed potatoes per instructions on box. Preheat oven to 425 degrees. Make round 1.5 inch mashed potato balls and lay on a greased pan. Cook for 15 to 20 minutes until slightly browned. Serve topped with sour cream, cheese and chives (if desired).
So grab your Academy Award movies, your TV tray full of goodies and enjoy the show!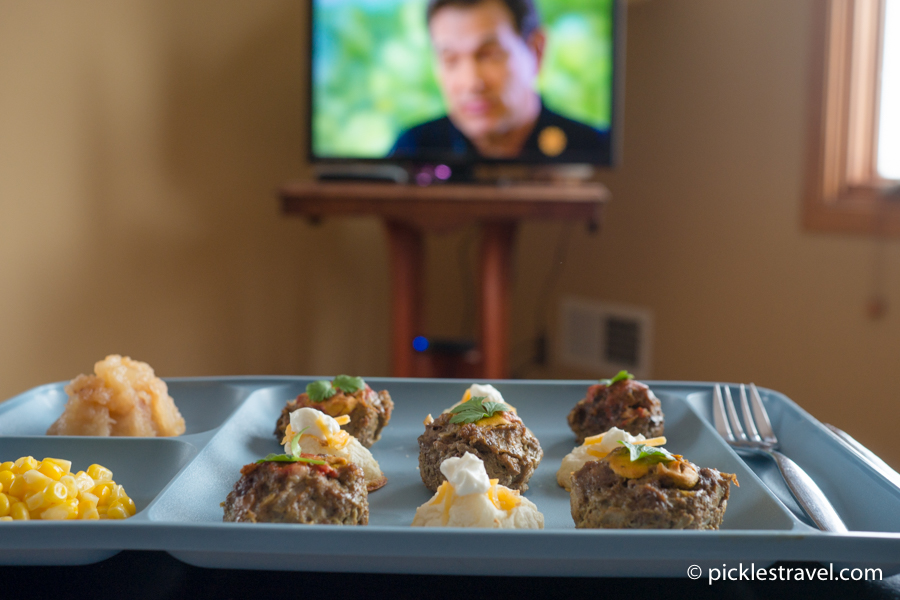 Academy Awards Blog Round Up
Now I promised an Academy Awards party for ALL the best picture nominations. These ladies have been hard at work creating some amazing dishes- read up and dig in.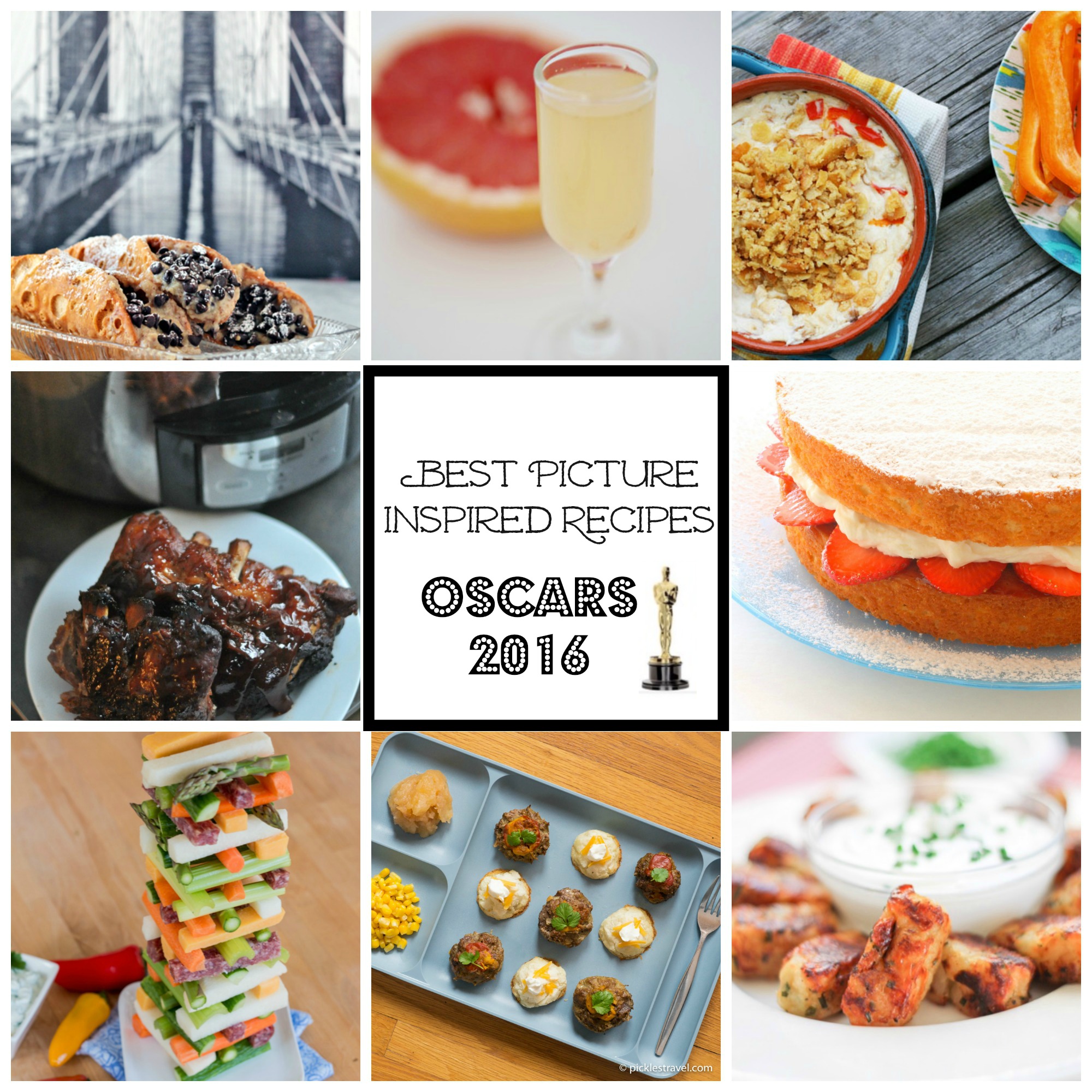 Mix and match all of these great recipes for your Oscar's Party this weekend!
The Big Short: Jenga Veggie Towers with Creamy Cilantro Dip from Flour Arrangements
Bridge of Spies: Bitesize "TV Dinner" Meatloaf Appetizers from Pickles Travel
Brooklyn: Chocolate Stout Cannoli from Femme Fraiche
Mad Max: Fury Road: Ruby Red Grapefruitcello from Making It With Stephany
The Martian: Homemade Cheddar and Chive Tater Tots from The Honour System
The Revenant: Crock Pot Ribs from Dining With Alice
Room: Victoria Sandwich Cake from Savoury Table