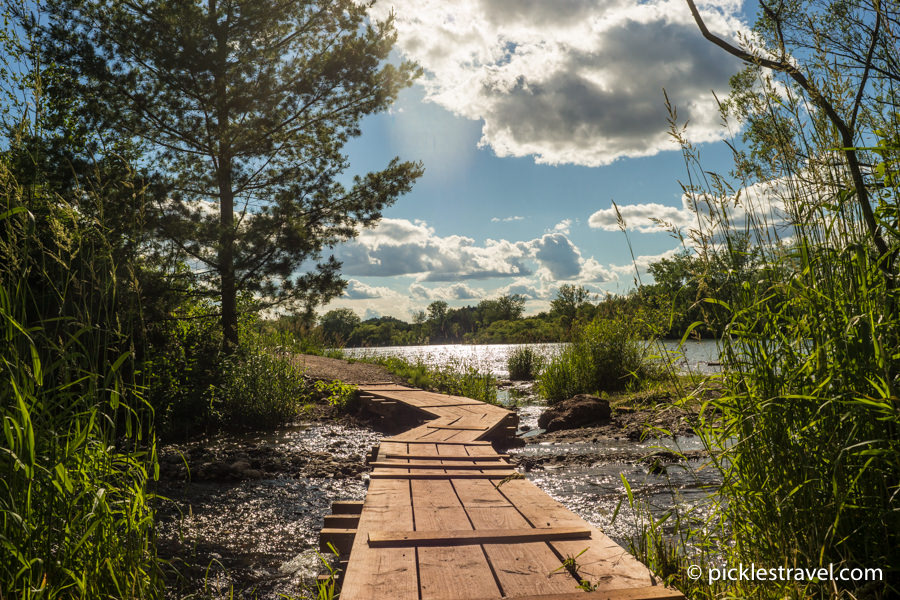 Cuyuna Country State Recreational Area is one of those hidden places in Minnesota that is slowly being discovered. With its incredible mountain bike trails that range from the most basic to the most difficult it is slowly becoming a biking mecca, but with six natural lakes PLUS 15 additional lakes created by former mining pits it should also be highlighted as a paradise for the paddling community so there is plenty of exploring Cuyuna Country to do!
While not every lake is accessible, as some are completely situated on private property, there are more than enough lakes that you can spend a long weekend exploring the water and never cross the same area twice. Or find the smallest, most peaceful of lakes and spend all your time relaxing in one spot- whichever best suits your vacation style.
Wondering how much fun you can have on your Cuyuna adventure- here's the perfect 36 hours exploring Cuyuna Country itinerary to get you started!
Note that any time you spend time on water in Minnesota you are required to have a personal floatation device with you. Also, all water sports are done at your own risk, so please, please be careful out there. Always wear a life jacket!
This post contains affiliates links. This means that if you purchase something I may make a small commission at no expense to you. This is how I afford to keep this blog running so I appreciate your support!
I was hosted by True North Basecamp, Iron Range Eatery and Red Raven Bike. All opinions expressed are my own.
36 Hours exploring Cuyuna Country
There are so many things to do that you could spend weeks exploring Cuyuna Country so by no means do you need to only stay 36 hours. This is meant as a reference point for building your own adventure!
Day One: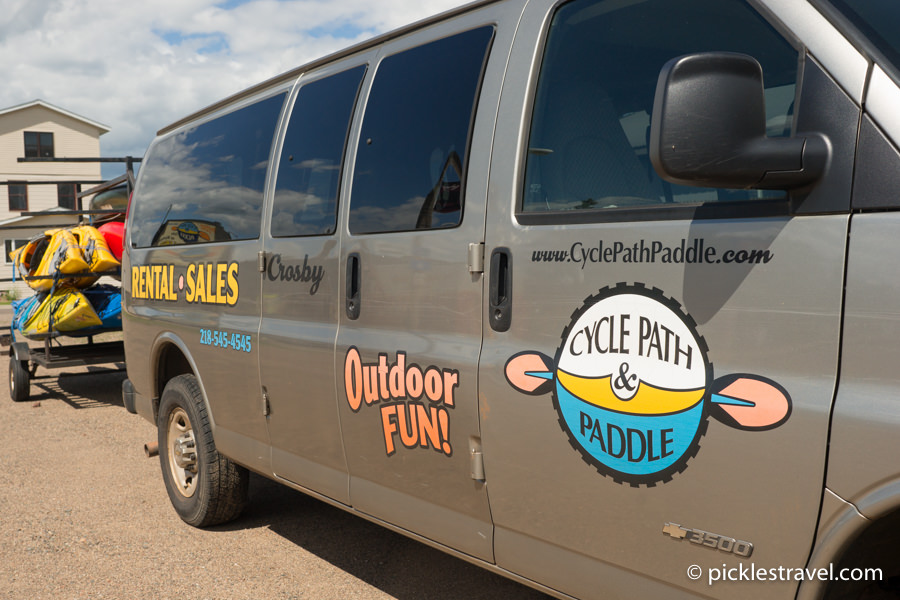 Upon arriving in Crosby and Ironton go directly to Cycle Path and Paddle to pick up your SUP (Stand Up Paddle) board or kayak, depending on your preference, so that you can plan to take advantage of a full day on the water on day two.
Cycle Path and Paddle also have drop off and pick up options as well, which may be way more convenient, so check with them and come up with the solution that best suits your needs when you book your board or kayak.
Late Afternoon
Assuming you enjoy a soft bed, but want a bit more rustic feel to your outdoor adventures you start your trip by checking in at True North Basecamp in Crosby, MN.
True North Basecamp has six camper cabins with heat, air conditioning, electricity, a table and beds. Showers and bathrooms are just a quick 20 to 30 steps from the camper cabins. They sit on the edge of Armour Mine #2 Lake, an otherwise completely forgotten Cuyuna lake that is just begging for someone to enjoy her crystal clear waters.
Since it is more of a rustic stay it will probably take you some time to get situated- putting sheets on mattresses, unpacking the car, etc- but once that's complete give yourself at least 30 minutes to just explore the area at True North Basecamp. Walk down to the water and watch the sunlight sparkle on the gently lapping waves, or cross four-panel bike bridge over the small, but wildly running stream to explore the inlet to the mountain biking world of Cuyuna before making your way back to the water.
Dinner Time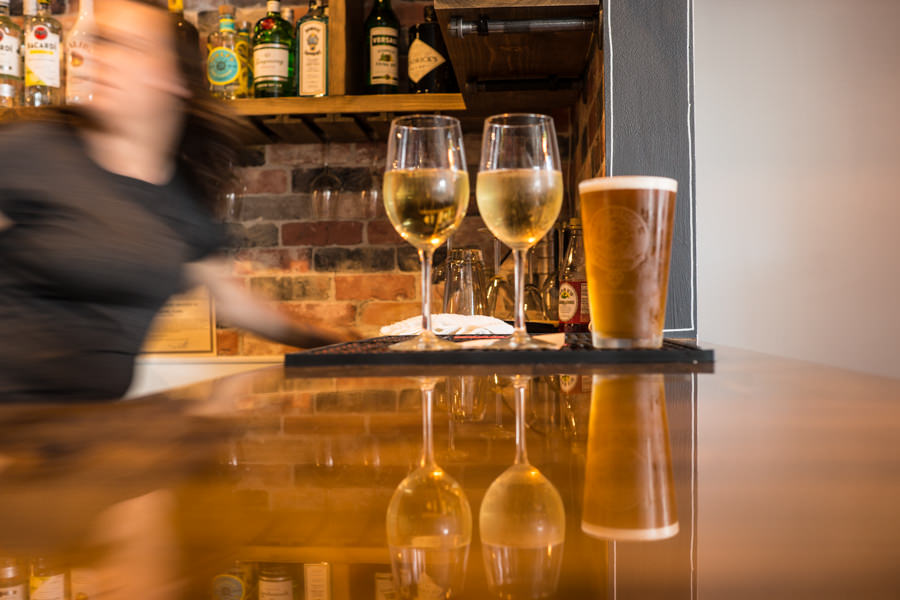 Plan to enjoy your supper at the new and much anticipated Iron Range Eatery. I had the luck of eating there on their second night open and it was so incredibly busy that I chose to sit at the bar rather than take up a whole table. It's so wonderful to see a community rise to support a new business!
There is a great array of options to eat, including perfectly-sized pizzas. If you're looking for something different, try the Chicken and Chorizo Flambe – as a lover of all things spice, the warning to not test the chef makes it a tempting dare…
Evening
Return to camp and build a fire in your fire ring in front of the cabin and watch the sun set over the lake. Roast a marshmallow (or five) because no camping adventure is complete without s'mores!
If you are adventuring with young kids the setting sun makes a slow, golden trail across the walls and beds in the cabin, which makes for some fun shadows to play with.
Make sure to put the fire out before you head off to bed!
Day Two:
Early Morning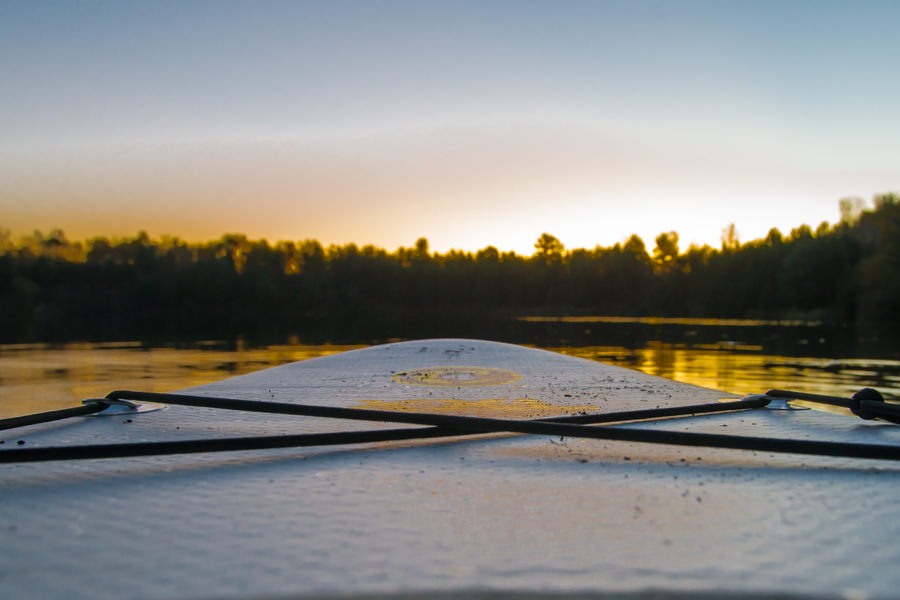 Wake up bright and early to take advantage of a flat lake as the sun rises. Take the paddle board out to the middle of the lake and do sun salutations, or meditate while enjoying the beauty of the location as you watch the sun rise over the camper cabins of True North Basecamp.
Breakfast
While a greasy spoon breakfast may not entirely fit in with your blissful weekend of paddling you'll still want to check out the breakfasts at North Country Cafe in Crosby. They have a great hash skillet that will keep you full through to the mid afternoon!
If for no other reason you need to go to sit amongst the locals- who are so incredibly friendly! The first time I ever went a local even paid for my meal out of pure generosity- I never even knew who it was!
Morning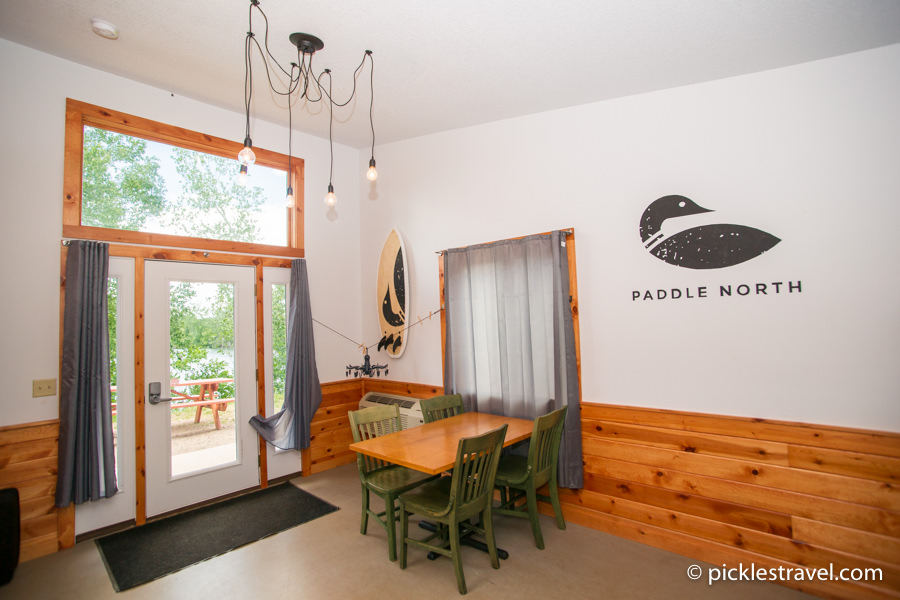 One of the coolest things about True North Basecamp is that there is electricity in each cabin, so if you bring along a crock pot or instant-pot pressure cooker you can set your supper time meal to start cooking while you're out enjoying the day, so that after a day of exploring the water you don't come back starving and then have to make dinner too! Try out these gyros.
Pack up a picnic lunch- try these chicken wraps that I love – and make sure to bring along plenty of water. Then pack up your SUP board and head to the main parking lot of Cuyuna Country State Recreation Area to paddle along Pennington Mine Lake.
Pennington is a large lake, so it can get a bit rough in terms of waves when the wind is blowing the right direction, but some great advice I got once was to "stick to the edges as you paddle- there's nothing in the middle to see anyway." It's always so fun to see land from the water, so take in the beauty as you paddle. There's no rush- this is all about relaxing and enjoying the scenery!
Lunch
After you've explored for a few hours you can either paddle out to the middle of the lake to unpack your lunch and enjoy it as you dangle your feet off your paddle board as you munch away. If the water is calm and still stand up and peer down into the depths- can you see any of the old machinery from the mining days? There are some spots in these old mine lakes where you can see the eerie shapes of what once was…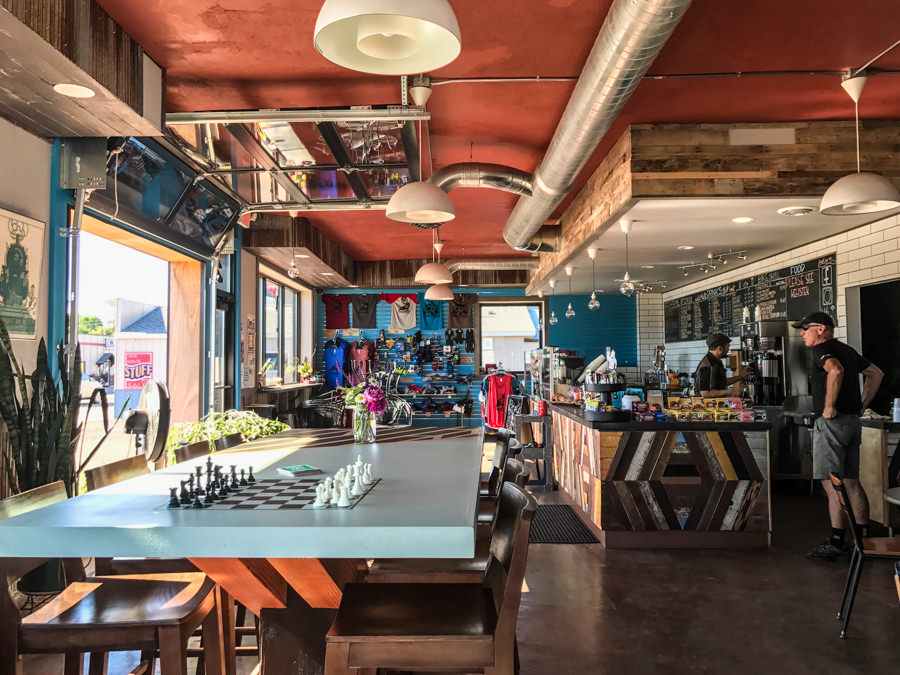 Or head back to shore and go to Red Raven Bike for a delicious panini (or ask for a rice bowl, if they have them!). Red Raven has an amazing indoor space, but if you want you can grab your meal to go and then eat alongside Serpent Lake (and the large serpent statue!) If you have kids along this is a great spot for lunch because there is an incredibly large play castle for them to run around in and play along. Of course if you do that it may become your entire afternoon activity- it is that big and fun!
Afternoon
My favorite lake to paddle at Cuyuna Country State Recreation Area is the Yawkey Mine Lake. It's a teeny tiny lake- even smaller than the Armour Mine #2 Lake upon which True North Basecamp sits! But it's quiet- I rarely see anyone there and even the parking lot is a bit of a walk from the lake.
As a single traveler looking to escape city life it's a great place to just get away. Paddle out to the middle of the lake and then lay down on your board with your feet hanging out over both edges of your paddle board. Careful, you might get so relaxed that you'll doze off.
Depending on what time you rented your kayak or SUP and assuming you rented it for a full 24 hours, you will need to return it, or meet the Cycle Path and Paddle people at the designated pick up spot (which you will have arranged when you scheduled the paddle board).
Dinner/Evening
Swing by Cuyuna Brewing for a growler and then head back to basecamp. After a long day on the water a shower will feel like a perfect way to start wrapping it up.
If you set your crock pot or instant-pot pressure cooker to cook while you were gone then it should be just about ready. Start a fire, set the picnic table (or the table inside the cabin), pour a glass of Cuyuna Brewing beer and enjoy the evening breeze.
Day Three:
Morning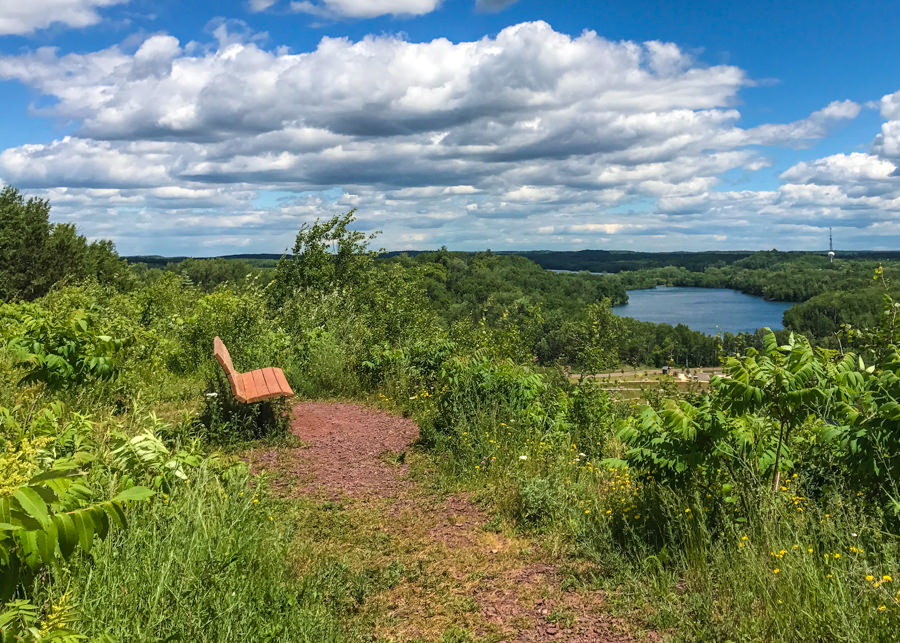 Grab coffee and a breakfast sandwich from Mixed Company and drive up the winding, gravel road to the top of Miner's Mountain, overlooking the long and narrow Huntington Mine Lake. An impressive view with some great benches along the bluff is the perfect place to sit, drink a coffee and start planning your next trip back!
Time to head home. Lake life at Cuyuna State Recreation Area is one of the best ways to spend a few days, so it always flies by much too quickly.
Note: any time you spend time on water in Minnesota you are required to have a personal floatation device with you. Also, all water sports are done at your own risk, so please, please be careful out there. Always wear a life jacket and if you don't know how to swim, stay close to shore (or find other things to do- there are so many fun things to do in the area, you won't be missing out!)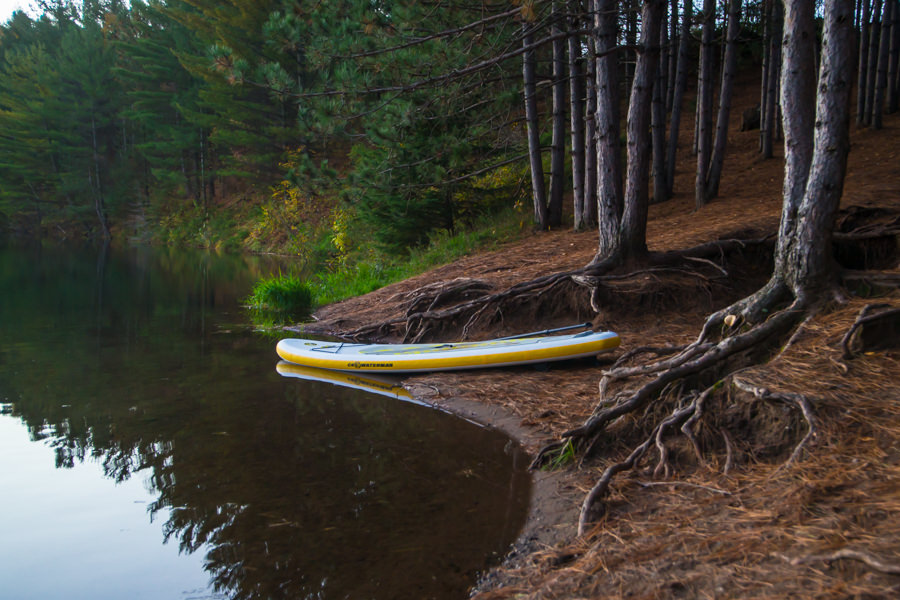 Details:
Cycle Path and Paddle is owned by Jenny Smith, a remarkably strong woman who deserves a ton of credit for all that the Cuyuna Country State Parks area has become with regards to the mountain biking and paddle sports. She has worked side by side with the DNR and the cities of Crosby and Ironton to make this place magical so definitely make sure to support her business while you're in town!
True North Basecamp has six camper cabins, each with its own unique vibe, supporting a local Minnesota business. If you are in the mood for something even more rustic there are also over 30 campsites to choose from. There are trails leading to all the mountain biking trails right from camp so you wouldn't have to get in your car the whole time you're visiting.
Red Raven Bike opens at 9:30 in the morning and is another great option for coffee. Definitely make some time during your trip to spend and hour just hanging out in this vibrant space. They also rent several different types of bikes, so if Cycle Path and Paddle is out of bikes check Red Raven.
Iron Range Eatery has just opened for lunches now too, so you can try them over the lunch hour if you'd prefer. It's wonderful to see new businesses flourish in small towns and the menu is so well done that you certainly won't want to miss it. They are incredibly good about keeping their Facebook page updated, so check there for season menu changes and hours.