Here in Minnesota there's a debate about who originally made the juicy lucy (or jucy lucy). Was it Matt's Bar, or the 5-8 Club. Who knows, but it's an amazing feat and makes the ordinary cheeseburger seem bland and boring. I mean, who doesn't like cheese oozing out of their burger after you bite into it!
This venison burger is my copy of their famous burgers, and while I in no way claim to serve as excellent a burger as they do, it's still a pretty delicious masterpiece. Feel free to substitute in ground beef for venison for a little extra juicy-ness.
Blue-Cheese Stuffed Juicy Lucy Venison Burger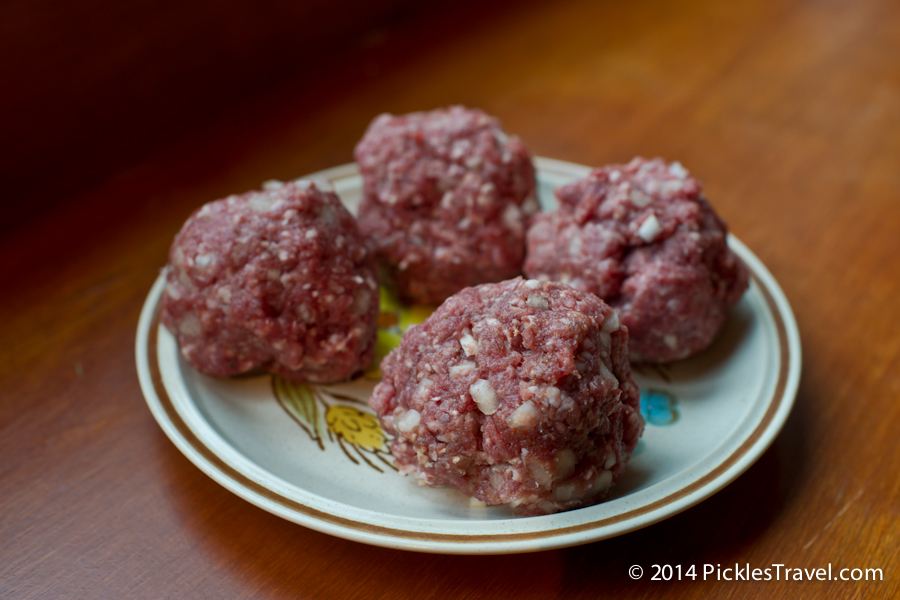 In a mixing bowl combine ground venison meat, onions, a salt or seasoning of your choice (I love using a Cajun-spiced seasoned salt for some additional heat), and a little bit of worcestershire sauce. Venison has less fat than beef, so on occasion i will add some home-made lard, but the bacon helps to off-set the lack of fat in the meat, so it doesn't need anything extra for this burger.
Start by creating 4 identically sized balls of meat. This makes it easier to determine how big to make each burger. Flatten out the balls to create patties. Because you will be layering two patties on top of one another, make sure that the patty is thin enough to cook, but not so that it will fall apart.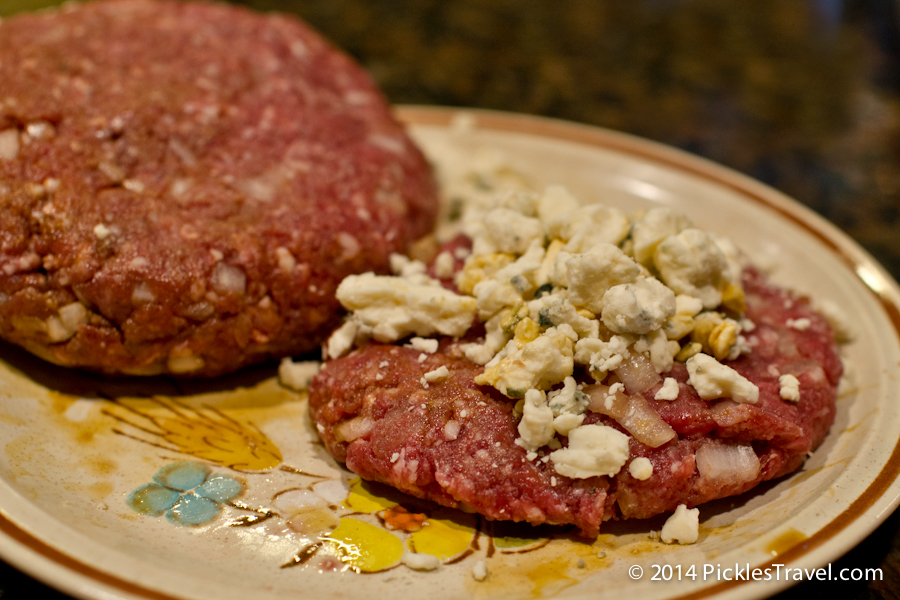 Dump the blue cheese crumbles (or cheese of your choice) on top of one of the flattened burger patties. Unlike the photo above, push all the cheese so that it's centered on the patty. The goal is to keep the cheese inside the burger when you combine the patties together.
Place a second burger patty on top of the cheese covered one and pick them both up. Knead together the edges of two patties all the way around. You don't want to lose your cheese as it cooks, so make sure there aren't any gaps. Repeat with the last two patties.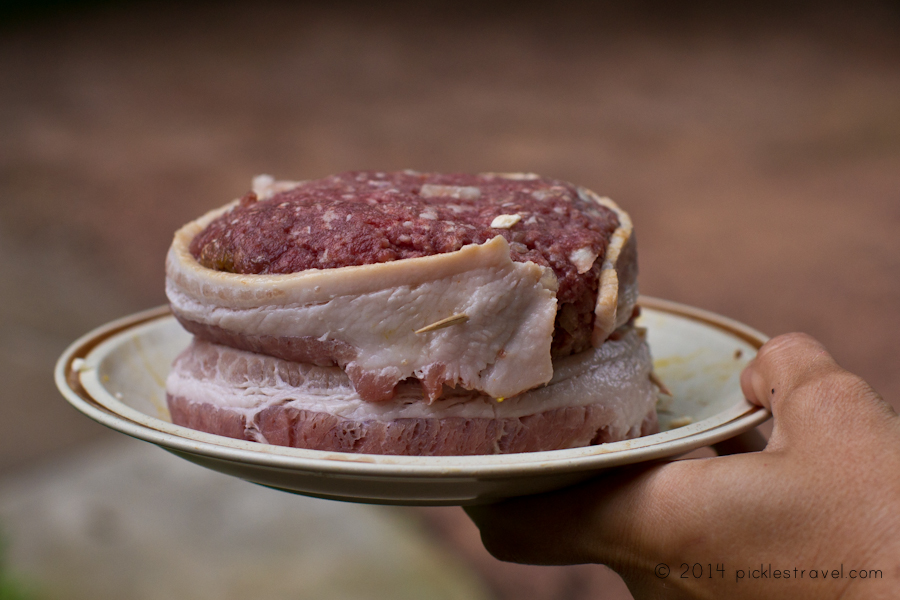 Wrap a slice of bacon around each burger. The bacon will help hold in the cheese and it will give the venison just a little bit of that fat it's lacking. If your bacon slice isn't large enough, use a toothpick to affix it. Just don't forget to remove the toothpick when you serve them!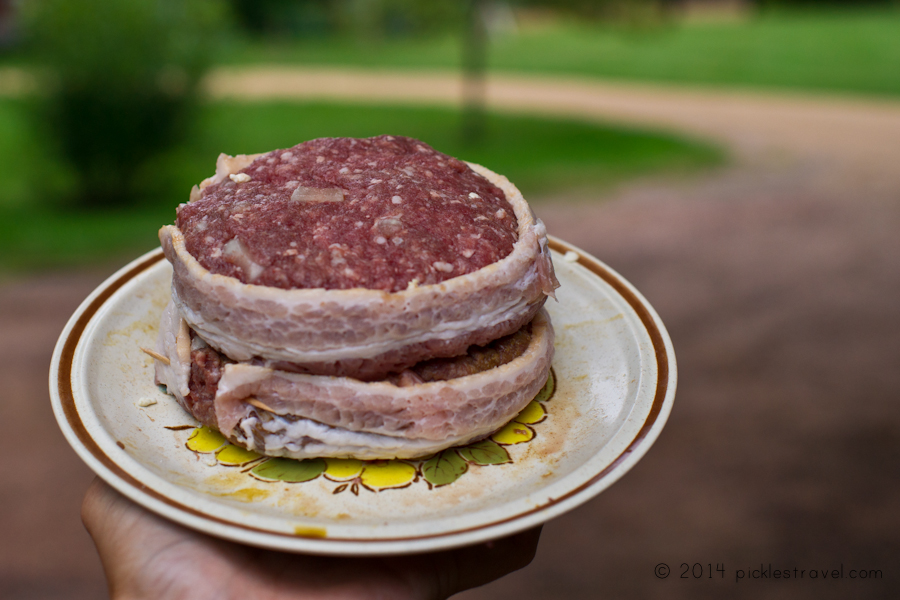 Your extra-large, extra-thick burgers are ready to be grilled! Have your charcoal going and the grill at about 400 to 425 degrees Fahrenheit. Cook the burgers on each side for about 6 minutes. If you have a meat thermometer check to make sure the center of your burger is at about 150 degrees. If it is, you're set to serve and eat!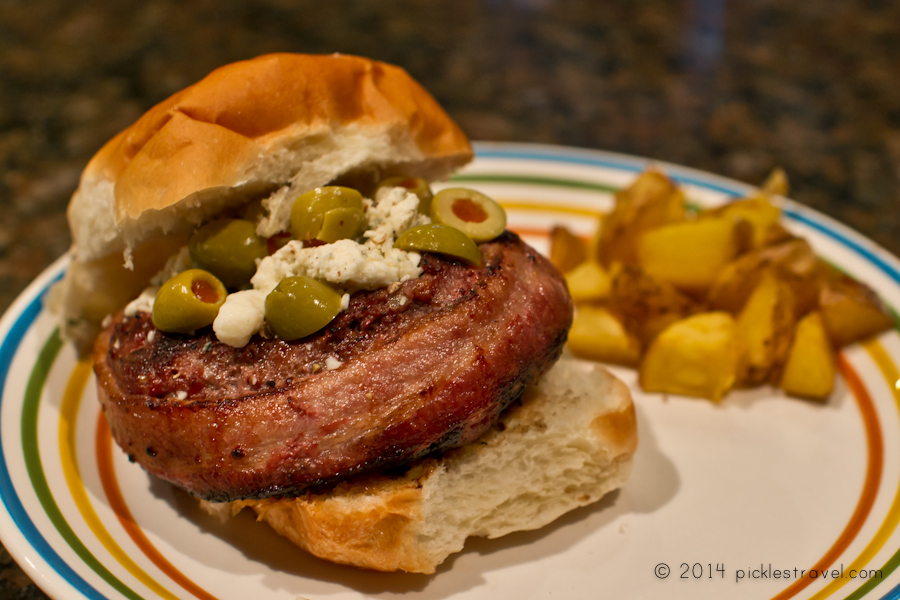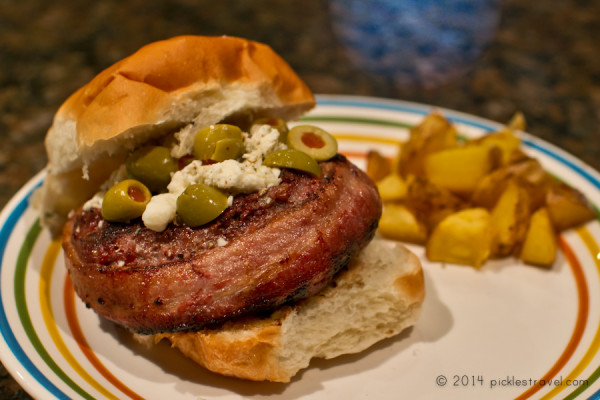 | | |
| --- | --- |
| | |
Light coals and get grill heated up to 400 to 425 degrees F. Combine ground venison with onions, seasoned salt and worcestershire sauce.

Form even 4 balls of meat with mixture. Flatten out the balls to create burger patties- making sure that the patty is thin enough to cook, but not so that it will fall apart. In the center of two of the patties add 1 Tbsp. of blue cheese crumbles.

Take the other two burger patties and lay on top of the patty with cheese. Pick up the bottom patty and slowly work your way around the edges of the patty, working together the top and bottom patties until they are completely combined into one large patty. Repeat with second set.

Tightly wrap a slice of bacon around each stuffed burger. If necessary, lock in place with a toothpick. Place burgers on grill.

Grill the burgers on each side for 6 minutes each at 400 to 425 degrees. Check internal temperature of burger before removing- it should read at about 150 degrees F.

Top burger with your favorite toppings and enjoy!
Do you love wild game as much as I do? Then we have something in common! Keep in touch by liking Pickle Travel blog's Facebook page or following my Wild Edible Board on Pinterest. I will be publishing more wild game recipes in the future, from mushrooms to berries to venison and pheasant and hope you follow along.