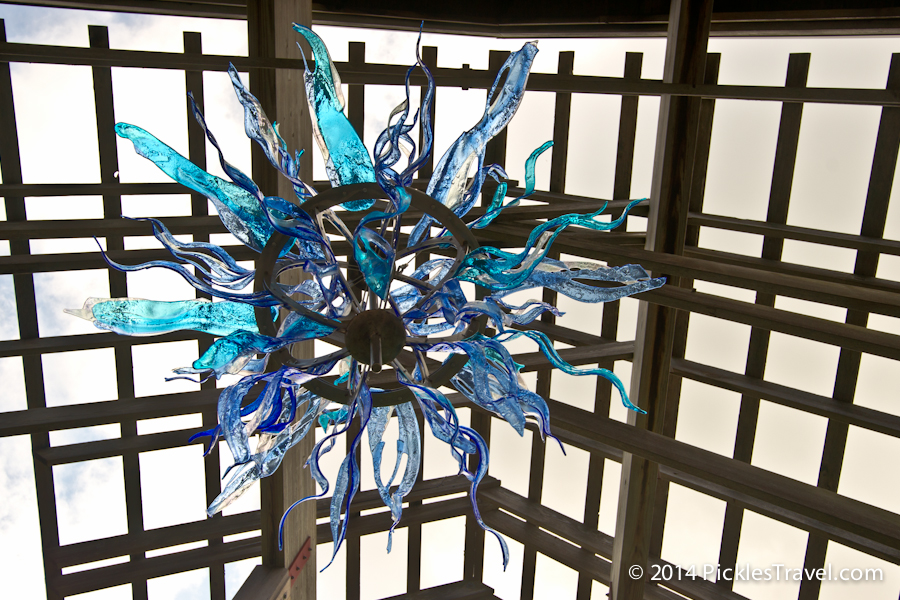 32 glass art installations spread across the various gardens at the Minnesota Landscape Arboretum. Gorgeously placed throughout the walking area of the arboretum the glass shines and delights so a photo essay of the Nature in Glass Artwork at Minnesota Landscape Arboretum was the only way to truly highlight this beautiful installation.
Craig Mitchell Smith is the artist that created the sculptures currently on display at the arboretum, located in Chaska. Some of the glasswork blends into the environment, so of it contrasts- like "Blue Star Rising", pictured above, some stand out and are easy to spot, others are hidden amongst the trees, literally.
Nature in Glass Artwork at Minnesota Landscape Arboretum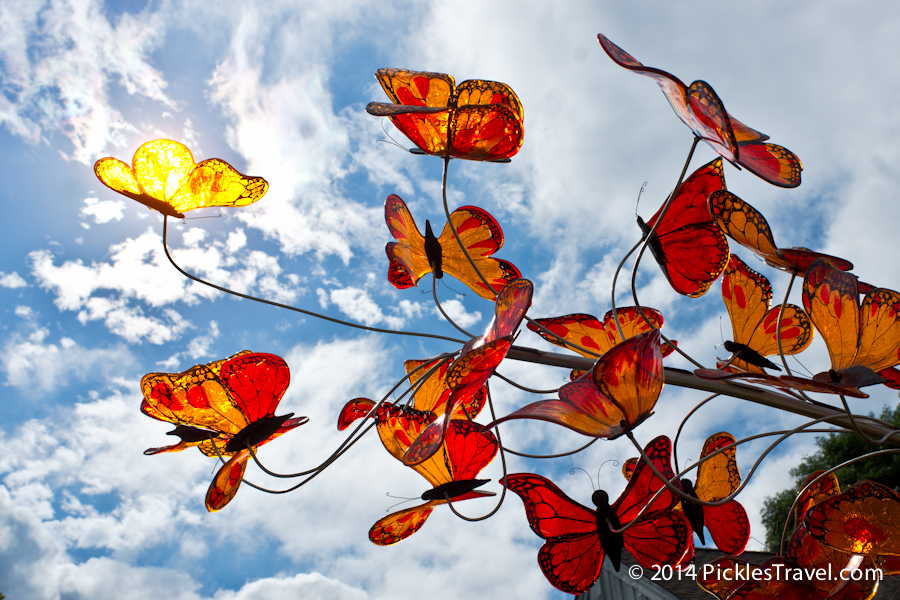 The glass monarch butterflies flit across the sky, with the sun shining bright straight through their colorful wings.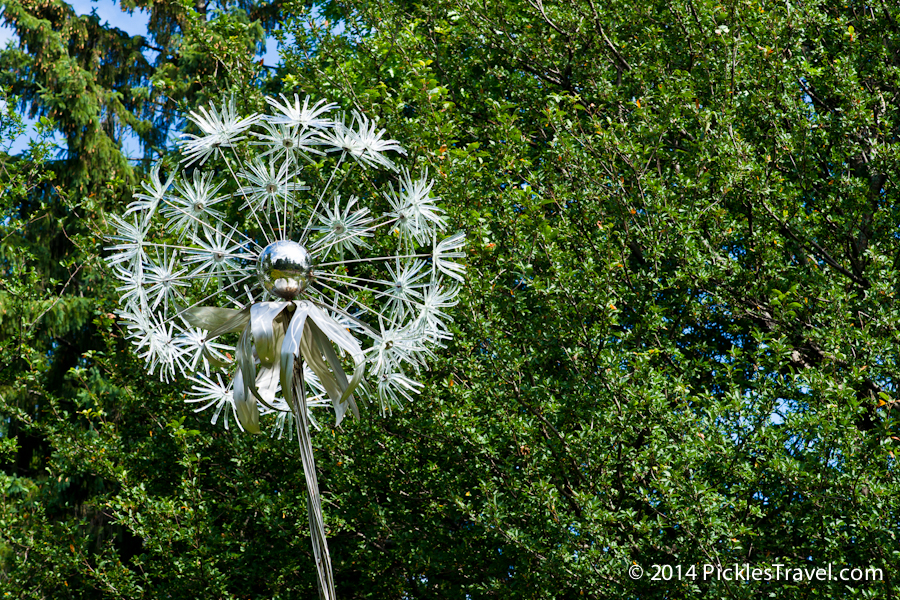 "Making a Wish" – just take a breath and blow and watch the dandelion seeds float away, or at least you can imagine just that with this glass and metal flower sculpture, which towers overhead.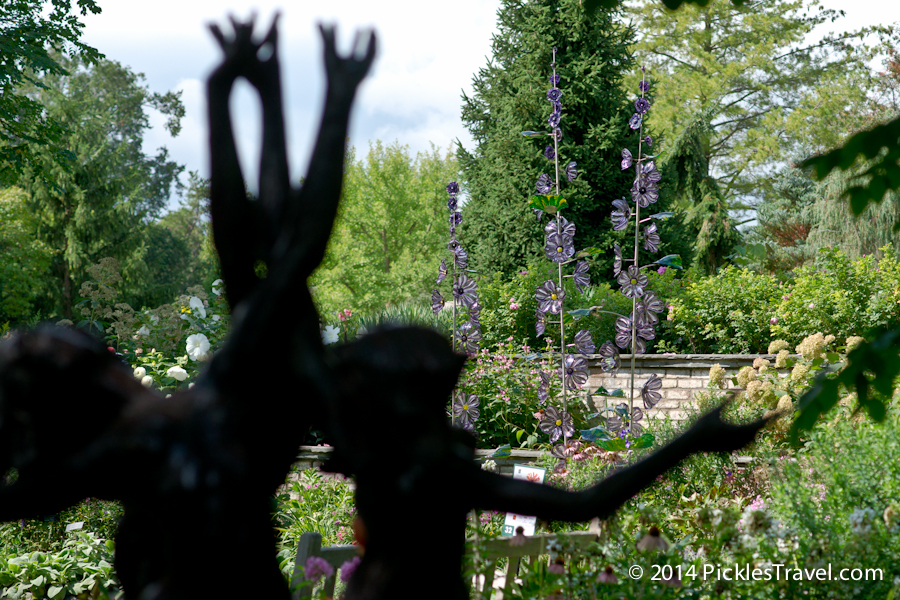 Even the everyday sculptures at the Minnesota Landscape Arboretum are excited about this newest art exhibit. "The Hollyhocks" are growing tall in the Terrace Garden
Each piece of art, like these two- "The Crepe Myrtle" and "The Poppies of Oz" have been thoughtfully placed into a habitat that makes it feel almost as if it had grown there. One with nature.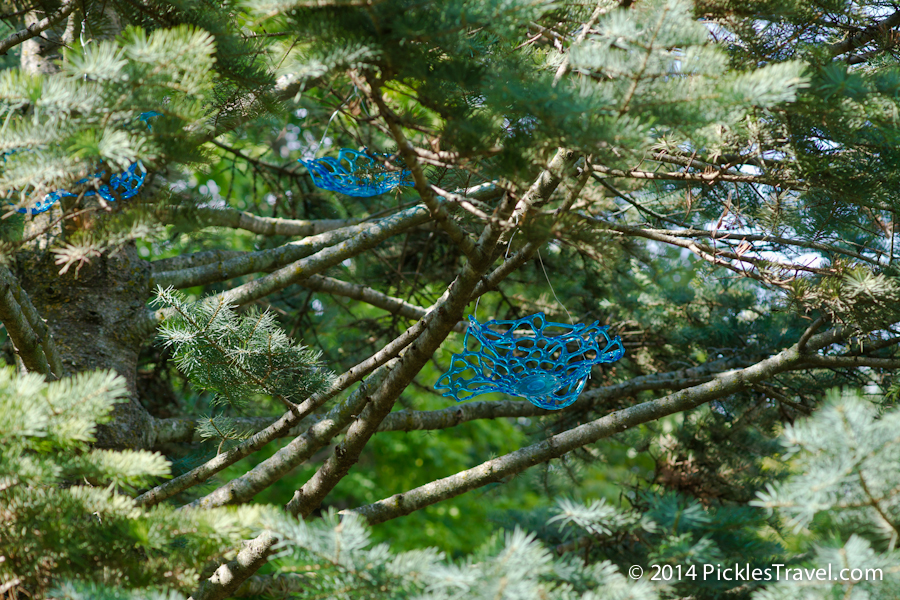 Some of the art is so perfectly placed that you'd never see if there weren't for signs pointing up. The Birdsnest Spruce was the finest of these- a series of bright blue nests hanging in the air from the heart of the spruce tree.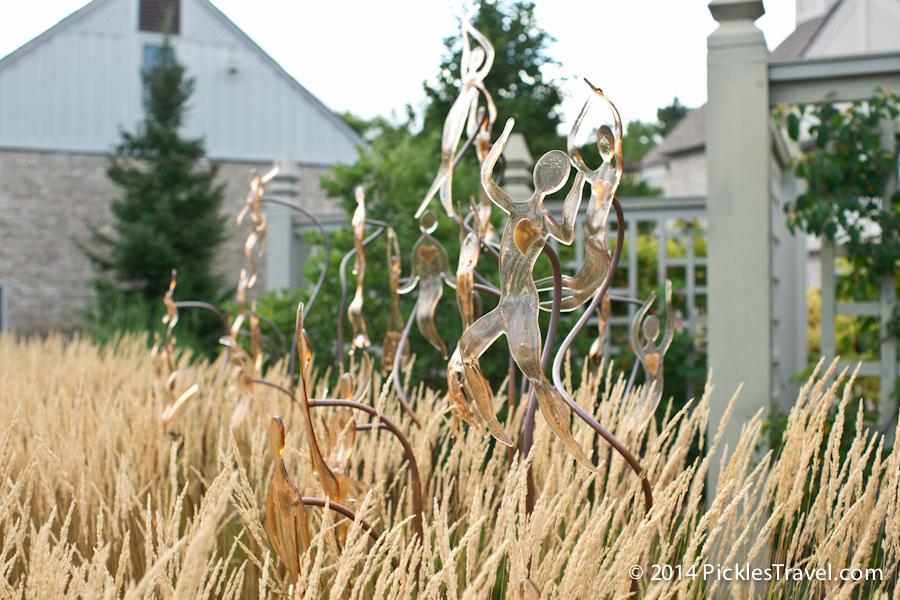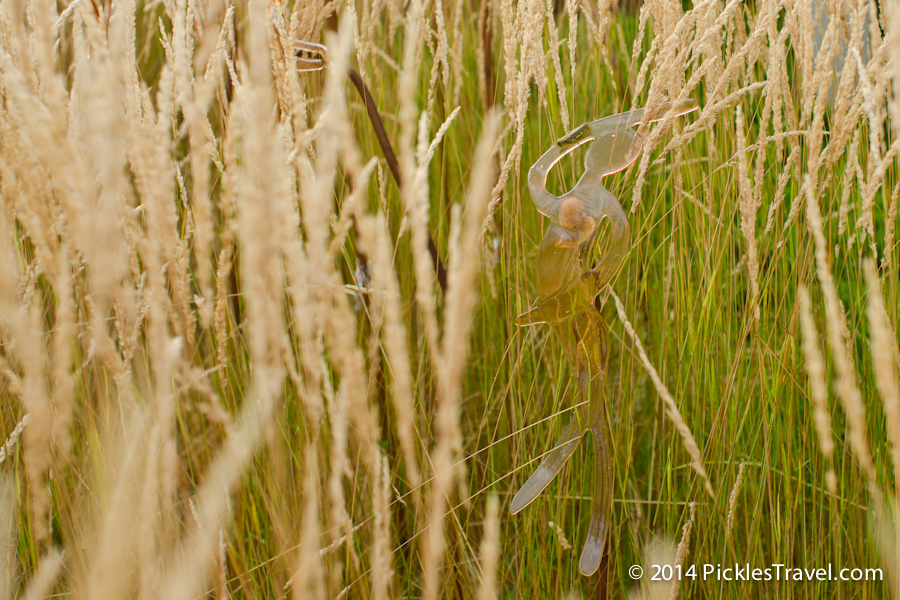 "Gravity" stays true to its name. Characters float above the prairie grass, but look closer and you see that not everyone has escaped the pull of the earth, slowly sinking into the long grasses.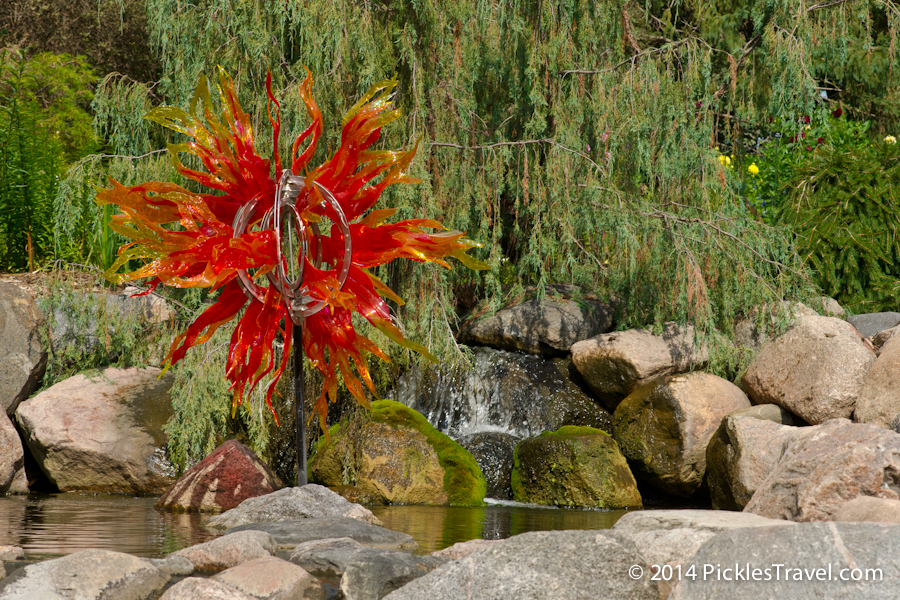 Fireball is a striking contrast of sharp, deep reds and oranges against a green backdrop and white waterfall.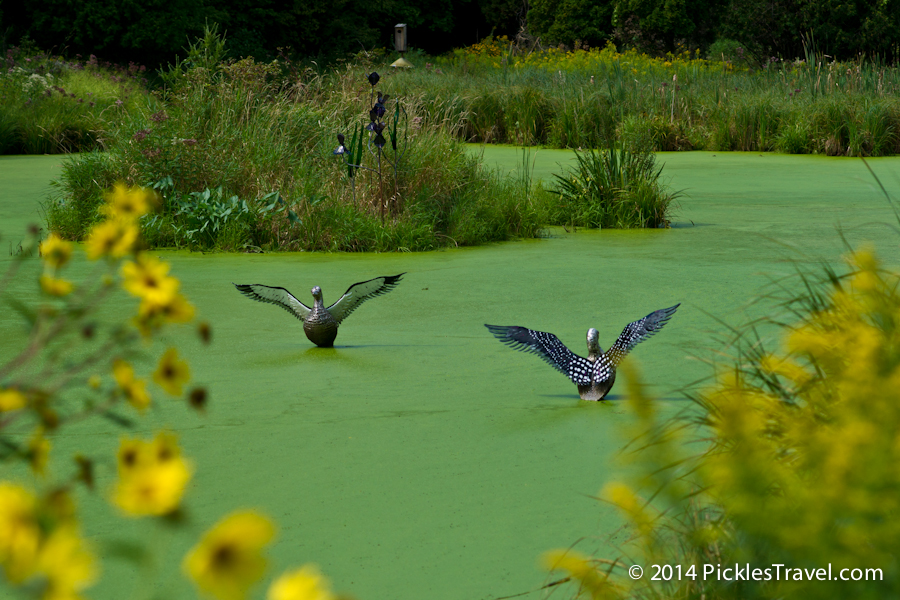 "The Loon" installation shines from the lake of the iris garden with "Japanese Iris" standing tall in the background.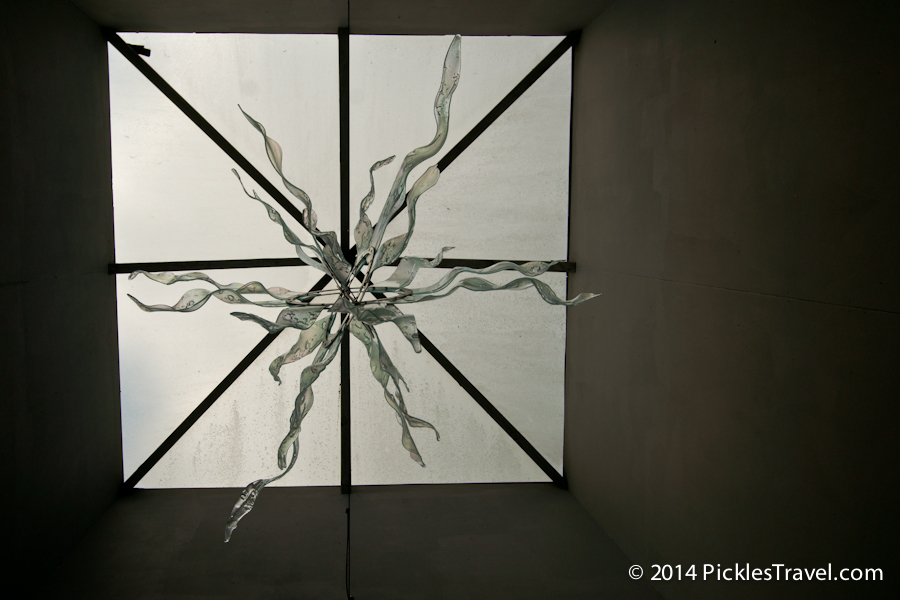 Although not in the finest of locations, the "Star of Minnesota" is a beautiful tribute to our fine state.
The Blue Star Rising (pictured at top) is the pinnacle of the Nature in Glass exhibit and can't be missed. Check out the Sensory Garden to enjoy it up close and personal.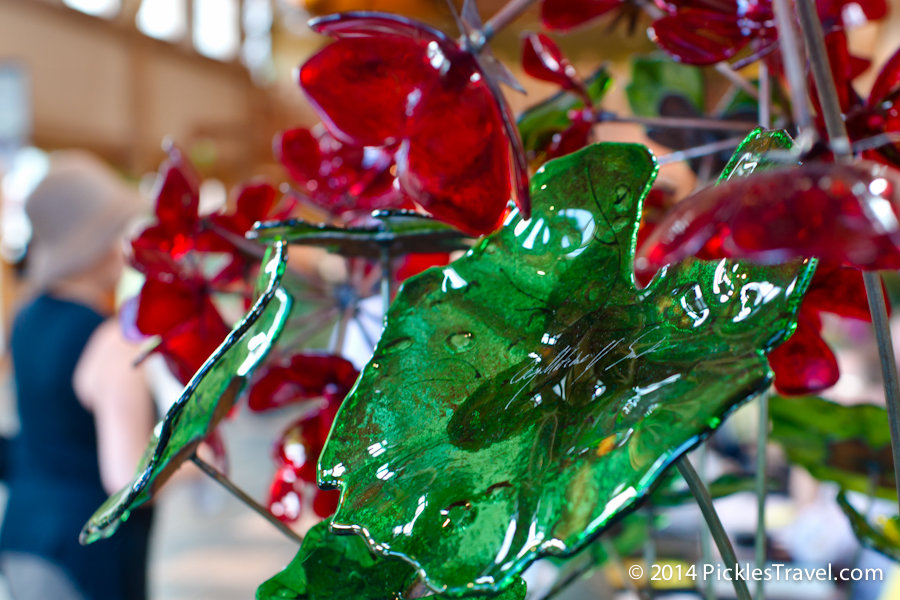 The signature of the Craig Mitchell Smith- the artist behind the Nature in Glass exhibit currently showing at the Minnesota Landscape Arboretum.
Update: The Nature in Glass Artwork at Minnesota Landscape Arboretum is no longer there, it was a seasonal installation for the summer of 2014. Although a few pieces do remain (like the dandelion) and one of the waterfall pieces.
There is always a beautiful installation in place at the arboretum though so go and check out when they currently have on display! Who knows, you may like it even more than this.
Nature in Glass exhibit has been extended now through to September 10, 2014
Hours: 8 am – 8 pm