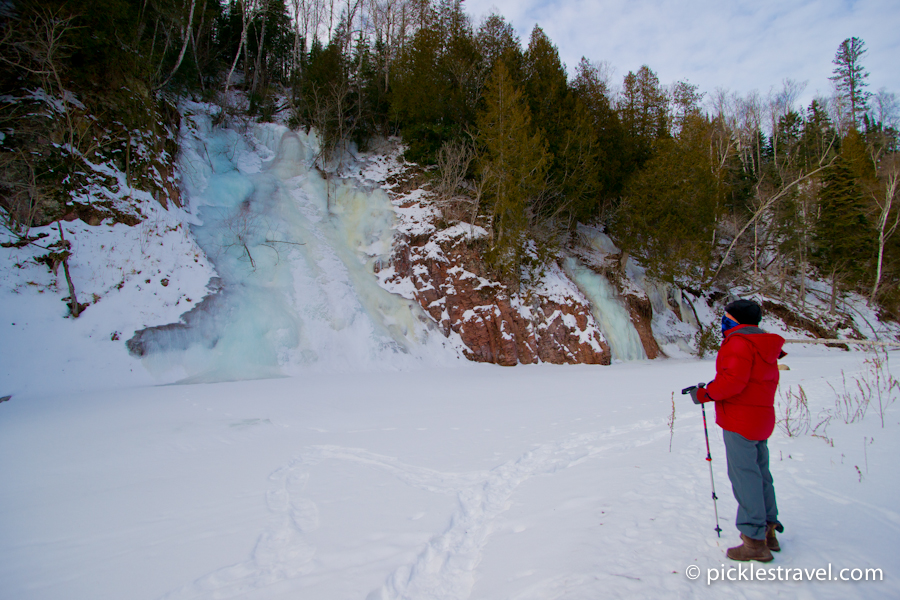 Minnesota, the Land of 10,000 Lakes, also happens to have quite a few waterfalls, not quite 10,000 of them (unless you count all the little offshoot streams that may create waterfalls along Hwy. 61 during an especially wet summer) but enough.
Minnesota also has this crazy reputation for being cold. Like really cold. That also might be true… But now picture how amazing cold weather combined with a waterfall can make fore some spectacular winter sight-seeing!
Note this post contains affiliate links. I may make a small commission if you click these links, which helps keep this site running. Thank you very much for your support.
Top 5 Minnesota Frozen Waterfalls

Little to no public visit Minneopa Falls in the winter so you should have the place to yourselves. Make sure to explore the limestone rock surrounding the falls and read the names and messages carved in there.
The waterfalls freeze at Minneopa in the pattern in which they fall, which is incredibly beautiful. While it is always dangerous to get up close and personal to a frozen waterfall, this is a great place to do so. Note that there is always a risk of falling ice chunks, as the majority of the ice is just hanging off the top of the river bed above.  Always be careful and never venture onto frozen ice if there is any doubt of safety or its thickness.
Also make sure to explore the rest of the park while you're there- bison roam free year round in the prairie land part of the park.
Where to stay: Mankato is only a few miles away from Minneopa State Park and has several hotel options, (some better than others.)
If you're traveling with your family and are interested in a newer hotel with a pool then I'd recommend the Holiday Inn Express.
Bonus- it's right across the street from Wow! Zone Family Center which has bowling, laser tag, mini golf and a plethora of indoor activities for the entire family, which is always a good call after a day outside in the cold!
Beautiful at all times of year, these falls are located in Minneapolis and are actually closed off to the public during the winter, due to safety concerns. While this doesn't stop some people it is still best to view the frozen falls from a distance to avoid getting hurt. That doesn't mean you can't enjoy them and get some incredible pictures taken. There's a great walking path that you can take to explore the entire park!
Where to stay:
Minnehaha Park is located in Minneapolis, but is surrounded by the Twin Cities so there is a plethora of options. If you plan on spending some time at the Mall of America while you're in town then you might want to look at staying at a hotel in Bloomington. I had a great experience at the AC Hotel.
Or stay in downtown Minneapolis for a fun night enjoying the food and fun of the "Little" Big Apple!

This is one of my favorite winter state park hikes. It's an easy half mile walk on a paved sidewalk out to the falls, which means you can even venture out there with a wheelchair or stroller (assuming that the snow has been cleared from the path.)
The breathtaking views of 120 feet of frozen beauty along the Minnesota and Canada border is just icing on the cake. Nothing can beat that in the dead of winter! Just be very careful as you walk along the wooden boardwalk- the mist from the falls makes it incredibly slippery.
Where to stay:
Grand Marais is hands down the best place to stay in this northern corner of Minnesota, that being said, it is about a 45 minute drive from Grand Portage to Grand Marais. The best way to experience Grand Marais and the surrounding area is to stay in a house, especially if it's a house with a view of Lake Superior and bonus points if it sits of Lake Superior. VRBO gives you a plethora of options and home sizes for any range. That way you can bring along a few friends when you head up!
One of the most well known falls in the state, Gooseberry Falls and the surrounding park makes for quite the sight in the winter. Plan to spend the day exploring the park.
With a 60 foot drop these are the highest waterfalls in Minnesota (those which fall entirely in MN, I should say). A breathtaking sight any time of year, but seeing them frozen is all the more impressive.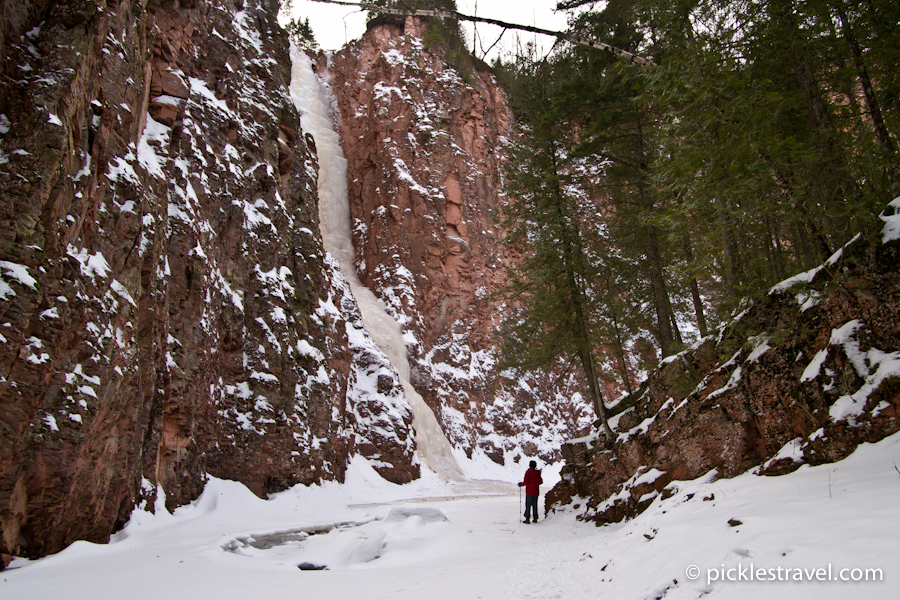 Plus all the frozen waterfalls that aren't necessarily waterfalls during the summer, but rather slow trickles of water. Pictured above is a frozen waterfall along Devil Track River outside of Grand Marais in Northern Minnesota.
What are your favorite Minnesota winter adventures? Do you have a favorite frozen waterfall? Learn more about Minnesota by following along on my Minnesota Pinterest board.