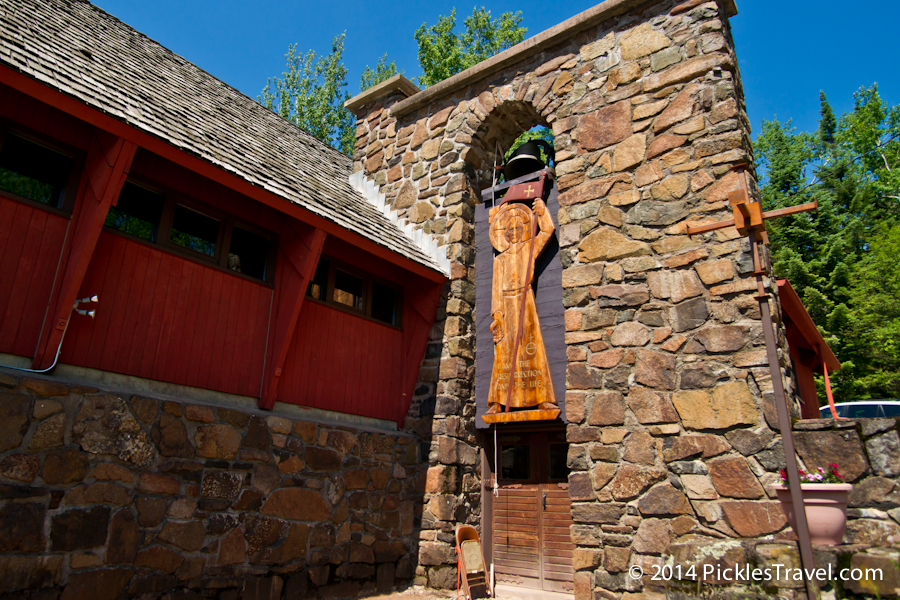 Trinity Lutheran Church; a church fit for the rural life. Beautiful, strong, and vibrant, this ELCA church is located in Hovland, you can't miss it as you drive towards Canada along Highway 61 in northern Minnesota.
Hovland is a small community with not much more than the Trinity Lutheran church, town hall and a small convenience store/deli, located in the arrowhead region of northern Minnesota, just 20 miles from Canada, 19 miles from Grand Marais and a few miles from the Naniboujou Lodge.
The church is the highlight most of the year, but sometimes it shares the spotlight with the arts community, which really knows how to throw a party. With the sounds of music wafting out over the highway, and cars parked along each side of Highway 61 for blocks the yearly Hovland Arts Festival draws in the crowds to the tiny parking lot and area surrounding the church and town hall. With a typical community cooperation attitude Trinity Lutheran gets involved as well by hosting a benefit lunch. The lunch allows visitors from all over and myself a chance to revel in the beautiful stone walls and high, wooden ceilings, eat a great meal, and support a rural community church all at the same time.
Trinity Lutheran Church and the Hovland Town Hall sit nestled back in the trees, comfortably awaiting visitors.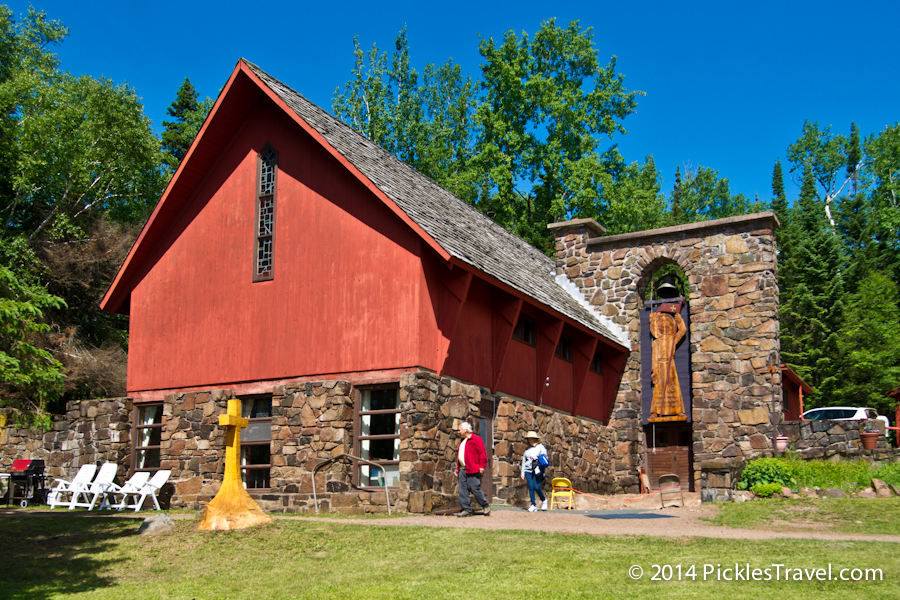 Although the Trinity Lutheran congregation has been around for over 100 years their church building is more "modern". Built in the 1940s the Trinity Lutheran Church is a backdrop of community involvement, sharing and giving. For anyone that has spent time in Cook County knows the people of Grand Marais have a particularly artistic and creative streak that adds beauty to everything they touch.
For example, the wooden statue of Christ that hangs over the door is 14 feet tall was designed by Dorothy Diver and Arnold Flaten and has been there since 1949. The community was as involved in the construction of the church- Lumber from Otis Anderson's sawmill was used to build the church.
Trinity Lutheran is incredibly welcoming of visitors to their church services and would love to have you join them.
Worship: 8:30 am on Sunday mornings.
Address: 4957 E Hwy 61, Hovland MN 55606 – Follow Hwy. 61 out of Grand Marais, along Lake Superior, Trinity Lutheran will be on your left hand side.