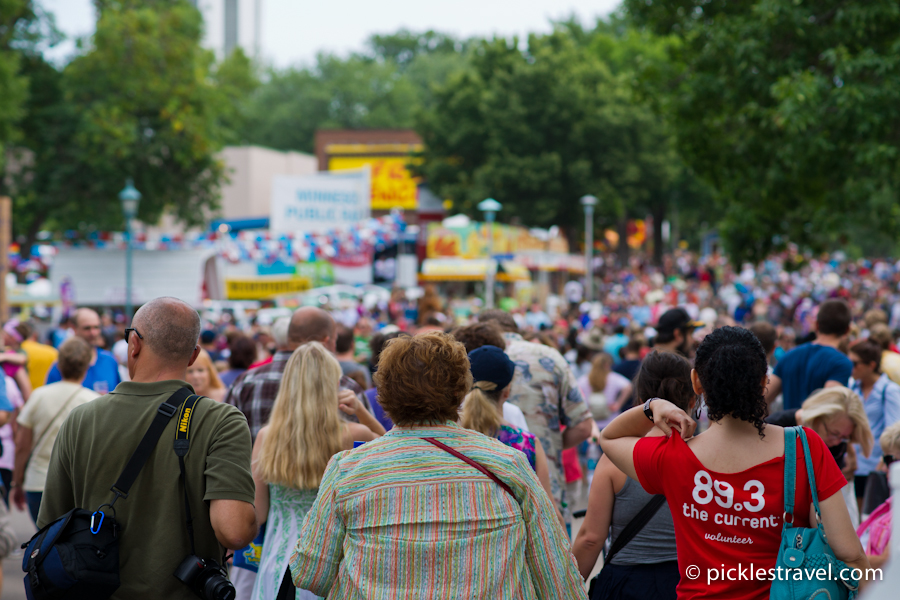 Ugh. The line of cars stretches before us. "Are we there yet?!" After what seems like at least 5 hours, but is probably more like 15 minutes our car is directed into the parking lot and we pull into the nearest open spot. We pile out- mom, dad, sister, brother, sister, and myself- chattering nonstop about all that we are going to see and do today and dreaming of our ideas of the perfect MN State Fair itinerary.
It's the Minnesota state fair!
But what to see first? Should we get on the Skyride right away, to get an aerial view of the fairgrounds? Or perhaps we should go to the Education Building to see about getting some free bags with which to carry all of our other freebies?
Maybe the CHS Miracle center? "Perhaps there are baby pigs being born today?" 
Let's just start with food. How about some fried cheese curds? "Mmmm, cheese curds."
And we're off- the day has begun!
Sounds like this could have happened when I was 12, and it did, but it is also the story of my life every summer. The Minnesota State Fair is and always will be a family event for us and every year it gets better (although there seems to be less and less good free stuff as I get older- I guess free plastic junk just isn't as great as it used to seem…)
The Minnesota State Fair starts up again this week. With a whirlwind of music, food, artwork, shopping and even free stuff it's hard to decide what to see and do. Planning ahead is key.
MN State Fair itinerary
The fair opens at 6 am, but most of the food vendors don't open until about 8:00 and the buildings don't open until 9, so unless you're feeling productive and want to see a hubbub of activity in the animal barns then it's probably not worth arriving until 8 or 9 in the morning. At that hour the weather is still reasonable and the crowds are manageable.
9 AM– Grab a Breakfast Buddy Bowl from Lulu's Public House. Sit and enjoy it- it's going to be a long day.
9:30 AM– As you start walking towards Dan Patch Avenue you will pass by Sweet Martha's Cookies. Buy a pail of cookies- you'll be glad you did later, plus it's the state fair, you always have to be eating something. Keep walking straight, you will end up at the Creative Arts Building. Gawk at all the amazing things that people can do with cloth, collections and food.
10:15 AM– Head into the Education building. If you see a line, get in it- it's probably for a free cloth bag. You'll want one. Trust me. Explore the rest of the education building. If you or someone you know is planning on going to college in the near future, this is a great time to collect information.
10:45 AM– The 4-H building is next. Wow, these kids are beyond impressive; artwork, photography, designing, you name it. You have to see it to believe it- there is a little of everything; including live music and skits!
With all the interactive exhibits and kids shows ou may just end up spending your entire day enjoying the Education and 4-H buildings- and that would definitely be a day well spent!
11:15 AM– The Fine Arts Building is last on the block and worth spending the hour it will take to look at every single piece in detail. Vote for your favorite work of art!
12:15 PM– Then it's up to the Eco Experience center. This year they are displaying the 'Kick Gas Safety Town,' which is a fun place to play with the kids while they learn about checking for traffic.
12:30 PM– Time to eat (and create more trash- depressing). Head right out of the Eco Experience Building and head to the Texas Steak Out stand on the corner of Underwood and Randall Ave. Grab a Brown Ale and Onion-Gouda Tipsy Pie. Walk as you eat.
1:00 PM– Head south on Underwood St. Stop by the Food Building to grab the Bison Dog at Chicago Dogs, head to the back of the building for a pickle on a stick to perfectly round out the meal. Then finish it out with a mini sconuts from French Meadow Bakery.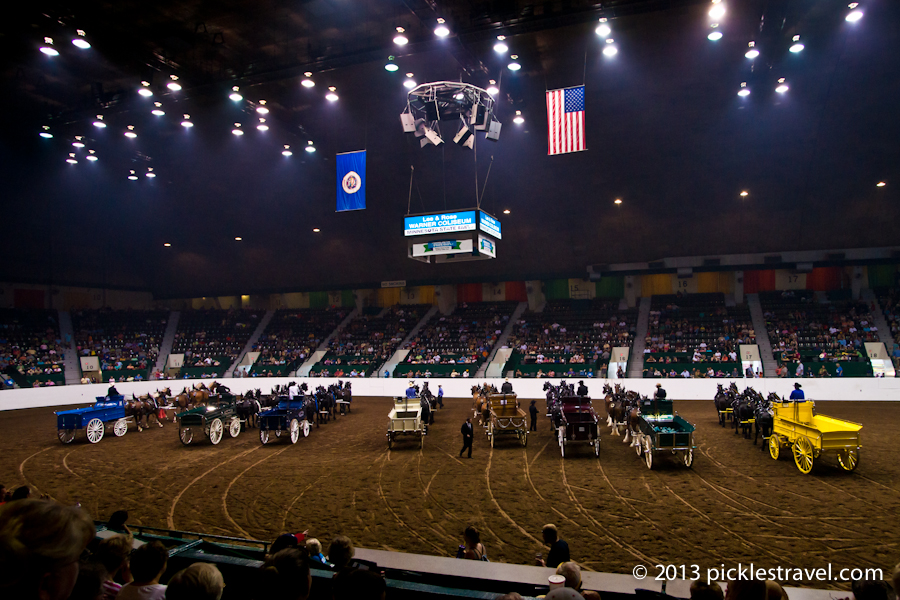 1:30 PM– In need of a nap so your food coma can set in you slink into the Lee & Rose Warner Coliseum to "watch" whatever is going on. The heavy concrete building is always much cooler and darker than the rest of the fair so it's a great spot to catch some zzz's and recoup for the rest of the day.
It's also a nice dark space that is rarely full, so it's a great spot to hide away if you need to breastfeed.
2:45 PM– Remember that pail of Sweet Martha's cookies you bought earlier? Now is the time to whip them out. Walk across the street from the Coliseum and grab a cup of milk. Refill cup as many times as you like. There's nothing better than milk and cookies, plus it's such a nice treat for the kids after a long day.
3:30 PM– You're full once again. Cover your cookies up again and check out the new babies at the CHS Miracle of Birth Center. Pet the baby goats or watch a live birthing of a calf! It's remarkable. Just make sure to wash your hands as you leave.
4:30 PM– Cross the street again to visit the DNR Building to check out their yearly Litter Sculpture. Continue to the Dairy Building. Stand in line for 30 minutes to get the best Rhubarb-topped ice cream sundae you have ever eaten. Walk over the Princess Kay of the Milky Way butter head sculptures. If you're lucky you'll get to see them carving in action.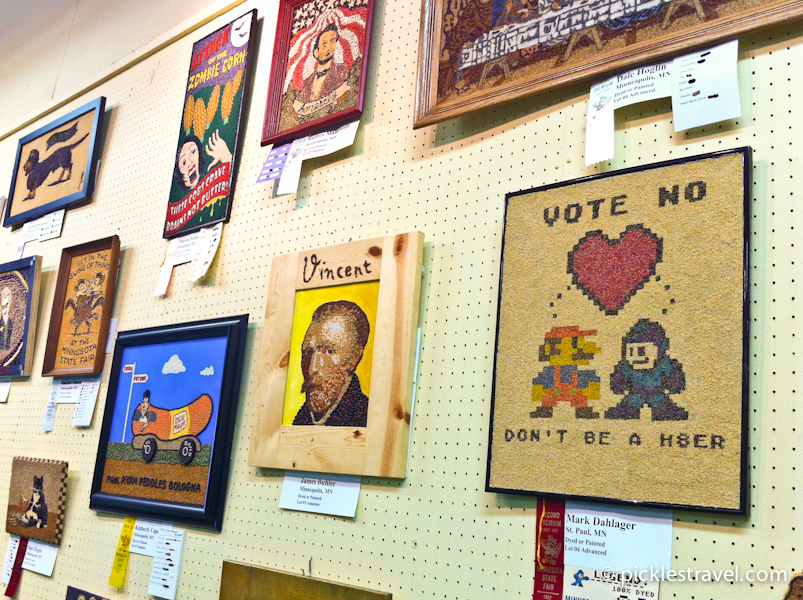 5:30 PM– Walk up to the Agriculture and Horticulture Building. Grab a frozen apple cider stick or two from MN Apple and revel in the patience it would take to make all the crop art displays.
6:00 PM– By this time you may be too tired for anything else. Go and grab a seat to watch live music at the International Bazaar. If you're still exhausted after 45 minutes then you're allowed to go home. It's been a long day, congrats you survived.
7:00 PM– For those of you with more energy, head over to the Mighty Midway for a round on the ferris wheel and other rides. Just make sure you're not still too full…  Dusk is a great time to be at the fair. The colors on the Midway rides stand beautiful against the sky.
7:15 PM– If you're going to a Grandstand show or event now is the time to get over there! Stay awake for the show and drive home carefully afterwards- you're a MN State Fair trooper!
Not sure you want to do all this?