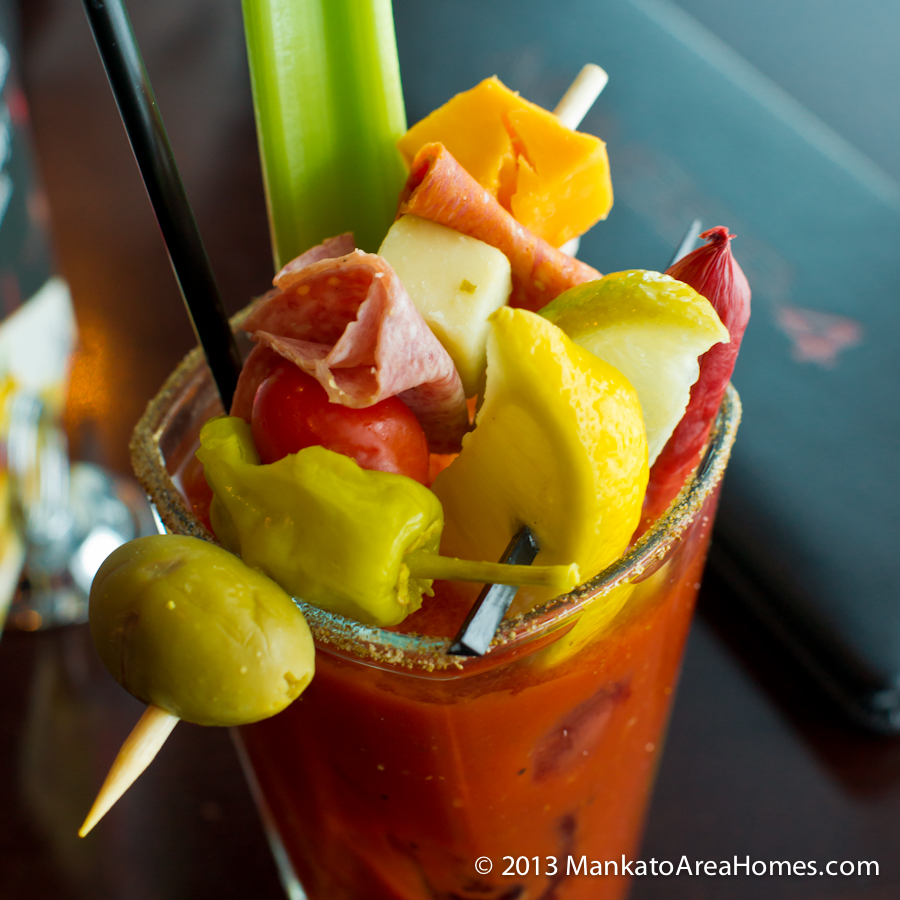 Nothing quite says the weekend is here like a Clamato Bloody Mary over brunch. Add on at least a few pickles on the side, with a whole bunch of other ingredients and it's a full-on meal!
*This post does contain affiliate links, which means that if you purchase an item I will make a tiny percentage of the sale. I only recommend products which I think you would enjoy and those that I know and love.
Clamato Bloody Mary
A true bloody mary should be all about the flavor and the toppings. Clamato Juice does a great job as a base for the bloody mary- not too thick, not too tomato-y, but it also pairs nicely with the vodka and spice. I believe it can also be called a Caesar Bloody Mary, depending on the region in which you live.
Pickles (lots of pickled vegetables) are the best toppings for a bloody mary. Try a pickled Okra in your bloody mary and you'll never have it any other way! Trust me- you will not want to miss out on pickled Okra– it's worth if for the tiny pickle juice you get in every bite, before we even start talking amazing flavor.
This recipe has a minimal amount of prepared horseradish, (this is my absolute favorite horseradish to buy because it does actually pack some heat!) but feel free to add more depending on your spice tolerance levels. The Chipotle Tabasco doesn't add much heat, but rather a nice smokey undertone to the drink, so I would recommend leaving that in there, even if you're adverse to spice.
Caesar/Clamato Bloody Mary recipe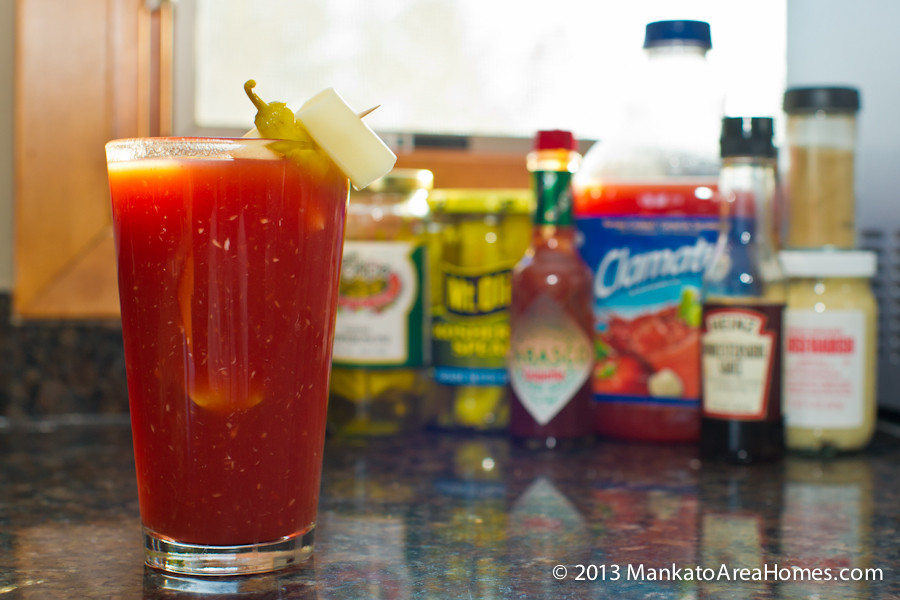 The thing about making your own drink is that you can play with the ingredients in any number of ways, depending on what your flavor preferences are.
Ingredients:
3 Ice Cubes (these ice cube stick trays are the coolest!)
1/4 tsp. Horseradish Sauce
1/4 tsp. Celery Salt
1/4 tsp. Worcestershire Sauce
1/4 tsp. Chipotle Tabasco
1/2 Tbsp. Lemon Juice
1.5 oz. Vodka
Clamato Juice to top of glass
Pickle, pickled Okra, Cheese wedge, Meat stick, Olives (jalapeño stuffed), Celery Stick, etc. as garnish.
Bloody Mary Directions
Add all the above ingredients together- starting with the vodka and ending with the Clamato Juice. Mix together and top off with as many garnishes as your glass can handle!
Don't feel like making your own? Try these top bloody marys in Mankato!