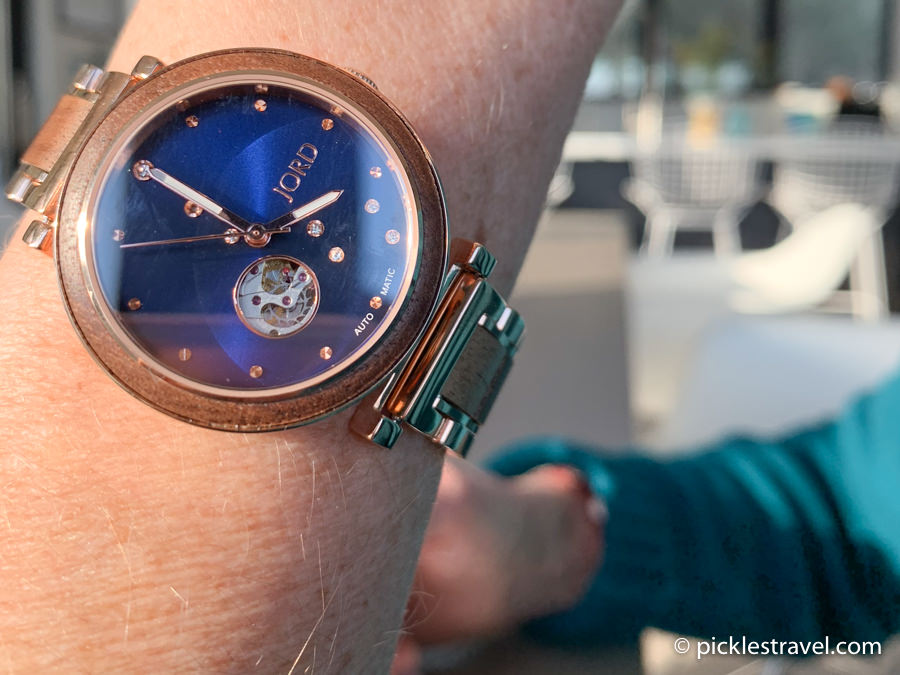 Looking at the JORD wood watch website it's easy to get lost in all the beautiful choices of fine wood, unique timepieces and colorful watch faces. While I can't review every watch in my JORD wood watch review I can certainly talk about the unique features about the one I do have- the JORD Cora Polaris.
Note: I was given my Cora Polaris watch at no charge by JORD as well as the gift certificate giveaway I am offering. All opinions expressed are my own.
JORD Wood Watch Review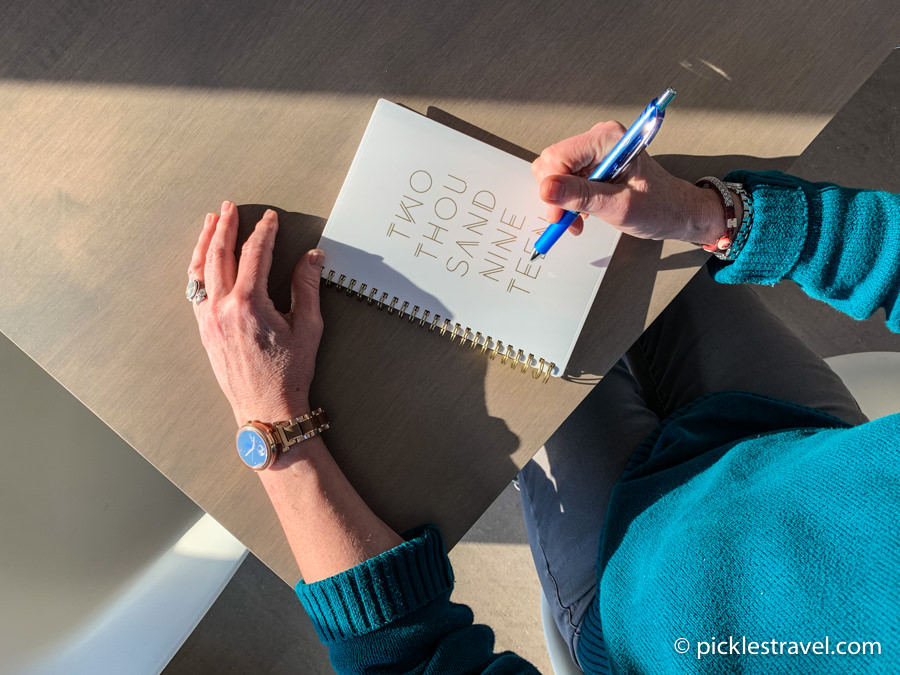 My JORD wood watch review is that my Cora Polaris midnight blue watch is absolutely stunning.
The description on the JORD website says it all "Hand-seated Swarovski crystals encircle the vibrant 34mm dial to depict the stars of the Little Dipper. Polaris shines brightly in the northern sky, to guide you through each hour of the day. And beautifully polished metals surround subtle wood accents to bring elegance into existence."
There are two things that I love the most about my new watch. The first is that the band is wooden, which helps keep me rooted in my love of nature and being outdoors. Plus the Midnight Blue watch is made of walnut- and we have a plethora of black walnut trees at home so it's like double the bonus!
The second is that the Swarovski Crystals on the watch face form the shape of the Little Dipper (!!) How cool is that?!
There is nothing better than looking up at the night sky on a crisp winter's night (and with all the gobs of snow we keep on getting here in Minnesota, it feels like winter may be here for the rest of our lives!) I love having that beautiful little reminder on my wrist greeting me whenever I glance at the time. It's the little things in life.
It's a weightier watch- which I personally love! I like feeling the watch on my wrist. If you're not a fan I would recommend staying clear of the Cora Polaris.
Travel with JORD
This is also an awesome travel watch. It goes with any outfit- casual or dressy. It pops but not too much that someone would rob you for it. Plus it is an amazing conversation starter- how many people do you know that have wood in their watch!?
The best part? The Cora Polaris doesn't have a battery! It's a self winding automatic movement- so never get caught in the middle of nowhere with a broken timepiece due to the battery stopping!
JORD Wood Watches
The company has been absolutely fabulous to work with! They got my watch ordered and out in the mail to me in less than 24 hours. Obviously that's incredible when you're as excited as I was to receive my new watch!
I'm embarrassed to admit it, but somehow I managed to give them the wrong size for my wrist (face palm). They offered to have me send it back to be resized- I just took it to my local jeweler but that level of customer support is incredible!
Plus any company that offers free international shipping automatically wins major points with me!
JORD Watch Sizing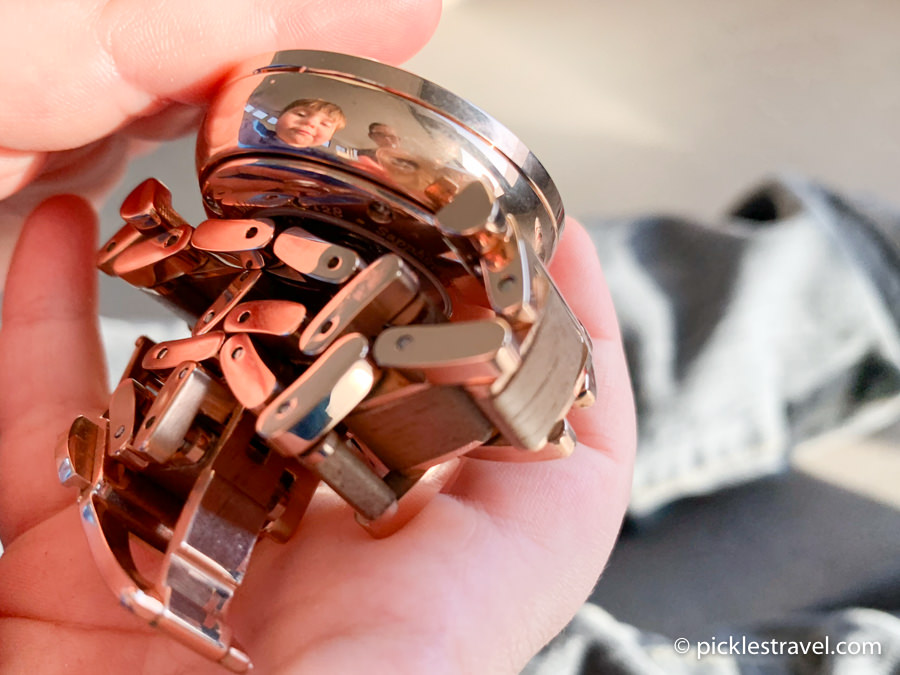 Make sure you measure your watch size correctly using this fancy wrist measurement tool. As I mentioned above- I know from experience how disappointing it is to get a watch that literally falls off your arm when you go to put it on… Boo.
Also random side note, but how cute is that reflection in JORD's shiny metal surface!?!
This JORD wood watch review is obviously for a woman's watch- lots of other choices here.
They make men's watches too. Check them out here.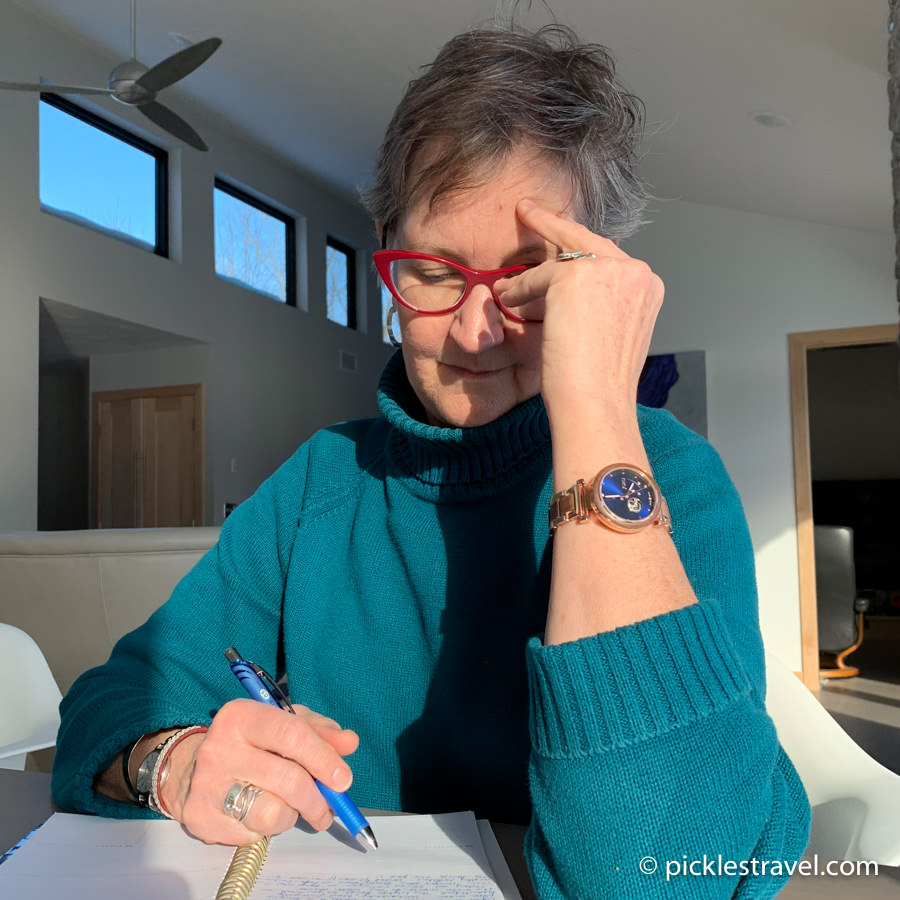 Gorgeous watch faces, wooden watch bands with 13 different wood choices to pick from – who wouldn't want the elegance of wearing a new JORD watch?! And JORD is helping one of my lucky readers get closer to that opportunity.
Click here or on the big link below to enter my giveaway for a $100 Gift Card to JORD!
Giveaway Entries must be completed by midnight May 26, 2019 and you will be notified if you win via email directly from JORD. No purchase necessary to win.
Note: I was given my Cora Polaris watch at no charge by JORD as well as the gift certificate giveaway I am offering. I am collaborating with JORD to offer my readers this wood watch gift certificate giveaway. All opinions expressed are my own.