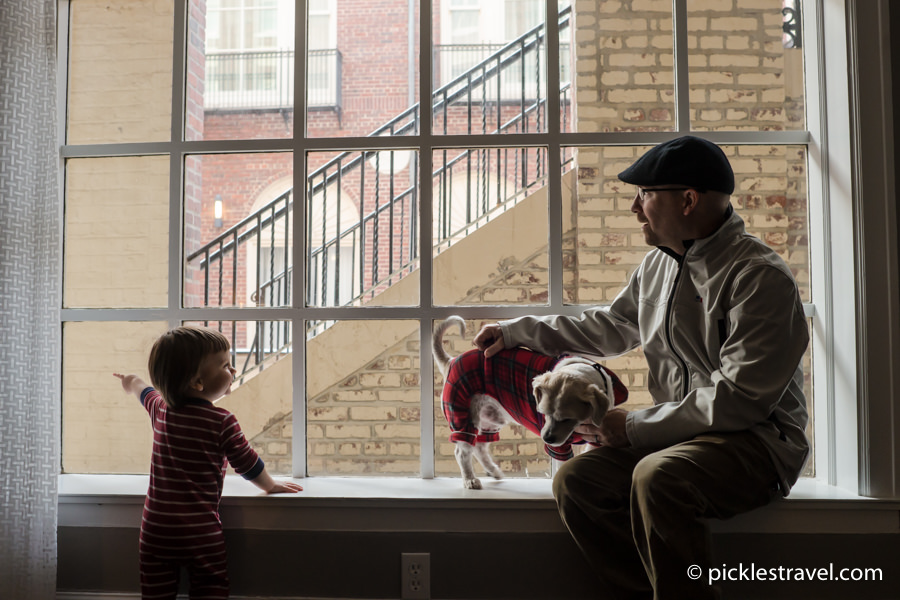 Omaha has so many amazing sights to see and activities to offer, from the Number One rated zoo in the country, to the union station train depot where you can board a train, to a bridge that takes you to another state. All of these are wonderful reasons to visit Omaha, but add in the holiday season and family friendly Omaha gets even better!
Check out these favorite kid friendly locations and start planning your holiday vacation to Omaha with the family – young and old.
Family Friendly Omaha for the holidays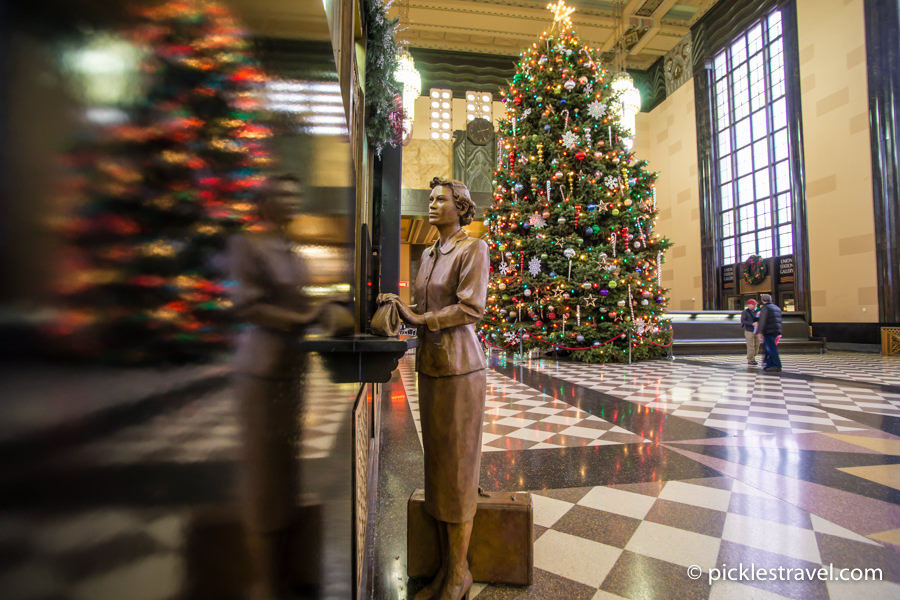 The Christmas Tree at "Christmas at Union Station" is one of the most impressive indoor sights you will see over the holidays. A forty-foot tree decorated to the nines and Santa at the foot of it ho, ho, ho-ing, what more is there?!
The Durham Museum is always a huge hit with kids and the family. Any day of the year you can explore the insides of train cars, walk along the tracks, learn about the inner makings of a train depot and the history of Nebraska and so much more.
Take all those wonderful activities and multiply them by holiday awesomeness and you have one of my favorite holiday stops in the midwest! Go to experience the live music every weekend in December- from carols to bells to instrumentals, Santa and the best Christmas tree you ever did see!
Any time mentioning family friendly Omaha you have to include Omaha's Henry Doorly Zoo and Aquarium to the paragraph. Any place that lays claim to: North America's largest indoor rainforest, the World's largest indoor desert (and beneath that the most incredible bat cave and swamp you have ever explored), and the largest aquarium located in a zoo (just to name a few of its accolades) deserves to get be recognized all the time!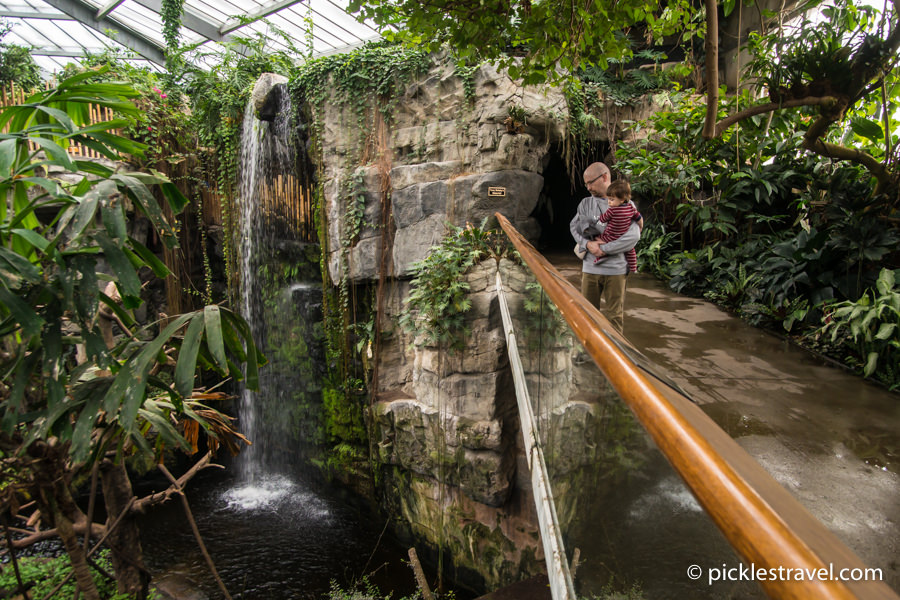 I can't even pinpoint a favorite at the zoo, it's all incredible, but the aquarium was definitely my son's favorite. There is a place where he was able to "pet" starfish and then all along the aquarium glass walls there is an area specially designed for kids so that they can get up close to the animals without having to compete with adults. We spent an obscene amount of time with the puffins as they dove, swam and walked around (while being chased by a gleeful toddler on the other side of the glass).
Stroll through the two floors at the inside old market in downtown Omaha for a chance to warm your toes and finish up your holiday shopping! Decked out in warm, glowing lights and live, green vines,  you may just think you've entered a more tropical version of the midwest.
The entire length of the entrance area of the open market is topped with a skylight that brings the winter light in but not the winter cold- which makes it a very family friendly win, especially if you have small children- although don't bring a stroller, it's not particularly stroller friendly.
While we were exploring and defrosting we happened into the most delightful chocolate shop- Chocolat Abeille. The owner, Tina, is charming and passionate. She raises her own bees and tries to incorporate their honey into several of her products. She also makes a wild mushroom chocolate, which obviously had me instantly intrigued. It was a good chocolate, and while I could taste a hint of the porcini mushroom in there, I was honestly a little disappointed that it wasn't stronger flavored (I am sure I wouldn't be if I tried one that was stronger flavored- this way it was still intensely amazing chocolate still!). Whatever you do make sure do get one of her raspberry flavored chocolates- absolutely divine- like biting into a really ripe, red raspberry that has been dipped in chocolate!
Magnolia Omaha
It's so important to have a family friendly hotel when traveling, especially when your adventure wouldn't be complete without your kids. Luckily the Magnolia Omaha is incredibly kid friendly- we were told by the hotel staff on more than one occasion that they "loved our kid" which is usually a good sign in my book!
My family isn't complete without our pup and the best part of Magnolia Omaha is that it's dog-friendly! So incredibly dog friendly that they don't even charge an additional fee to bring along your fur baby when you travel. Now that is family friendly Omaha!
I was hosted by Visit Omaha for the majority of this adventure. All opinions expressed are my own.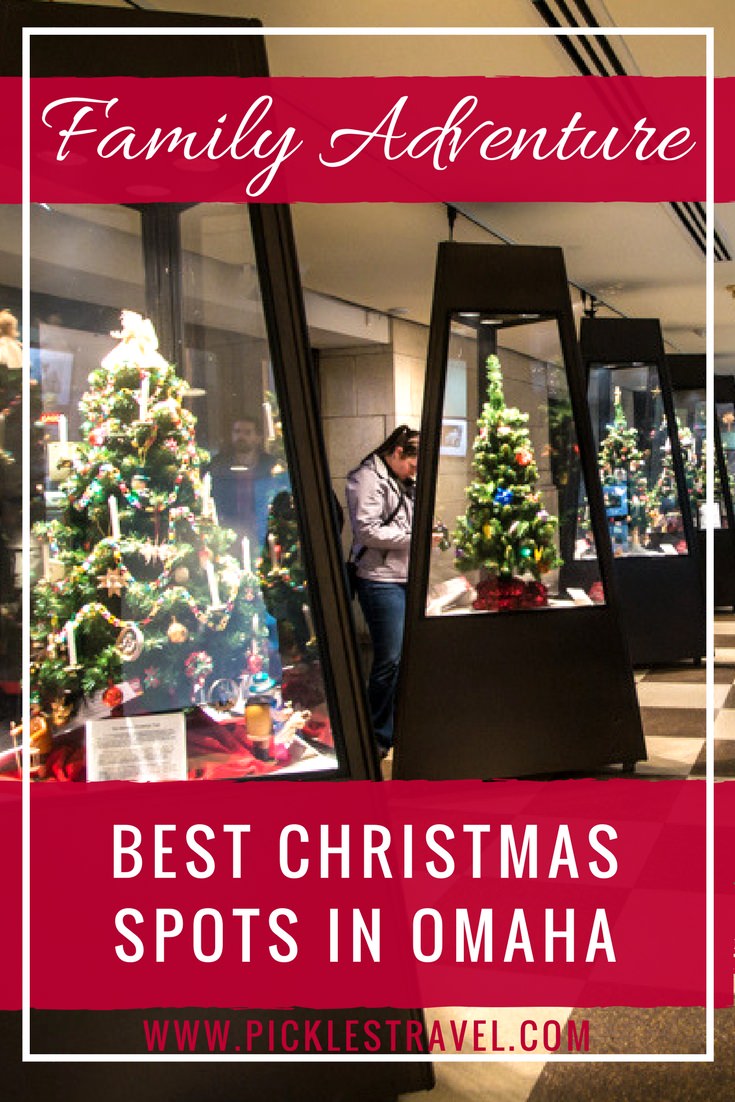 Book your Omaha Adventure today!
a