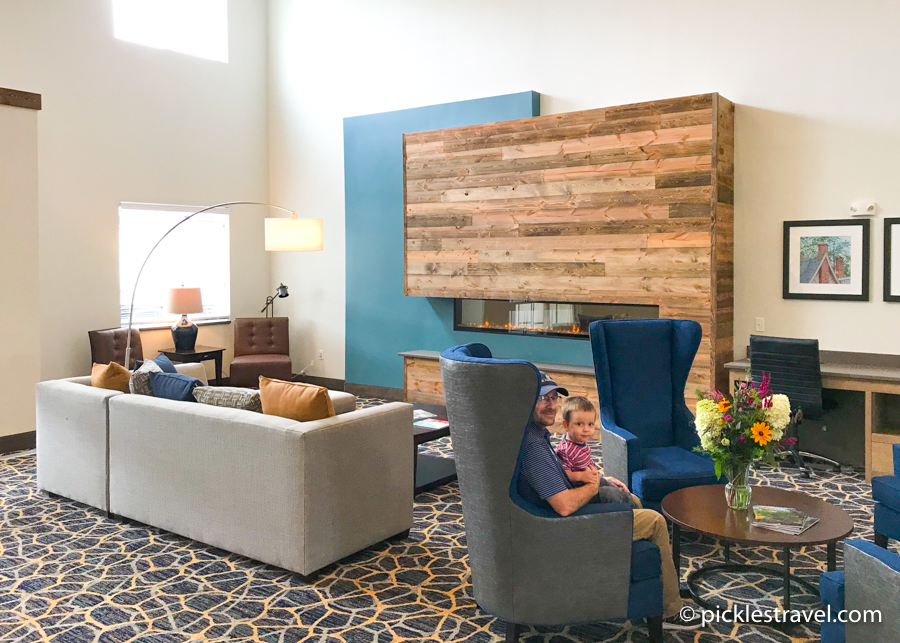 If you're thinking about spending the weekend or a few days in the Willmar Lakes Area- Spicer, New London or even Willmer you'll want to put the Little Crow Resort Golf Course on your bucket list!
We had the tremendous opportunity to spend the weekend at the Grandstay Hotel as guests of the Grandstay Hospitality family. Our room and golf trip were both comped adventures. All opinions expressed are my own.
Note: This post contains affiliate links, which means I may make a tiny percentage if you buy something using them. I only recommend places and products that I know and trust that I think can help you.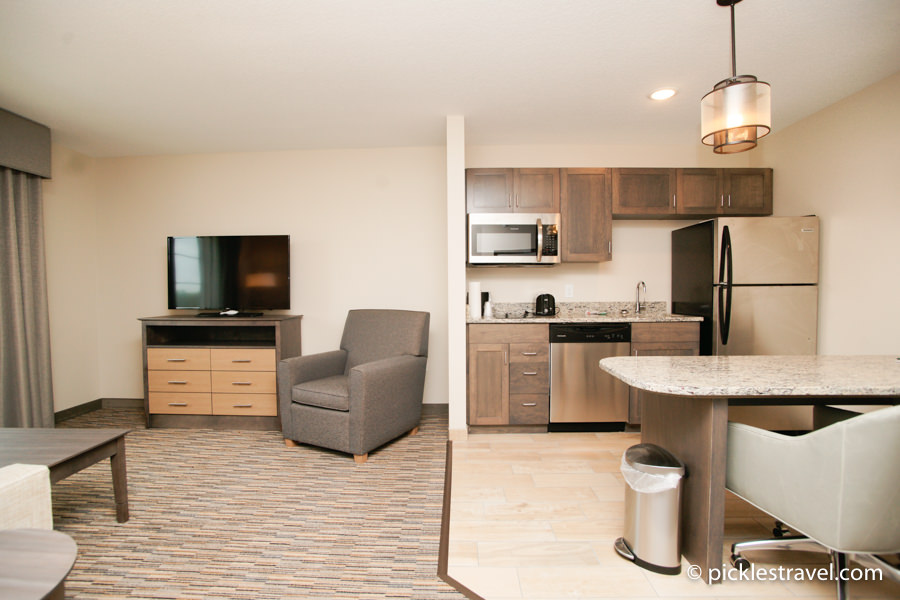 Accommodations and Suite
With a two-year old we end up spending a fair amount of time in our hotel rooms when we travel. Nap time and down time are so key when it comes to having a great experience for the entire family, which means the room has to be comfortable and be able to fill lots of purposes.
The Spicer Grandstay at Little Crow Resort has incredible space including a kitchen complete with a full fridge, granite eat-in-kitchen, dishwasher (!!), dual burner stove, toaster, a complete set of dishes, microwave, coffee maker (no tea) and so much space that lead into an adorable living room/sitting area with TV, dresser, couch and more seating! We could have spent our entire vacation in the room it was so comfortable!
The bathroom was very spacious and even included a laundry basket for our quickly accumulating dirty clothes! Another fun "toy" that made my son feel right at home- he loves helping with laundry at home. I mean, seriously- how has it not occurred to me before to make laundry baskets a part of my road trip packing gear!? Get the same one here.
Getting Comfy
A good night's sleep is the most important part to any hotel stay and our king size bed had a vast array of big, fluffy pillows which made chilling out on bed during nap time such a relaxing experience.
Service
The employees were fantastic at the Grandstay Hotel/Little Crow Resort. They make it their job to know you and help you in any way they can. Even the lady in charge of the Grandstay breakfast made sure we were personally taken care of. She went above and beyond, from offering to make our little one something special to bringing out the whipped cream for his waffles!
She wanted to make sure that our toddler was absolutely smitten with his delicious breakfast- which he was!
Little Crow Resort Experiences
Golf Course
Little Crow Golf Resort features 27 holes which are divided out into three 9-hole "courses". The course is set in rolling hills dotted by diverse mature woods as evidenced by the titles of each of the three 9s: Oaks, Willows, Pines.
What's especially attractive about this course, from a golfer's standpoint is that the signature design feature and blind tee shots on the golf course take advantage of the hills to create difficult views of each hole. Then once you get in the fairway the course has open approaches to large greens, which are in immaculate shape.
I had to laugh because every space in the hotel had beautifully artistic photos of golf on the walls. It was really the only piece that reminded me that we were at a hotel on a golf course, otherwise it really felt completely separate.
Restaurant
The food was fantastic at this restaurant, tucked away inside the hotel and clubhouse. Their happy hour specials include incredible $5 appetizer deals- which we fully enjoyed! The restaurant itself may not be big, but the patio space is HUGE! There's even a nice spot to sit with a drink and just overlook the golf course after an ambitious round of 27 holes.
Pool
An indoor pool with a hot tub- talk about being kid and adult friendly at the same time! After a day of golfing that hot tub will feel absolutely incredible (especially if you golf all 27 holes and even more especially if you walk the whole 27!).
It's a huge space with a hot tub, swimming pool and plenty of room to sit and enjoy splashing around with the family.
Overall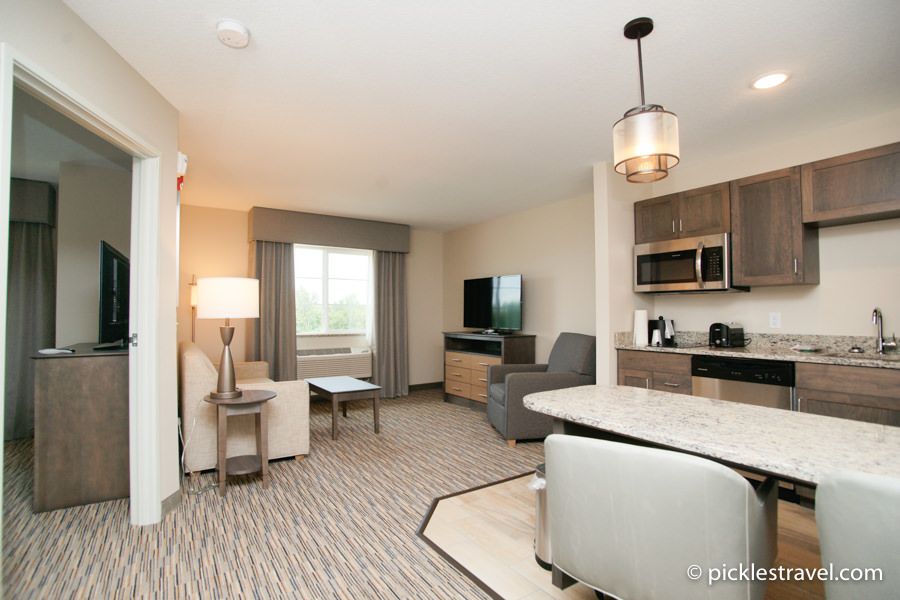 I'll definitely be back to visit the Grandstay Hotel in New London. It was a great experience and such a beautiful hotel. You're so close to everything from here- although nothing but the golf course is within walking distance you are within 5 to 10 minutes of Spicer, New London and even Willmar! I loved the location and the history.
Fun in New London:
Less than a mile from the hotel, across the highway is the glacial ridge winery (and orchard!). On the weekends in the summer they also have live music you can enjoy! If you have a Minnesota Winery Passport they have an awesome discount in there after you get your "free" tasting!
Glacial Ridge Winery: 15455 Old Mill Road, Spicer, MN 56288
If wine is less interesting and beer if your thing then check out Goat Ridge Brewing Company for a vast (and delicious) array of beers and sour beers. They also have one of the best outdoor patios I have ever been on! The river runs through their backyard and it is well worth your time to go and sit there and enjoy the patio with your beer!
Goat Ridge Brewing: 17 Central Ave W, New London, MN 56273
After your beer walk along the river and enjoy the community driven art tour that includes a mural and several beautiful pottery totems. Or walk around the lake and enjoy each musical stop along the way!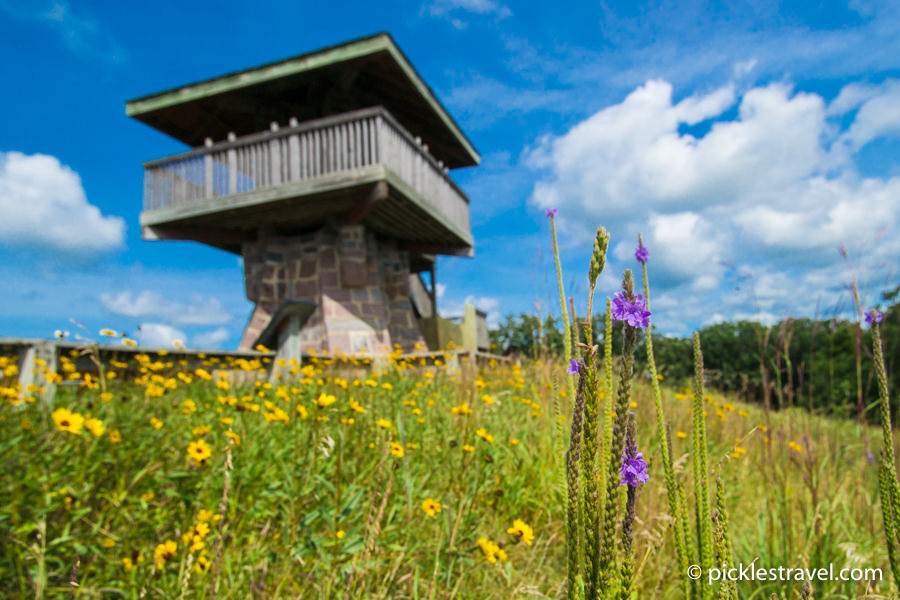 Interested in visiting a state park? Sibley State Park is just outside of New London and includes the highest point for miles- so expect some gorgeous scenery!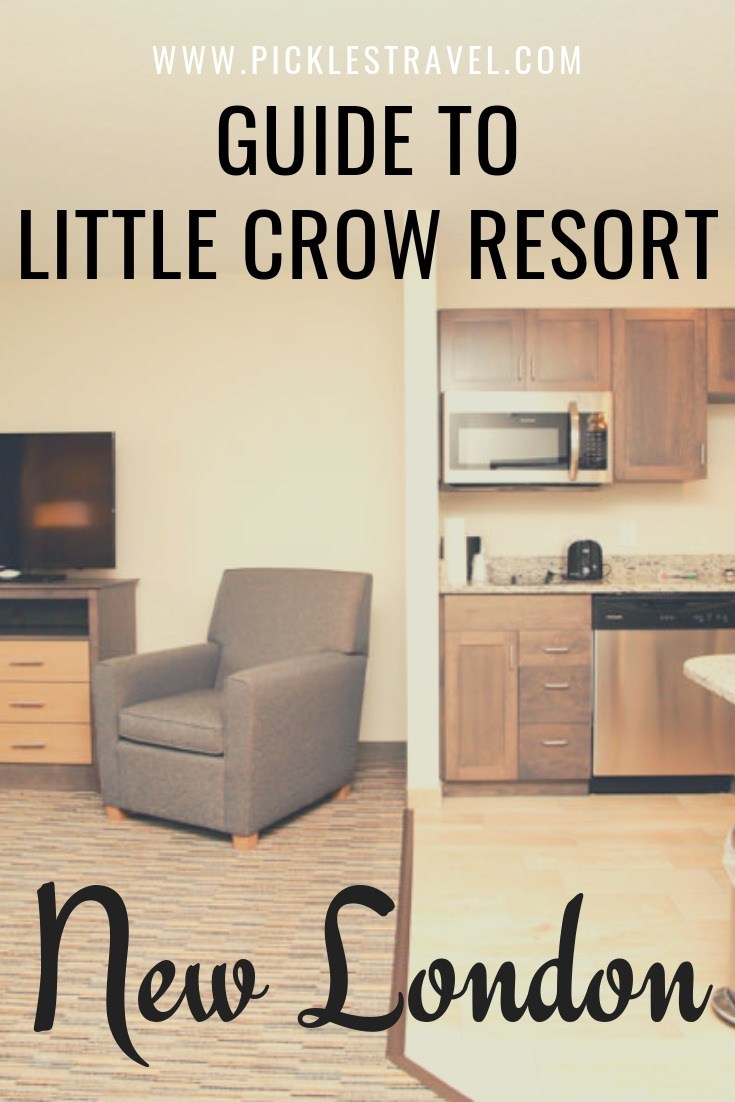 PicklesTravel.com is a participant in the Amazon Services LLC Associates Program, an affiliate advertising program designed to provide a means for us to earn fees by linking to Amazon.com and affiliated sites.